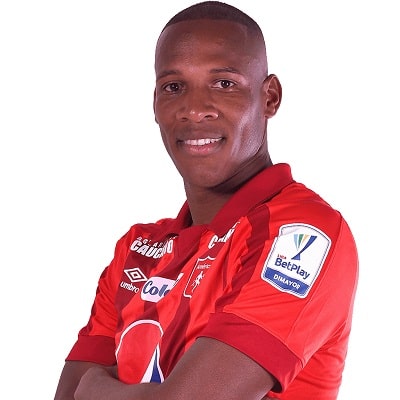 Elvis Mosquera is a professional Colombian soccer player currently playing for America de Cali. Besides, he is categorized in the First A Category of Colombia. Elvis plays left-back in the club. Further, the Columbian player was also an inverted wing-back.
The professional soccer player Elvis is also recognized by his home country name, Elvis David Mosquera Valdés. Thirty-one years, a soccer player has been associated with the club, América de Cali, from June 21, 2021, and as per the close sources, Elvis's contract with the club expires on June 30, 2022. Elvis previously played for A. Bucaramanga and was later transferred to America de Cali.
Elvis Mosquera Bio, Age And Parents
Elvis Mosquera was born in 1991 and celebrates his birthday on January 22 every year. Further, the former A. Bucaramanga player Elvis grew up in Quibdó. Elvis holds a Columbian nationality and currently resides in Santiago de Cali. Likewise, Mosquera is 6 feet tall and weighs 75kg.
Mosquera's parent's name is still under review. The tight-mouthed Mosquera often shares pictures of his mother online but hasn't shared any snaps with his father. That made his fans realize that he might not have as good relation as he has with his mother. Well, he must be a mom's favorite.
Fans' favorite Elvis Mosquera and his mother
SOURCE: Instagram @elvismosquera02
By keeping his family details secret, Mosquera makes his lovers even more curious to explore him online. In addition, Mosquera has expressed how great he feels to have a lovely mother like her. Mosquera's family must be one of the major reasons behind his successful career, as family support is a must.
osquera has a good bond with his little sister
SOURCE: Instagram @elvismosquera02
But he has a little sister named Katerine Mosquera Valdes. While talking about Katerine, she won a beauty pageant back then in 2015. The Columbia native, Mosquera, is a very private-natured person who focuses on his career rather than his personal life.
Have A Look At Elvis Mosquera Career
Elvis Mosquera is a professional soccer player who has been linked with the profession for a long time. Mosquera began his career in the sports in 2010 when he played for Soacha. Three years later, the Columbian player left the club and joined Indep. Santa Fe. So far, Mosquera has played for more than five clubs including Rionegro Águila, CD La Equidad, Envigado, etc.
The left defensive, Mosquera, has also been positioned as Left Midfield and Centre-Back. Further, Mosquera wears jersey number 22. According to ESPN, Mosquera's team has recorded two wins, two losses, and one draw in the past five matches. The fan's favorite, Elvis, is one of the club's most valuable players who is giving his best in the club from the past year.
Have a look at this: Luis Suarez
Elvis Mosquera Net Worth In 2022
Elvis Mosquera presently plays for one of the renowned clubs, América de Cali as a Defender - Left-Back. Therefore, he must have earned a huge sum of money from his current vocation as a professional soccer player. Besides, the available sources have claimed that the current market value of Mosquera is €400Th; however, the highest market value of Mosquera was €800Th on December 23, 2018.
Apart from that, the average salary of a Columbian football player is $39,472, as per ZipRecruiter. Therefore, Mosquera may receive the same range of salary or more than that as a soccer player. For your information, Mosquera lives an enjoyable life with a worthy sum of money. Additionally, Mosquera's net worth seems to be in millions of dollars as he has played for over five clubs, including América de Cali. No doubt Mosquera has earned a good income, but the professional prefers to keep his life simple and delightful.
Read more: Christian Atsu
Meet Elvis Mosquera Wife Or Girlfriend
Elvis Mosquera seems to be married or dating someone special; nevertheless, the name and official details about Mosquera's partner are yet to be revealed. Elvis enjoys keeping his relationship private and secret, but fans have noticed that he is a father of a son whose name is a mystery to many of us.
Elvis Mosquera and his lovely son
SOURCE: Instagram @elvismosquera02
Regarding his past dating history, Mosquera might have at least been in one relationship. However, as none of the verified sites have mentioned his past love life, this matter is still questionable for us. As mentioned earlier, he is a very private person. So, Mosquera has never shown any interest in revealing or talking about his dating career so far in the public domain.
You may like this: Carlos Sanchez
Social Media Activeness
Social networking sites have a powerful force on Mosquera. Over a variety of social media networks, Instagram is Mosquera's favorite. Mosquera is quite active on the platforms and enjoys sharing daily stories and photos with his fan online. On the one hand, people are curious enough to follow him on Instagram.
CAPTION: Elvis Mosquera posing with his team member
SOURCE: Instagram @elvismosquera02
Mosquera is active on the platform, where we can follow him under the username @elvismosquera02. For further information, he has gathered more than 7k followers. No doubt, he mostly shares pictures with his friends, club members, and football-related pictures and events. . On the other hand, he seems to be fun-loving and friendly.
Facts and Trivia
1. Mosquera's contract with América de Cali will end in 30 Jun 22, 2022.
2. He currently plays as Defender - Left-Back, whose value ranges from €95K to €0.2M.
3. Elvis's transfer history includes over five clubs as he officially started his soccer career by playing for the club, Juventud Soacha
4. ESPN has listed Mosquera on to scores of the club, América de Cali.
For more interesting facts and content about different athletes, you can keep reading playerswiki.