Drew Swinney is a Clemson Tiger football player and the son of head coach Dabo Swinney. He is an American football player who was born on January 23, 2000, in New York, United States.
Swinney has played in 40 games from 2018 to 2022, accumulating 96 yards on 14 receptions. He also knows how to enjoy every win, as he has witnessed his father's famous locker room dances.
How Much is Drew Swinney's Net Worth?
Drew Swinney is a football player who has earned about $500,000 in his career. He plays for the Clemson Tigers, where his father Dabo Swinney is the head coach. He has participated in 40 games from 2018 to 2022 and has made 14 receptions for 96 yards in 180 snaps.
Drew Swinney has an estimated net worth of $500,000 as of now.
Image Source: Instagram@dswinney5
Looking forward, his father Dabo Swinney is a well-known figure in American college football. He has influenced the sport as both a player in his early years and a coach with many achievements in recent decades. However, he has a net worth of around $30 million, which reflects his passion and excellence in the field.
Endorsements & Sponsership
Drew Swinney is a football player for Clemson University, where he plays as a wide receiver. He is the son of head coach Dabo Swinney and the brother of Will Swinney, who is the team's starting holder. Drew and Will have a close bond and share a passion for the game.
Swinney has also been active in pursuing opportunities to profit from his name, image, and likeness (NIL). He and his brother have launched a custom merchandise line through the Players Trunk, which features items such as T-shirts, hats, and stickers with their names and numbers.
The young talent has also completed a micro-internship with Elliott Realty in Myrtle Beach in spring 2022, where he learned about the real estate business and helped with marketing and social media.
High School Stats
Drew Swinney was a standout wide receiver and punt returner for Daniel High School in South Carolina. He had a total of 41 catches for 494 yards and five touchdowns in his high school career.
Swinney also ran the ball six times for 47 yards. He was an all-region selection as a senior when he had his best season with 30 receptions for 405 yards and three touchdowns.
The athlete also excelled in the classroom and as a leader. He won the team's highest GPA award and the Coach's Award for his academic and athletic excellence. He also had four punt returns for 32 yards as a senior.
Additionally, he followed his father Dabo Swinney, and his brother Will Swinney to Clemson, where he joined the football program as a walk-on in 2018.
College Stats
Drew Swinney was a wide receiver for the Clemson Tigers football team from 2018 to 2021. He joined Clemson as a walk-on in 2018 and played alongside his brother Will, who was also a wide receiver. He made his Clemson debut against Furman in 2018 and had his first career catch against Louisville in 2019.
Swinney had his best season in 2020 when he had seven catches for 61 yards and a touchdown. He scored his first career touchdown on a 10-yard pass from Trevor Lawrence against The Citadel in 2020. He played in all 12 games in 2021 and had three catches for 20 yards.
The young football player completed his Clemson career with 10 catches for 81 yards and a touchdown in 586 offensive snaps over 69 career games.
Drew Swinney's Father is a Head Coach
Drew Swinney's father is Dabo Swinney, who is more than just a parent to him. He is also his coach, mentor, and role model. Dabo Swinney has been the head coach of the Clemson Tigers football team since 2008, and he has recruited both of his sons, Drew and Will, to play for him.
Dabo Swinney is a popular football coach.
Swinney is one of the most successful and respected coaches in college football. He has led the Clemson Tigers to three national championships and seven ACC titles. He has also won several awards, such as the Paul "Bear" Bryant Award, the Bobby Dodd Coach of the Year Award, and the Walter Camp Coach of the Year Award.
The coach is known for his faith, family, and fun approach to coaching and life, which he instills in his players and his sons.
Meet Drew's Brother Will Swinney
Will Swinney is a redshirt senior wide receiver and the starting placeholder for Clemson University's football team. He has been in this role since 2017 and was a semifinalist for the prestigious William V. Campbell Trophy last season. He has played 56 career games and has 28 receptions for 168 yards and a touchdown.
In addition, he joined the program in 2017 and played alongside his brother for four seasons until 2021. He finished his five-year Clemson career with 35 catches for 195 yards and a touchdown in 69 career games.
Who is Drew Swinney's Mother?
Kathleen Bassett Swinney is the mother of Drew Swinney and the wife of Dabo Swinney, Clemson's head coach. She graduated from Clemson and worked as an elementary school teacher. She supports various charitable causes, such as the All In Team Foundation and Dabo's All In Ball.
The star mother is a proud mother of three sons, Will, Drew, and Clay Swinney, who all played or played football for Clemson. She enjoys spending time with her family and attending Clemson games. She is also a cancer survivor and an inspiration to many.
Drew Swinney & Mary Crosby Spiers' Beautiful Wedding
Drew Swinney and Mary Crosby Spiers tied the knot on March 18, 2023, in a beautiful ceremony that was captured on video. Mary Crosby Spiers is the younger sister of two former Clemson players, Will Spiers, who was a punter, and Carson Spiers, who was a baseball pitcher.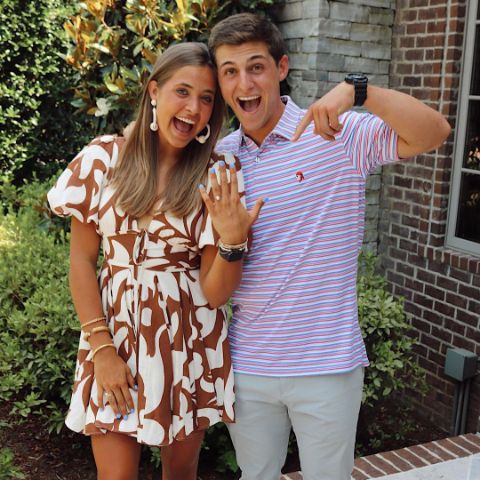 Drew Swinney with his wife Mary Crosby Swinney.
Image Source: Instagram@dswinney5
The couple got engaged in June 2022, when Drew Swinney popped the question to Mary Crosby Spiers at a lake house. They had a wedding registry, which was available on RegistryFinder.com, where they listed items such as kitchenware, bedding, and home decor.
They also asked their guests to donate to the Dabo's All In Team Foundation, which supports various causes such as education, health, and wellness.