Denis Suarez is a professional football player from Spain and currently plays in the Spanish top league, Laliga. He plays in the midfielder position for Celta Vigo and has been playing for them since 2019. He wears jersey number 6 for his club.
He previously plays for the Spanish club, Barcelona before moving to Celta. With Barcelona, he won 2 Laliga in 2017-18 and 2018-19 seasons. He is also a 2-time winner of Copa Del Rey as well as Supercopa winner in 2016. In the 2011-12 season, he was named Manchester City's Young Player of the year.
Celta Vigo's midfielder Suarez has been playing for the national team of Spain since 2016. He made his debut in May of 2016 against Bosnia and Herzegovina. In 2012, he won the UEFA European Under 19 Championship with Spain. And also he was the runner u f the UEFA Under 12 Championship in 2017.
Who is D Suarez? His personal Info, Family, and Early Life
Denis Suarez Fernandez, famously known by the name Denis Suarez was born on January 6, 1994, in Salceda de Caselas, Spain. As per astrology, his birth sign is Capricorn.
He was born to Spanish parents whose name is still not revealed. His dad was a businessman while his mom was a professional hairdresser.
Denis Suarez with his mom and dad
SOURCE: instagram@denissuarezfernandez
Read: Who is Patrik Laine?
As per sources, his mom had to take a break from her saloon to get her son to the training camp. He sometimes posts about them on his Instagram and praises them for their sacrifices.
Denis started playing at just 3 years of age. He was a very talented kid from his childhood and used to play at the local level. In 2008, Porrino Industrial included him in their youth team. After that, he started playing professionally.
Suarez grew up along with his sister whose name is not revealed yet. He has no brothers of his own.
Denis's Physical measurements
As of 2022, Denis Suarez is just 28 years old and possesses a height of 5 feet 10 inches (1.78 meters).
His weight is around 69 kg and has short black and brown hair.
Early Career
After playing for Industrial Porrino for a year he was scouted by Ceta Vigo. From 2009 to 2010, he played for Celta Vigo which was the turning point of his career. He was promoted to the Celta Vigo B team in 2010.
Young Denis Suarez
SOURCE: instagram@
Following his impressive performance for the Celta, Manchester City bought him in 2011. But he was a very young player who did not get his chance to play for them.
Later he transferred to the Barcelona B team where he scored 7 goals in 36 games including a massive impact in the id field.
Marcus's Net worth and Luxuries
According to sources, Denis Suarez's net worth is estimated to be $12 million approximately. It includes all his properties, assets, incomes, cars, houses, etc.
His major source of income is from his profession of playing football for different top clubs including Manchester City, Barcelona, and Celta Vigo.
Denis Suarez in front of a yacht
SOURCE: instagram@denissuarezfernandez
He lives a luxurious lifestyle with his girlfriend in Spain. He likes to visit different places and posts them on his social media.
Read: Tesho Akindele's Net worth and Luxuries
Salary of D Suarez with Celta and Barcelona
As per salarysport, the yearly salary of Denis Suarez is £5,044,000 per year at his current club 2022. So, his salary is £97,000 per week which is higher than an average footballer in Spain.
His salary in 2021 was slightly more than his current salary. In 2021, he earned 5.25 million pounds.
Similarly, in 2020 and 2019 and earned 5.04 and 2.25 million pounds respectively.
His salary has been increased massively after joining Barcelona in 2017. Before that, he used to earn just £832,000 per year for Villareal CF. But at that time, he was just 21 years old.
Market Value of Sam A
According to transfermarkt, his market value at Denis S is 10 million pounds in 2022.
In January of 2020, it was 12 million pounds.
His market value has decreased after 2018. At that time he was in Barcelona and it was more than 18 million pounds.
Celta Vigo signed him from Barcelona in 16 million pound fee. Previously, he was also on loan to Arsenal.
Who is the outfitter of Denis Suarez?
As per transfermarkt, his current outfitter is Nike.
Sponsors of Denis
Nike
One of his major sponsors is Nike which is a manufacturer of sports accessories like boots, jerseys and other particles.
Denis Suarez promoting his sponsor Nike
SOURCE: instagram@denissuarezfernandez
He frequently promotes them on his Instagram.
Denis Suarez car and house
Denis Suarez is living his lavish lifestyle which can be reflected by his cars.
Currently, he is in love with his black car whose model is not known at the moment. He is frequently seen with that automobile in the streets. And also likes to flex that car on his Instagram.
In 2016, he was also one of the players of Barcelona who got cars as a gift from their club.
As per the source, Denis Suarez picked the Audi Q7 3.0 TDI (272 CV), which is the same car picked by his teammates Luis Suarez and Lionel Messi.
The Brazillian star Neymar picked Audi RS7 Sportback performance 4.0 TFSI (605 CV).
Suarez's Relationship Status
According to sources, it is confirmed that Denis Suarez is in a committed relationship with his girlfriend Nadia Aviles Garcia. The couple has been together for more than 4 years in 2022.
The pair started dating in 2018 and since then, the pair has occurred with each other on different occasions. At that time, Denis was in Barcelona and Nadia is also from Barcelona.
Denis Suarez with his girlfriend Nadia Garcia
SOURCE: instagram@denissuarezfernandez
Read: Who is Milan Borjan married to? His Married Life with Snezana
She used to make her appearance in her boyfriend's game. Attending together, she also established with Coral Simanovich. She is the girlfriend of Suarez's teammate Sergio Roberto.
Nadia is quite supportive of her love always encouraging in his highs and lows. They often mention each other on social media.
As of now, the couple has not been married and has not disclosed any details about their future plans to the public.
Is Denis Suarez married?
No, Denis Suarez is not married to his girlfriend as of 2022. They have already dated for more than 4 years and are planning to marry each other.
On June 6, 2021, Suarez posted a photo where he was seen with one knee down and catching th hand of Nadia. And Nadia was seen smiling. Denis took his girlfriend to a candlelight dinner on the beach other photos the lovers were seen having a candle dinner at the beach.
And in the caption, Denis posted,
"She said Yes (with a love emoji)"
It seems Denis proposed to his current partner and she accepted to marry. Now, they must be planning on tying their knot with each other.
Denis Suarez proposed for marriage to his girlfriend Na
SOURCE: instagram@denissuarezfernandez
Till now, they have not revealed when and where they will get married. But they must be planning their wedding ceremony.
Who is Denis's girlfriend Nadia Aviles?
Nadia Aviles Garcia is famous for being the girlfriend of famous footballer Denis Suarez. She is also an Instagram model and celebrity.
Nadia was born on August 27 of 1997. So, she is 24 years old as of 2022. She is also from Spain and has been modeling for more than 4 years.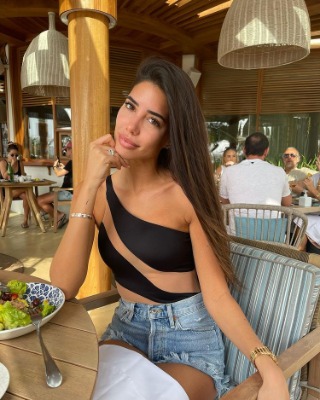 Denis Suarez's girlfriend Nadia Garcia
SOURCE: instagram@nadiavilesgarcia
Like her partner, she is also quite famous on Instagram. She has more than 221,000 followers in her Insta Id with the username @nadiavilesgarcia. She shares her beautiful photos and sometimes with her love to her fans.
Past Relationship History
Before Nadia Garcia, the Spanish midfielder was in a romantic relationship with his girlfriend Sandra Montoto. He dated his ex-wife for a few years before getting splitter in 2018.
Did girlfriend of Denis Suarez, Nadia dated Enzo Zidane.
And talking about past relationship history, Denis is not the only one Nadia has dated. Before Denis Suarez, it was rumored that she used to date Enzo Zidane, the son of French footballer Zinedine Zidane.
Though they tried to keep it private, they could not hide it from the fans and critics.
Social Media Presence
Denis Suarez is an active Instagram user where he posts about his daily life, training and with his girlfriend. His insta id is @denissuarezfernandez and has a fan following of more than 4,000 followers.
He also rises Twitter where he has more than 549,000 followers. He is using Twitter with his Id @DenisSuarez6.
His Facebook account id is @denisuarezoficial. He has more than 1.4 million followers on Facebook.
He also has a personal website.
Explore more athletes at PlayersWiki.