Personal Info
Date of Birth

Age

31 Years Old

Famous Name

Colton Underwood

Country United States US
Facts
Father

Scott Underwood

Relationship Status

engaged

No. of Twitter Followers

348.6K

First Name

Colton

No. of Instagram Followers

1.9M

Father Nationality

American

Mother

Donna Underwood

Wikipedia

Engaged Person Name

Jordan C. Brown

Last Name

Underwood

Birth Name

Colton Scott Underwood

Net Worth

$1 Million

Mother Nationality

American

Facebook

https://www.facebook.com/ColtonUnderwoodOfficial

Currently Married

Update soon

Twitter

https://twitter.com/colton

Siblings

Connor Underwood

Salary

Married to

Update soon

Birth Country

United States

No. of Siblings

1

Past married if any

No

Instagram

https://www.instagram.com/coltonunderwood/

Famous Name

Colton Underwood

Nationality

American

Affair with

Jordan C. Brown

Ethnicity

Profession

American reality television personality and former professional football player

School Location

Washington, Illinois

Famous for

professional football player

University attended

Illinois State University

School attended

Washington Community High School
Colton Underwood is an American reality television personality and former professional football player who has captured the hearts of millions with his good looks and emotional vulnerability. He rose to fame in 2018 when he appeared on Becca Kufrin's season of "The Bachelorette," ultimately making it to the final four before being sent home.
Colton's net worth is evaluated at around $1 million, a figure that has only continued to grow in recent years thanks to his various television appearances and endorsements. As for his personal life, Underwood was previously engaged to Cassie Randolph, whom he met on "The Bachelor." However, the couple announced their split in May 2020. Since then, Underwood has been linked to Jordan C. Brown, a health and wellness coach and founder of the brand Conscious Muscle.
Colton's Net Worth and Career Earnings
Colton Underwood has a net worth of around $1 million. However, his net worth is not just derived from his television appearances, but also from his professional football career.
Underwood was initially signed as an undrafted free agent by the San Diego Chargers in 2014, but he was later released from the team. He then played for a few other teams, including the Philadelphia Eagles and the Oakland Raiders, but was never able to secure a permanent spot on an NFL roster. Nonetheless, his earnings from his football career likely contributed to his current net worth.
After leaving the NFL, Underwood shifted his focus to reality television, appearing on "The Bachelorette" in 2018 and "The Bachelor" in 2019. He was reportedly paid $100,000 for his appearance on the latter show, according to Life & Style magazine. Additionally, he has also made money through sponsorships and endorsements on his social media channels, where he has a large following.
Colton Underwood shares a photo from his photoshoot
SOURCE: abc.com
Aside from his television career, Underwood has also dabbled in other ventures. In 2020, he launched a line of athleisure wear called "Legacy Collection by Colton Underwood." The clothing line, which is inspired by Underwood's love of fitness and his time in the NFL, offers a range of comfortable and stylish pieces for men and women.
Underwood's net worth may continue to grow in the coming years, as he remains a prominent figure in the entertainment industry. In addition to his reality TV work, he has also made appearances on other shows, such as "Celebrity Family Feud" and "Single Parents." He has also hinted at the possibility of writing a book about his life experiences, which could potentially be another source of income.
Colton's Relationship: Is He Bisexual?
Colton Underwood has had a somewhat tumultuous dating history, with a high-profile relationship with Cassie Randolph, whom he met on "The Bachelor," and more recently with his boyfriend, Jordan C. Brown.
Underwood's relationship with Randolph began on "The Bachelor" in 2019, with the two forming a strong connection throughout the season. They continued to date after the show ended, with Underwood eventually proposing to Randolph during the show's finale. However, their relationship hit a rocky patch in 2020, with Randolph filing for a restraining order against Underwood. The situation was eventually resolved, and the two announced their split in May 2020.
Since then, Underwood has been open about his bisexuality and has started dating men. In February 2022, he went public with his relationship with Jordan C. Brown, a health and wellness coach and founder of the brand Conscious Muscle. The two have been spotted together on multiple occasions, including on a romantic getaway to Big Sur, California.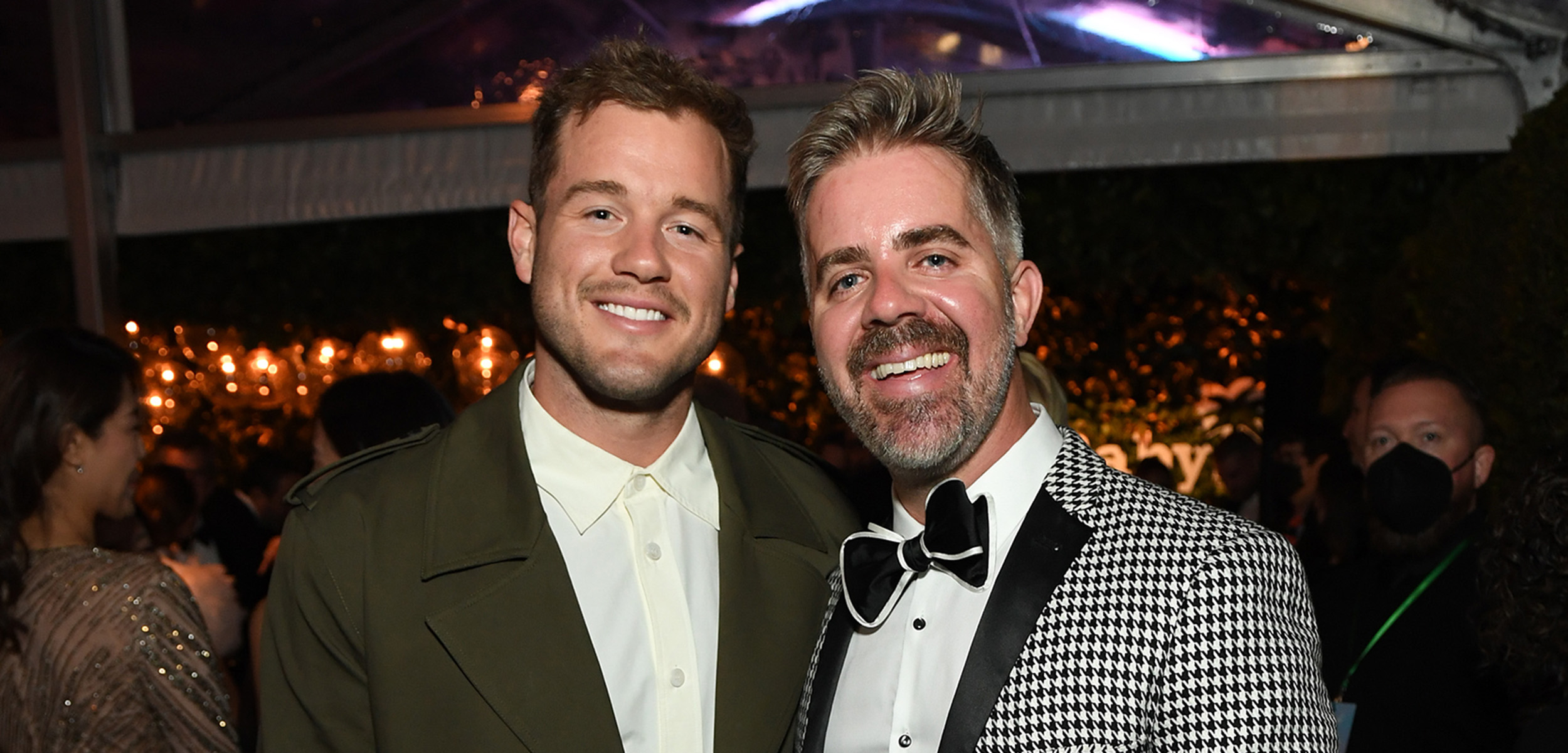 Colton Underwood with his fiance, Jordan C. Brown
SOURCE: today.com
Underwood's decision to come out as bisexual has been seen by many as a positive thing, as it has helped to raise awareness and promote acceptance of the LGBTQ+ community. In an interview with Variety, he stated that he hopes to be a role model for young people struggling with their own sexual identity, saying, "I'm very proud of who I am and I'm very happy to be who I am."
While Underwood's relationships with Randolph and Brown have been very different, they have both played an important role in his personal journey. His time with Randolph helped him to realize that he was not happy living his life according to other people's expectations, while his relationship with Brown has allowed him to explore his true self and be comfortable in his own skin.
Professional Career: From Football to Television
Colton Underwood went from being a footballer to a famous TV personality. He attended Illinois State University and briefly played as a football tight end for several teams, including the San Diego Chargers, Oakland Raiders, and Philadelphia Eagles.
After his football career, Colton became a reality television star, appearing on two popular dating shows, "The Bachelorette" and "The Bachelor." He first appeared on season 14 of "The Bachelorette" and was later named the star of season 23's "The Bachelor." Currently, Colton is in a relationship with one of his fellow contestants from the show.
Colton Underwood during the course of a football match
SOURCE: chron
In addition to his television work, Colton is also involved in philanthropy. He founded a non-profit organization dedicated to raising awareness and funds for cystic fibrosis research and supporting those living with the disease.
Colton's personal life has been widely covered by the media. He was previously in a relationship with fellow "Bachelor" contestant Cassie Randolph, but the two broke up in 2020. In 2021, Colton publicly came out as gay on national television and later starred in a Netflix series called "Coming Out Colton" which documented his journey of self-discovery and acceptance.
Early Life, Education, and Family
Colton Underwood was born on January 26, 1992, in Indianapolis, Indiana, and grew up in his hometown with his parents and two younger siblings, a brother, and a sister. His family has a strong athletic background, with both of his parents having played college sports. Growing up, Colton played a variety of sports, including football, basketball, and track and field.
After high school, Colton attended Illinois State University, where he majored in business management. He played football for the Redbirds and was named to the Missouri Valley Football Conference's All-Newcomer Team in 2011. He continued to play for the team until 2014 when a shoulder injury ended his football career.
Colton Underwood and his fiance, Jordan C. Brown
SOURCE: instagram.com
Following his injury, Colton focused on his education and started his own non-profit organization, the Colton Underwood Legacy Foundation. The organization's mission is to support people living with cystic fibrosis, a disease that Colton's cousin was diagnosed with. Through the foundation, Colton has raised thousands of dollars for cystic fibrosis research and has helped to raise awareness about the disease.
Colton's family has always been supportive of his career choices and his reality TV ventures. His father, Scott, has even made appearances on the shows to offer his advice and support. Colton has spoken publicly about the important role his family has played in his life and how they have helped him to navigate the challenges of being in the public eye.