Andre Iguodala is an American professional basketball player who plays for The Golden State Warriors of the National Basketball Association (NBA). In 2015 he was the NBA champion and titled NBA Finals Most Valuable Player. Iguodala married his high-school prom queen Christina Gutierrez in August 2015, in Mexico.
andre and Christina tied the knot in a charming ceremony at One&Only Palmilla. They have a daughter named London and son Andre Jr. After the brief detail about Andre Iguodala's personal life let's know how much salary does the player gets.
Andre Iguodala's Net Worth
The swingman for the Warriors has the estimated net worth of $28 million and earns around $13.5 million per year.
He was drafted to NBA in 2004 by Philadelphia 76ers and in August 2008 he officially signed a six-year, $80 million contract extension with the Sixers. The contract included $5 million bonuses.
In 2013, Andre agreed to a four-year contract worth $48 million with Golden State Warriors. His average salary for 4 years was around $12,000,000 a year. He signed a 3-year contract extension with the club worth $48,000,000 in 2017 with an average salary of $16,000,000. His base salary for 2017 season was $14,814,815 which will increase to $17,185,185 in his last season.
Andre Iguodala has agreed to deal to return to Warriors, sources say. https://t.co/xImvgcC9gu

— Adrian Wojnarowski (@wojespn) July 2, 2017
The popular NBA player, Iguodala owns a mansion in the East Bay city of Lafayette. The mansion of 5,700-square-foot cost him $3.6 million. The property is well facilitated with all the requirements of the player which includes an indoor basketball court, a gym, a media room and a chef's kitchen. At present, the luxury house is worth around $2.1 million.

Andre Iguodala's mansion with swimming pool view
Source: REALTOR.COM
The talented 6 feet 6 inch, Iguodala is fond of cars and has a collection of five world's best luxury cars. He has Mercedes Benz, Audi, BMW M3 G-Power, Chevrolet Corvette, and Ferrari. The grand collection is worth around $3.2 million.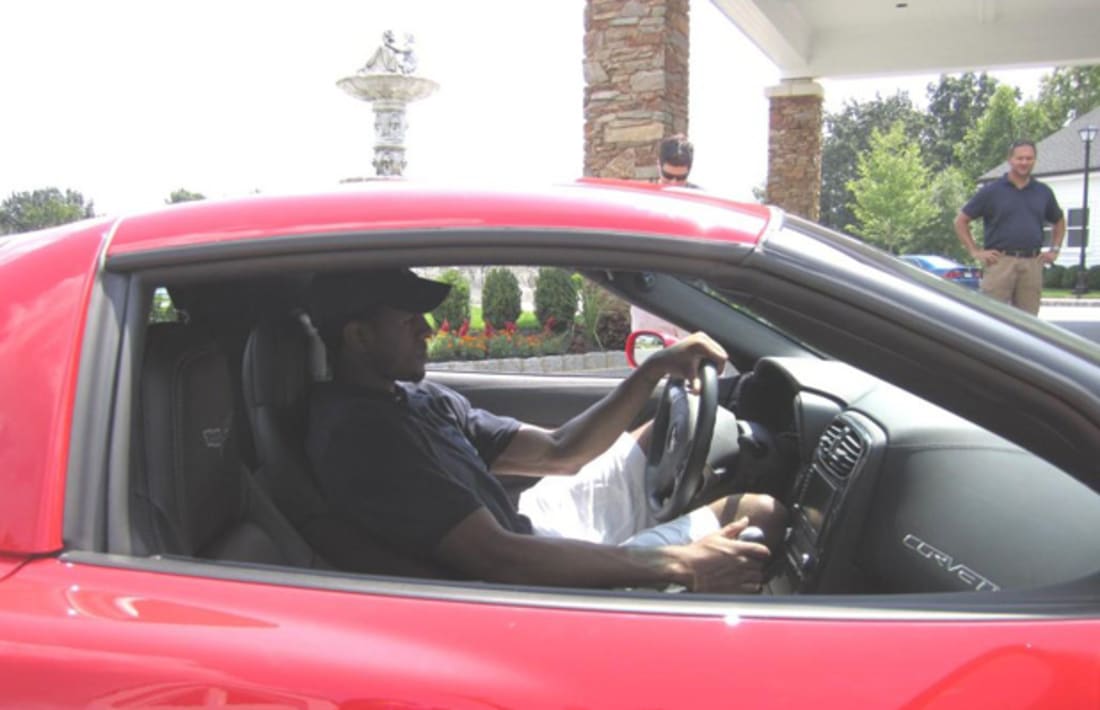 Andre in his Chevrolet Corvette
Source: Complex
Besides from his professional basketball career, Iguodala also earns a massive amount of cash through his personal investments. He has invested in companies such as Twice which is acquired by eBay. He is also an investor in a men's shaving company, B round for Bevel. He has $20.6 million worth investments in his pocket.
Along with Iguodala, his Warriors teammates like Stephen Curry, Andrew Bogut, and David Lee have also funded their earnings in different startup companies.
Andre Iguodala's Professional Career and Awards
Iguodala stepped into the professional field of basketball in 2004 with Philadelphia 76ers. Before the draft in NBA, he played two seasons at the University of Arizona. During his rookie season, he was very productive and versatile. He was named to All-NBA Rookie team and played the rookie team during the Rookie Challenge portion of All-Star Weekend.
On August 17, 2008, Iguodala signed a six-year, $80 million contract extension with the Sixers. Despite the slow start of Philadelphia in season 2010, Andre was able to perform his best and excel in his guarding skills. For his defensive efforts in playoffs, he was named to NBA All-Defensive Team Second Team but later was lobbied to First Team.
After playing eight years for Philadelphia 76ers, Andre was traded to Denver Nuggets and on July 5, 2013, he accepted the four-year contract of the Golden State Warriors. Even in Warriors he showed exceptionally brilliant defensive talents and was titled the 2014 All-NBA Defensive first team.
During the 2014-15 season, the Warriors defeated the Cavaliers, and Andre was awarded the Finals MVP. Likewise, during the 2015-16 season, he was the runner-up for NBA Sixth Man of the Year Award. In 2015, he won the NBA Championship and became the NBA Finals Most Valuable Player.Again in 2017, he won second NBA championship with the Warriors by defeating the Cleveland Cavaliers.
Golden State Warriors after the finals against Cleveland Cavaliers.
Source: sfchronicle.com
Andre was also a member of the United States national team. In 2002, he won the bronze medal at the FIBA Americas Under-18 Championship and a gold medal in 2010 FIBA World Championship.
AD Here (After Content)