Christian Bassagog is a Comerroian footballer for Shanghai Shenhua, a Chinese Super League club. Christian also works for the Cameroon national team and has represented the national team in several international events. Additionally, he wears jersey number 17 for the club.
Bassogog is the Cameroon winger and forwarder and can play in both positions if needed. Throughout his playing career, he went through many events and has assisted in many victories for his team. Additionally, Bassogog has played for about five clubs since the beginning of his initial career. The professional started his football career in 2013 when he played for Rainbow FC. More, he previously played for the club Henan Jianye.
Take A Look At His Professional Career
As mentioned earlier, Bassogog has a long and successful playing history and has been active in the vocation since 2013. So, over ten years, he has played for multiple clubs, and currently, he is signed up for the Chinese Super League club Shanghai Shenhua. Starting his young career by signing a contract with the club, Rainbow FChe made a smooth start.
Christian Bassogog and his team celebrating after a victory
SOURCE: Instagram @christian_bassogog.com
Over two years, he played for the club Rainbow FC; later, the footballer joined the Wilmington Hammerheads on April 2015. The same year he moved to club, AaB, and on Feb 26, 2021, Christian signed with Chinese Super League side Shanghai Shenhua.
International Career
Christian was the Best Player at AFCON 2017, and he started his international career by playing in the Africa Cup of Nations 2018. The Cameroon national player Duplexe Tchamba has also represented the Cameroon national team in multiple international matches.
Bassogog Is A Dad To Be- Married life Explored
Christain Bassogog is a married football player, and he recently celebrated his six months marriage anniversary with his beautiful wife. Further, he got married on February 2022; however, the footballer has not shared much regarding his wedding. Likewise, he blissfully married his wife, Maileine Bassogog, and the power couple is soon to be the parents of their first child.
Bassogog shared a photo of him and his wife showing their baby bum on his Instagram handle and announced their pregnancy with his fans. Christain is open about his wedding life and often shares pictures of his wife, sharing a great bond.
Christian Bassagog and is wife on their wedding day
SOURCE: Instagram @christian_bassogog.com
Likewise, there have been many speculations if the couple being together before sharing wedding vows. However, we have no clue about it. To explore his personal life, we can also follow him on Instagram, where the player is active as @christian_bassogog.
How Rich Is The Footballer? Lets Know
Bassogog is among the successful Cameroonian footballer whose net is estimated at around £14,167,400. According to the last update, his salary is £105,000 per week, £5,460,000 per year. However, the latest reports regarding his earnings are still to be revealed. Over such a long playing career, he has earned considerable money from his growing professional career.
According to the Transfer market, Christain's current market value is €3.00 million, and as of Jun 5, 2018, his market value was €4.00 million, the highest of all time. As mentioned earlier, he has played for multiple clubs and was transferred for free from his previous club to Shanghai Shenhua.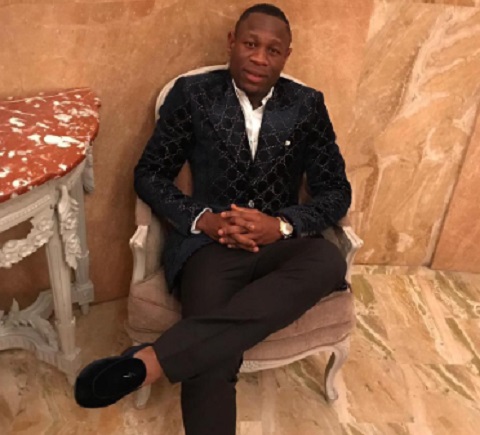 Christian Bassogog lives a lavish life
SOURCE: Instagram @christian_bassogog.com
Exploring his successful football career, he is one of the wealthiest Comeroorian footballers, including Leandre Tawamba, with an estimated net worth of $2.5 million. More, he lives a lavish life with his wife, and Christain's fashional clothes and fashion talk worthy. Similalry, he often traveled and enjoyed his vacation with his wife, Maileine Bassogog.
Short Bio Of Christian Bassogog
Christian Bassogog was born Christian Mougang Bassogog on October18, 1995. Further, his star sign is Libra. He grew up in his birthplace, Douala, Cameroon. The forwarder, Christain, holds Cameroon citizenship. Additionally, he spent most of his childhood in his him town, and Christain began playing football from a young age.
Bassogog is relatively private and prefers keeping his details away from the public, which is why little is known regarding his career. Unfortunately, nothing much is accessible about his personal life, including his family details; therefore, the name and facts remain under cover for now.
Bassogog Height And Body Measurements
Many of Christain's fans are concerned about his physical structure and often ask about his height and measurements; therefore, we are here to let you know he is 5 feet 8 inches (1.73m) tall. Talking about his appearance, he has short black hair, and we often notice Christain busy with his training as he prefers keeping himself fit.
Christian Bassogog during his training
SOURCE: Instagram @christian_bassogog.com
Likewise, Christain has a fantastic body and never misses out on his workout In the online portals, Bassogog has never mentioned anything regarding his diet plan.
Does Bassogog Have A Tattoo?
Bassogog fans are curious to know if their idol has any tattoos. As of now, he hasn't shown any tattoos, and we haven't noticed him getting ink, but if he might have planned to get a tattoo of his child as Christain is going to be a father soon, then Christain fans must have to wait some more time. Therefore, it is not confirmed that Bassogog has a tattoo.
Christian Bassagog On FIFA 22
As we know, Cameroon is one of the qualified countries in FIFA 22 as Bassogog is also a national team member, so there are many speculations that he will also compete in the upcoming FIFA World Cup. Nonetheless, he hasn't made any official announcement regarding this publicly.