Christian Atsu Twasam, aka Christian Atsu, is a versatile Ghanaian professional football player who is signed to the Saudi Professional League Club Al-Read. He plays as an attacking midfielder for the club. The Ghanaian international also plays on the right and left flanks per the team's necessities. However, Atsu is primarily a winger.
Before joining Saudi Professional League, he played in Premier League teams such as Chelsea, Everton, Bournemouth and Newcastle United. Atsu has shared the field with big names like Romelulo Lukako, etc. Christian Atsu Twasam, the attacking midfielder for Al-Read, is a crucial player for the Ghana national team, earning over 30 caps since his debut in 2012. In addition, the midfielder has been involved in social welfare activities for the betterment of poor children.
Christian Atsu Twasa's details
Atsu was born on 10 January 1992 in Ada Foah, Ghana, under the Capricornus birth sign. As of now, Atsu is aged 30 years old. Recently, the winger completed in Saudi Arabia's Professional league side with the club Al-Read based in Buraidah as an attacking midfielder. Al-Raed is a 2x Saudi First Divison League winner supervised by coach Joao Pedro Sousa. He wears jersey number 3 for his club.
To date, the left-footed Ghanain winger Atsu has an experience in various leagues, including EPL and Premier Liga. Talking about his physical measurement, Atsu is 5 ft 5 inches or 1.65m in height and weighs 68 kg. The athlete is of Ghana nationality with African ancestry. The 30 years old attacking midfielder is Christian by religion.
Family background and details
Christain Atsu, a professional football player, was raised by Ghanaian parents. He is the son of Immanuel Atsu. However, he keeps his mother and sibling details and profession under the radar as of now. As a child, he has gone through numerous hurdles battling poverty. They even faced hardships fulfilling their basic needs at that period. In the tragic incident, he lost his father Emmanual to ill health without money for medications. After that, their life got even worse.
His mother and his elder brother manage to raise him and his twin sister. His family presently resides in Ghana. Details concerning his brother and twin sister are still in suspense. Now, Christain is looking after his family back in Ghana and also working on the project of battling poverty in his home country.
Read more.Bradley Hudson-Odoi
Christian Atsu's career review and stats
Growing up in Ada Foah Greater Accra Region, the 30-year-old was a sporty person concerned with most college and school activities. His childhood was troubled by financial problems. He finally found a way out of poverty from football. As a youth player from Porto FC, he began his soccer journey in 2009. Before joining the Porto youth team, Feyenoord Football Academy spotted his talent and brought it to the academy. After training for three years with Porto's youth squad, he was promoted to the senior team playing his first professional game against Maritimo on 14 May 2011.
The club loaned him to fellow league side Rio Av for the 2011-12 season a year later. Al-Raed, jersey number 3 Atsu, made his debut for Ave on 28 August 2011. Afterward, in the year 2013, he earned a move to the European side. The Ghana international agreed to a major five-year contract with Chelsea in 2013. However, he was immediately loaned to Dutch club Vitesse Arnhem for £3.5 million for the remainder of the 2014 season. Coming off the bench, the skilled winger Atsu made his debut for the Vitesse Arnhem on 6 October 2013. At Vitesse, he was honored with Vitesse player of the year 2013-14.
Atsu in his former club jersey
SOURCE: Instagram
After completion contract returned to the Premier League, joining Everton on loan until the end of the 2013-14 season. He delivered worth there and later established himself as a crucial player for the team. Likewise, he appeared for Bournemouth, Malaga, and News castle United from 2015 to 2021. Atsu, who is the attack for Al-Raed, is considered a successful Ghanaian footballer of his era. After his release from the EPL, the athlete moved to Saudi Professioanl League with Al-Raed. Recently, he has been serving the team as a tackling midfielder.
Christina Atsu, the 2016-17 EFL Champion, is also aware of his national duty. He made his first international appearance as a youth player earning a cap for the team. Moreover, Atsu is regarded as an Excellent Prospect as per ESPN. He has greatly contributed to the Ghana National in numerous international Champions, cups and Leagues. The 30 years old athlete is one of the most respected players in the country.
How much is Atsu's Net Worth? Market value and Salary
Christian Atsu, the 2015 African Cup Nations Player of the Tournament is one of the highest-paid footballers in the Saudi Professional League. Exploring his lifestyle on Social media, he seems to be earning impressive income from his profession.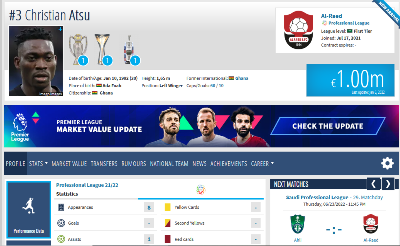 : Atsu present market worth
SOURCE: Transfermarkt
According to our research, Atsu, a versatile player's net worth, equals $9.8 million per salary sport. When he signed a contract with Newcastle United, he needed the whooping annual wage of £1,664,000 and £32,000 per week. Now at Al-Raed, he acquires £14,00 weekly and £7,28,000 yearly. He now has a market worth of €1 million, and his carrer highest was €6 million per the transfer market.
Sponsors (NIKE)
Atsu is endrsied by Nike. He is well paid for his job. The monetary transaction between the partakers seems to be secret presently. Nike also sponsors Aatsu sponsors with football boots and kits.
Relationship status; Married
Regarding relationship matters, Atsu, the Ada-Foah professional footballer, is confidential about it. However, he is a happily married individual. He is the hubby of his beloved wife, Marie-Claire Atsu. They are truly in love. The duo exchanged their wedding vows in 2012. Christian thew a grand reception party in his hometown where many celebrities and footballers were also in attendance.
Christian and his wife
SOURCE: Instagram
The Atsu family is happy and nuclear of five members. The former Everton player is the father of his three children. He is a regular media user and often posts his children's vacation and outings photos there. Jersey number 3 shares a strong bond with his children.
Facts and Trivia
He lost his father at an early age.
The player is a Brand Ambassador for the charity Arms Around the Child based in Uk to battle poverty.
Atsu clinched many trophies, including the 2012-12 Premeira League and EFL Championship 2012.
His Instagram username is @Christian_atsu, and he has 203k followers on it.
The Ghanaian descent is the 2013-14 Vitesse Player of the year.
Christian Atsu was born twin to his sister.
At Playerswiki, you may find an expansive range of interesting love affairs, buzz and players.