Personal Info
Date of Birth

Age

27 Years Old

Famous Name

Armin Sohrabian

Country Iran
Facts
No. of Instagram Followers

160K

Past Team

Saipa

Father Nationality

Iranian

Market Value

€550K

Birth Name

Armin Sohrabian

Net Worth

$2.5million (Approx)

Mother Nationality

Iranian

Salary

$2,50,000

Birth Country

Gorgan, Iran

Famous Name

Armin Sohrabian

Horoscope

Leo

Position in Team

Left-back, Centre-back

Nationality

Iranian

Current team

Gol Gohar Sirjan

Religion

Muslim

Profession

Football player

Squad No

3

Famous for

Football

Currently Club

Gol Gohar Sirjan

Show

Persian Golf Pro League
Armin Sohrabian is a reputed Iranian professional football player who is currently on a contract with the club Gol Gohar Srijan F.C based in Sirjan, Iran. He serves as a left-back for the club. Moreover, the Iran international is also suited for the center-back role as well. He plays in both positions as per the team's needs. For your information, Armin Sohrabian is a former Iran youth international.
Armin Sohrabian, the left-back for Gol Gohar Sirjan F.C professional, entered the soccer world in 2014. With his defensive and tackling mastery, he has led his team towards victory in several matches and immensely impacted his club's team tactics and game plans. Talking about his domestic career, the defender has played for numerous Iranian top clubs, including Sepahan, Esteghlal, Saipa and Gol Gohar Sirjan F.C.
A brief description of Armin's birth date, family, and early life
Armin Sohrabian was born on 26 July 1995 in Gorgan, Iran, with a Leo su,n sign. He is of Iran descent and holds an Iranian citizenship card. As of 2022, Iran international is 26 years of age. Armin is a true devote Muslim who practices and follows its values and beliefs. Armin peaks his impressive height at 5 ft 11 inches or 1.81m and weighs around 75 kg. Further description, he has a long shredded athletic body structure with a beard on his face.
The athlete has not spoken about his family details as a private personality. Thus, his family identities and background remain under the radar as of this writing. Despite this, his family has always been his motivational source and staunchest backers in his carrer and personal life. Apart from football, Armin loves to travel to new locations as he has shared photos of his vacation days on his Instagram.
Armin's football journey from Sepahan to Gol Gohar Sirjan
Armin showed his keen interest in soccer from his ealry days. He always wanted to become professional football. Following his passion, in 2011, he joined the Persian Gulf Pro League club Sepahan Sports club's youth system and played his amateur career until 2014. He was 17 yeras old at that time. The 26-year-old had a late entry in football as compared to other players. Armin and his fellow mate Aref Gholami, both of Iran nationality, began their soccer career with the Sepahan Sports club. However, Aref now plays for Esteghlal.
We can say that Armin is a product of the Sepahan youth system, which got promoted to the senior Sepahan squad in the Persian Golf Pro League in late 2014. It was fortunate that, just after his rise to the Senior team, the athlete won his first pro career, clinching the title of the Persian Golf Pro League 2014-15. At Sepahan, he was provided few opportunities and just recorded 14 league appearances for the club. Shortly after his contract expiration, the 5 ft 11 inches defender joined the ninth times Iranian League Champion Esteghlal on Wednesday, July 28, 2017, on a two-year contract.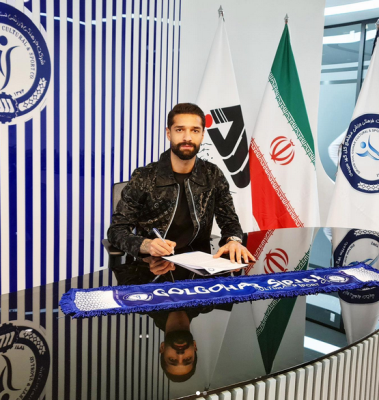 Armin signing a new contract with Gol Gohar Sirjan
SOURCE: Instagram
After spending a few weeks on the bench, he finally got his debut match against South Pars Jam as a left-back in the 2017-18 season. He also caped several individual titles. His brilliant performance in the Asian Championship League attracted Eseghlal fans and got praised by them. During his two-year tenure, the versatile defender appeared in 26 overall matches for the team and left the club at the end of the 2018-19 season. As for the following season, the former Sepahan player signed a season contract with the Saipa playing 29 games and adding three goals to his tally. Afterward, the center-back moved to the Gol Gohan Sirjan at the end of 2020. Now, he wears jersey number 3 on his back. To date, Armin has played 27 games for the Gohar Sirjan.
Talking about his international career, he made his first appearance for Iran back in 202 at U20 Level. The prudent and skilled defender player from 2012 to 2014 for the U20 level and added three goals to his tally. Since then, he is not able to take his spot on the team. He is still to make his presence for Iran's senior national team. The reason behind it is he has huge competitors in his position.
Relationship status: Is he dating someone?
The Gol Gohar Sirjan Jersey number 3 Armin Sohrabian seems to be a private individual that prefers to keep his personal facts to himself. Due to his low-key essence, he appears to be a mysterious person. In addition to that, there are no posts on Instagram on his loving making us a real hard to determine his relationship status at the moment. Like his family info, he has also banned his relationship details from the social media spotlight.
Presently, he is still too focused and dedicated to his career rather than dating someone. Also, the absence of his love life rumors and news makes us believe he is probably single. We will reach you on this topic as soon as it's online.
The wherewith and net worth of Iranian footballer Armin Sohrabian in 2022
According to our research, Armin has an estimated net worth of around $2.5 million. The Iran Pro League footballer Armin Sohrabian comes under the list of highly earned Iran footballers in the meantime. He is one of the well-established players and a role model for many of his fans. Notably, Armin makes most of his many playing for the top Iranian football clubs. To date, he has appeared in many league matches, making him good fortunes for his future.
Armin with his BMW after his Training session
SOURCE: Instagram
When he signed a deal with Gol Gohar, he netted an astronomical annual wage of £2,50,000. Weekly, he receives £5000 from the team. Notably, he is a two-star rated player. He lives a quality with the earnings from his football career. Per the value listed by Trasfermarket, Armin Sihrabian holds the trending market worth of €550K, which is also his all-time career highest value. His contract with the club ends on 30 June 2023. PIFA is his against who handles all his transfer-related activities.
Facts and achievements of Armin Sohrabian
His Instagram account @armin_sohrabian13 has 160k followers.
He badly got injured in the clash with the Esteghlal defender Pavani.
Armin won the Iranian Football Cup 97-96 and Hazfi Cup 2017-18 with Esteghlal.
Iran international capped 2014-15 Premier League title with Sepahan.
To get more diversified news about your favorite player, stay tuned to Playerswiki.