Ante Budimir is a Croatian professional footballer who plays as a forward for the Spanish club Osasuna and the Croatian national team. He was recently named to the Croatian National Team for the Euro 2020.
Budimir was born in Zenica, SR Bosnia, and Herzegovina, Yugoslavia (now Croatia) on July 22, 1991. As a youth, he began training with NK Radnik, a former football club in Zagreb County. He was honed by three other such clubs namely Lask Linz, NK Sesvete, and HNK Gorica.
Ante Budimir's Career
To date, Budimir has played more than 40 games with only one club, NK Inter Zapresic. He started playing for the team in 2011 and exited in the year 2013. During this time, he made 66 appearances and scored 18 goals across all competitions. He then went on to play for Lokomotiva Zagreb for whom he would make 30 advents whilst scoring a total of 17 goals. Budimir joined German club FC St Pauli of Bundesliga B in August 2014. He scored 1 goal in 20 appearances in the St.Pauli shirt.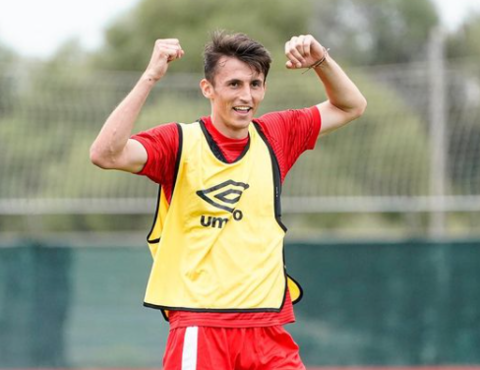 Ante Budimir Budimir plays for the Osasuna
SOURCE: Instagram
In September 2015, he was loaned to the Italian club Crotone. He finished the season as Crotone's top goalscorer with 16 goals in 40 appearances. He then spent a brief time with a fellow Italian team, Sampdoria. Budimir returned to Crotone in mid-2017 and played in their 22 games scoring 6 goals before signing a new contract with the Pythagoreans in 2018. En route to his departure from Crotone in 2019, he hammered additional 3 goals in 17 games.
He next moved to the Spanish club Mallorca. With the Vermillions, he netted 18 goals in 54 occurrences. Since 2020 he has been playing for Osasuna and as of June 2021 has found the back of the net on 11 occasions. Budumir made his debut with the Croatia national team on October 7, 2020, and scored his first goal on November 11 in a friendly three-all draw against Turkey.
Related Bio: Croatian Midfielder Luka Modric Married life and Net worth
Ante Budimir's Net Worth and Salary Analysis
Since 2014, Budimir has been constantly priced in the domain of seven figures. St Paul had to pay a reported transfer fee of around $1 million to land him at Millerntor Stadion during the summer of 2014. He was set at a market value of over €1 million while playing for Crotone.
By the time, Sampdoria came looking to hire him, his buyout clause had already reached a price tag worth €1.8 million. Mallorca paid a whopping €2.2 million to sign him in a permanent deal in 2019.
The aforesaid details pretty much give a rough idea, how Bufimir stands when it comes to market value. Reports estimate the Croatian striker has brought in a little over £3 million solely from salaries - paid sequentially by five different teams starting from the season 2014-15.
For his debut year, NK Lokokotiva provided him with a salary corresponding to £47,320. His compensation got proliferated sevenfold with Hamburg St Pauli. Donning their shirt paid him a yearly salary worth £338,000.
This tripled when he moved to Sampdoria in 2017. For the next three seasons, he couldn't make as much money as he was bringing in during the first three years of his career.
Nevertheless, he still saw pocketing an average payment of about half a million pounds from 2018 to 2020. From the above-mentioned details, rendering a statement that Budimir's net worth is in the vicinity of £2 million, shouldn't be that much of a hard pill to swallow.
Also Read: Croatian attacking midfielder Ivan Rakitic Net worth and Married life
Ante Budimir's Wife and Family; Does he have Children?
Budimir celebrated his wedding with a woman (though unidentified) on July 13, 2019. Much to his fans' surprise, there was no engagement news much less the timeline of his relationship with his wife. His nuptial dance was all that his followers could know about his big day and so was his relationship with his better half.
Ante Budimir and his wife
SOURCE: Instagram
The new Osasuna forward posted a picture where he can be observed being head over heels for his bride. The picture also entails a Croatian phrase that, in translation says, "Part of You." The next post from his Instagram features what might be his wedding reception moments.
In the imaging, the Bosnian-born footballer and his lady hold each other's gaze while strolling through what looks like a park.
Ante Budimir with his girlfriend
SOURCE: Instagram
Inter Milan midfielder from Croatia Ivan Perisic's net worth and married life
It is believed that the couple has already welcomed their child. On April 28, 2021, Budimir shared a picture, only this time he and his wife were wheeling a pram - though the post didn't entail any infant nor the Croatian shared any story within.