Alex Forsyth is an American football center who plays for the NFL's Denver Broncos. He was a first-team all-state football player at West Linn High School before joining the Oregon Ducks in college. He was on the Rimington Trophy watch list during his college career. He was drafted by the Broncos in the seventh round of the 2023 NFL Draft as the No. 257 overall pick.
Alex Forsyth's Net Worth & Contracts Details
Alex Forsyth is one of the most talented players in the NFL who has an estimated net worth of $500,000 similar to a Canadian ice hockey player Jacob Perreault. His future net worth will probably rise as he keeps playing in the NFL and secures more endorsements and sponsorships.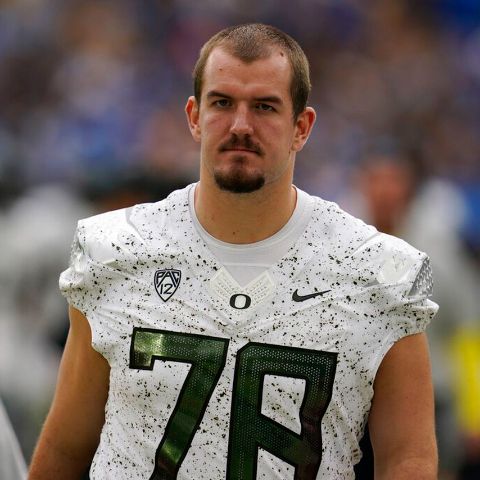 Alex Forsyth has an estimated net worth of $500,000 as of now.
In addition, he accepted a four-year deal from the Denver Broncos, worth $3,917,776 in total. He got a signing bonus of $77,776, which is also the amount of money guaranteed in his contract. His salary per year is $979,444 on average. In 2023, his base salary is $750,000 and his signing bonus is $77,776. His cap hit and dead cap value are the same in 2023, which is $769,444.
High School Career
Forsyth was born on February 13, 1999, in West Linn, Oregon. He participated in football at West Linn High School, earning the distinction of first-team all-state in both his junior and senior years. He was a three-star recruit who committed to play college football at Oregon.
College career
Forsyth did not play in his first year at Oregon in 2017, but he got some game time in the next two seasons, switching between right guard, right tackle, and left guard in five games each year. He became the regular center in 2020, starting all seven games in the shortened season due to COVID-19. He played the most snaps on offense and gave up only one sack, earning a second-team all-conference selection.
Alex Forsyth has pursued a career in the NFL as a professional player.
In 2021, Forsyth made appearances in 10 out of 14 games, with nine of them as the starting center, earning himself second-team all-conference honors once more. Given an additional year of eligibility due to the COVID-19 pandemic, he made the decision to return to Oregon for the 2022 season.
In his final year, he was rated as the second-best pass-blocking center nationally according to PFF's rankings and was named a second-team All-America selection.
RELATED: Trey Lance Net Worth 2023: Lance's Salary Revealed with the 49ers?, Contract Breakdown & NFL Earnings
NFL Draft
Forsyth participated in the 2023 NFL Combine, where he measured 6 ft 3 + 7⁄8 in (1.93 m) and 303 lb (137 kg), and performed 29 reps on the bench press.
The star player was selected by the Denver Broncos as the 257th overall pick in the 2023 NFL Draft during the seventh round. He is expected to provide depth and competition at the center position for the Broncos.
What is the Relationship Status of Alex Forsyth?
Alex Forsyth is a talented young football player who prefers to keep his personal life private. He has not shared any details about his relationship status with the public, and he may have his own reasons for that. He may be focusing on his career, which has a lot of potential, or he may be waiting for the right person to come along.
Alex Forsyth is currently single and not dating anyone.
The athlete played college football at Oregon and was drafted by the Denver Broncos in 2023. He has no interest in seeking public attention and prefers not to engage in other matters. He may be happy with his privacy and his choices.
RELATED: Stefon Diggs Net Worth 2023, Contract Breakdown, Salary, NFL Earnings, Responds to Stephen A. Smith & NFL Stats
How NFL Player Alex Forsyth Honors His Father's Legacy After Clackamas Shooting?
Steve Forsyth, the father of NFL player Alex Forsyth, was killed in the Clackamas Town Center shooting in 2012. He was one of two people killed in the shooting, which also injured a third person.
Forsyth has said that he plays to honor his father's memory and to keep his name alive. He has also established the Steve Forsyth Memorial Fund, which awards scholarships to students at his high school alma mater.
It is tragic that Steve was killed in such a senseless act of violence. He was a beloved father, husband, and friend, and he is deeply missed by all who knew him.