Albert Sambi Lokonga is a professional football player from Belgium who currently plays in the English top division, Premier League. He plays in the midfielder position for Arsenal where he joined in 2021. He wears the Number 23 Jersey for his team.
Lokonga has also represented his nation, Belgium in different competitions. He played in the World Cup qualifier game against Estonia. Previously, he also played for the Under 17, Under 19 and Under 21 teams of Belgium.
Who is Albert? His Personal Information and Family
Albert-Mboyo Sambi Lokonga, famously known as Albert Sambi Lokonga was born on October 22, 1999, in Verviers, Liege, Belgium. According to astrology, his birth sign is Libra.
Sambi Lokonga was born to his Congolese parents. His father's name is Desire Lokonga while his mother's name is Josee Lokonga. Later, they migrated to Belgium for better opportunities where Albert was born.
Albert Sambi Lokonga with his family
SOURCE: Instagram@sambilokonga48
He also has a brother named Paul-Jose M'Poku who is also a professional footballer. He currently plays for the Turkish club named Konyaspor. Albert is the youngest brother among them and the age gap between the footballer brothers is 8 years old.
Read also: Matt Tifft's Salary, Relationship Status and Family
Albert's Physical measurements: height and weight
As of 2022, Albert Sambi L is just 22 years old and possesses a height of 6 feet 0 inches (1.83 meters).
His weight is around 67 kg and has short black hair. He has a muscular body with an average-looking size.
Albert's Net Worth and Earnings
As per sources, the estimated net worth of the Belgian midfielder, Albert is approximately $1.5 million. His worth includes all his properties including cars, assets, houses and monetary values.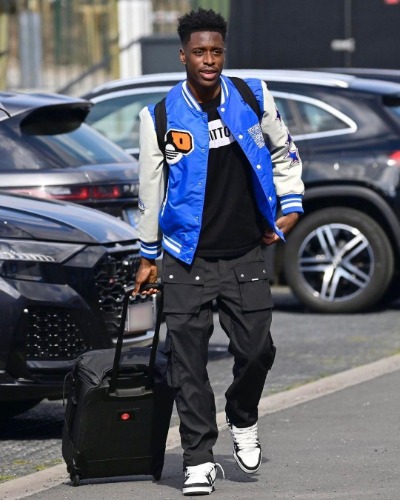 Albert Sambi Lokonga in front of a car
SOURCE: Instagram@sambilokonga48
Albert's major source of income is his profession of playing football. He lives a moderate lifestyle on his own in Belgium. And sometimes likes to flex his cars and others on his Instagram too.
Read More: Albert Sambi Lokonga
What is the salary of Sambi?
As per Salary Sport, the yearly salary of the Arsenal midfielder is approximately around $3 million per year. His wage has increased massively since he joined Arsenal in 2021. In 2021, his yearly salary was estimated to be £2,756,000 per year and £53,000 per week.
It was relatively low during his time at Anderlecht. In 2020, he earned £1,820,000 while earning £1,040,000 in 2019. But before that, it was much lower wages around just 100 thousand pounds per year.
Read: Javon Wims's net worth and career earnings
The Relationship Status of Albert
Despite being one of the famous footballers from Belgium, the midfielder Albert Sambi Lokonga has been pretty quiet regarding his relationship status. Till now he has not shared whether he has any partners or not.
Albert Sambi Lokonga with his friend
SOURCE: Instagram@sambilokonga48
Albert is also previously neither engaged nor married to anyone. So, it seems the athlete is currently single and not married. However, he is just a young athlete who is focusing on his career rather than spending time with girls.
Explore more athletes at PlayersWiki.