Personal Info
Date of Birth

Age

24 Years Old

Famous Name

Aidan O'Connell

Country United States US
Facts
Relationship Status

married

No. of Twitter Followers

362

First Name

Aidan

No. of Instagram Followers

6,824

Wikipedia

https://en.wikipedia.org/wiki/Aidan_O'Connell

Engaged Person Name

Last Name

O'Connell

Birth Name

Aidan James O'Connell

Net Worth

$ 1 million

Facebook

https://www.facebook.com/aidan.oconnell.56/

Currently Married

Yes

Twitter

https://mobile.twitter.com/oconnell8aidan

Married to

Jael Johnson

Past married if any

No

Instagram

https://www.instagram.com/aoc16qb/

Famous Name

Aidan O'Connell

Divorce

No

Girlfriend

Jael Johnson

Profession

American Football player

School Location

Lincolnshire, Illinois

Famous for

American Football player

Started career as

American Football player

University Team

Purdue Boilermakers football

University attended

Purdue University

School attended

Stevenson High School
Aidan O'Connell is a football quarterback who hails from Long Grove, Illinois. He currently plays for the Purdue Boilermakers. He played high school football at Stevenson High School in Lincolnshire, Illinois. In 2017, he joined Purdue as a walk-on.
Furthermore, O'Connell chose to return to Purdue Boilermakers in 2022 rather than go to the 2022 NFL Draft. Besides his professional life, O'Connell also maintains a happy married life. He has been together with his wife, Jael, for quite a long time now, and they recently got married.
Aidan O'Connel Wife, Jael Johnson: Aidan Is Married To His Wife
Starting with his married life, O'Connell tied the knot with his longtime girlfriend-turned-wife, Jael Johnson. The wedding ceremony was held on July 30, 2022, in Spencer, Indiana. Regarding their relationship, O'Connell and Jael met each other at the Fellowship of Christian Athletes at Purdue in 2018. During that time, Jael was a freshman, while O'Connell was a sophomore.
Aidan O'Connell with his girlfriend-turned-wife, Jael Johnson
SOURCE: Instagram @aoc16qb
The duo started as a friend, and later, their friendship turned into a romantic relationship. After dating each other for four years, O'Connell proposed to his girlfriend in 2022 and got engaged. Moreover, O'Connell often posts snaps with his life partner on his IG.
Aidan O'Connell Net Worth: Aidan's Career Earnings, Salary, And Contracts
O'Connell is currently playing for Purdue Boilermakers. He was about to start his professional career, but for some reason, he used his sixth year of eligibility to return to the program the following season. So, O'Connell may earn a good amount of money in the future by playing with professional teams.
Aidan O'Connell came out of the first football camp on June 11th
SOURCE: Instagram @aoc16qb
A professional football player earns over $1 million annually in the United States of America. Drew Plitt is a professional football quarterback with a net worth of around $1 million. Drew plays for Arlington Renegades in XFL.
Purdue: Aidan O'Connell High School Stats and Career
O'Connell went to Stevenson High School in Lincolnshire, Illinois. O'Connell threw for a school-record 2,741 yards and 26 touchdowns as a starter. And in 2017, O'Connell joined Purdue Boilermakers as a walk-on. He didn't play in 2017 and 2018. And in 2019, he played in six games. His first career start came against Northwestern.
In the 2019 season, O'Connell completed 103 passes for 1,101 yards with eight touchdowns and four interceptions. He entered the 2020 season as the starter before having a season-ending injury after three matches. After doing pretty well that season, he joined 2021 as the backup to Jack Plummer. In 2021, he completed 315 passes for 3,712 yards with 28 touchdowns and 11 interceptions.
Aidan initially made his mind to list his name for the 2022 NFL Draft but at the end, He changed his mind and decided to withdraw his name from the list.
Read more about Damien Williams
Family Background: Details On His Parents and Brother
Aidan James O'Connell was born on September 1, 1998, to his supportive parents in Long Grove, Illinois. So, O'Connell holds an American nationality and stands at the height of 6 feet 3 inches (1.91 m). His parents are reported to be Bryan and Karen O'Connell.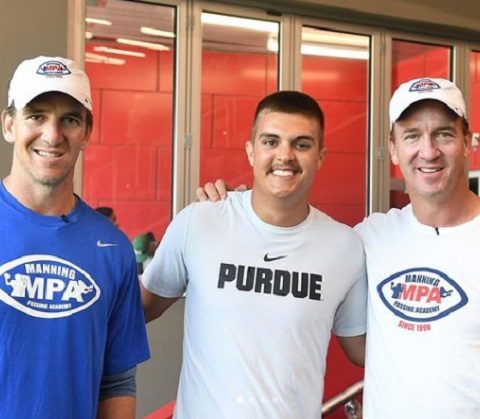 Aidan O'Connell with his friends
SOURCE: Instagram @aoc16qb
Besides, O'Connell was raised along with his siblings, but their details are not available in the public domain. But we know that O'Connell faced a tragic incident in his life when his older brother, Sean, passed away on November 2022.
Aidan O'Connell On Instagram
O'Connell is active on Instagram, just like Baker Mayfield. His username is @aoc16qb, and Instagram has verified his account. Apart from that, O'Connell is also active on Twitter. When O'Connell lost his brother, Purdue Football also shared the official news via Twitter.