Ahmed Ayoub Hafnaoui, born on 4th December 2002 in Métlaoui, Gasfa, is a Tunisian swimmer who stunned the world in the 2020 Summer Olympics. The Tunisian swimmer was the slowest qualifier for the final race but won the gold medal in the men's 400-meter freestyle.
Ahmed Hafnaoui is only the third swimmer in history to achieve a gold medal out of the 8th lane, the slowest qualifying lane.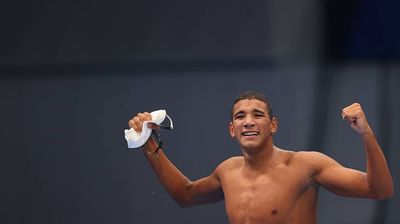 Ahmed Hafnaoui in Summer Olympics 2020 Tokyo
SOURCE: instagram@ayoub_hafnaoui
Ahmed Hafnaoui is the first Tunisian and African to win the Olympic gold at the Tokyo 2020. Hafnaoui is ranked 16th in the world and ranked No.3 in the 400-meter freestyle.
Early Life and Carrer
Born in Métlaoui, Gafsa, Hafnaoui started in the sport at age 6, When he was 12 years old when he joined the national swimming program of Tunisia in 2014. He is Tunisian basketball player Mohamed Hafnaoui's son.
The 13th African Swimming Championship, which was held in Algiers, Algeria, in 2018, is where he started his career as a professional one. Hafnaoui finished second in the 4×200-meter men's freestyle swimming and third in the men's 800-meter, 1500-meter, and 4×100 meter freestyle events.
Ahmed Hafnaoui with Joabrane Touili
SOURCE: instagram@ayoub_hafnaoui
Hafnaoui finished seventh in men's 800-meter freestyle swimming and eighth in men's 400-meter freestyle swimming at the 2019 Summer Youth Olympics. He finished 17th in men's 1,500-meter and 19th in men's 400-meter freestyle swimming at the World Swimming Championships held in Hangzhou, China.
Ahmed Hafnaoui , Joabrane Touili and Med Firas ISSAOUI
SOURCE: instagram@ayoub_hafnaoui
At the 7th FINA World Junior Swimming Championships held in Budapest, Hungary, Hafnaoui finished 4th in men's 800-meter and 6th in men's 1,500-meter freestyle swimming. The dedication of Hafnaoui to swimming has made him what he is today; despite the ups and down's he worked hard, he kept on working hard.
On July 25, 2021, Hafnaoui won a gold medal in men's 400-meter freestyle swimming at the 2020 Summer Olympics in Tokyo, Japan making him the first Tunisian athlete and the first African athlete to achieve a gold medal at the 2020 Summer Olympics and was 18 years old. Hafnaoui won the country's fifth gold medal and is the second Tunisian swimmer to win gold.
Joabrane Touili is his personal coach, who has been there for him since the 13th African Swimming Championships. Jobrane has supported him build his career till now. He loves to work out with his personal coach and has a great friendship with him. Jobarane is the international swimming coach and has Participated in the World Championship, Youth Olympics, and Junior World Championships.
Ahmed Hafnaoui Networth and Earnings
For the time being, Halfnaoui's net worth is unknown. His career is just at the starting phase, He participated in a lot of tournaments where he achieved some prize money. Hafnaoui succeeded in winning the Olympic gold medal in 2020 Tokyo.
However, Hafnaoui has was sponsored by Arena Swim, which provided swimsuits, gear, and equipment. The team supported him for the Summer Olympics 2020. After Hafnouis stirring a gold medal win at the Tokyo Olympics, FINA president Hussain Al-Musallam announced constructing an international center for high performance in Tunisia. This project is a direct tribute to the achievement of Hafnoui.
The Tunisian gold medalist makes an average of $37,500 annually, and this year's Olympic gold medal is worth $820 plus. After the Olympic gold medal in the Toyko 2020 Olympics, Hanfnoui will get a bunch of sponsors.
Ahmed Hafnaoui's Girlfriend; Is he dating?
Hafnaoui is in his teenage now, and it is a very young age to have a girlfriend. He is not dating anyone. He is determined towards his swimming career.
He is just 18 years old Tunisian Swimmer, and is private about his life and love life. He has not been seen with any girls recently. Hafnoui loves to spend his time with his coach and other team members during his training.
Want to Know more about Ahmed Hafnaoui?
The Tunisian Swimmer is active on Instagram, followed by the username ayoub_hafnaoui. The Swimmer post about his life there you can check there.