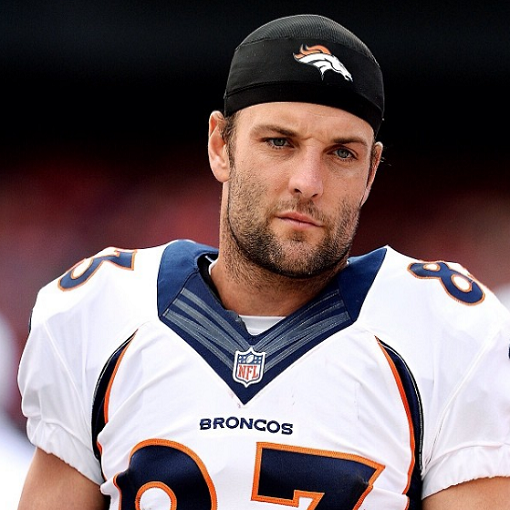 Facts
Birth Name

Wesley Carter Welker

Birth Place

Oklahoma City

Famous Name

Wesley Welker

Birth Date

May 1, 1981

Father

Leland welker

Mother

Shelley Welker

Net Worth

$15 million

Salary

$900,000

Siblings

Lee Welker

Height

5 ft 7 in

No. of Siblings

1

Nationality

American

Ethnicity

White

Profession

NFL Coach

Currently Working For

San Francisco 49ers

University attended

Texas Tech

School attended

Heritage Hall

Married to

Ann Burn Welker

Children

Carter Welker and Caroline Welker
Former NFL wide receiver, Wes Welker has played with San Diego Chargers, Miami Dolphins, New England Patriots, Denver Broncos, and St. Louis Rams. After retirement in 2015, he started serving as an Offensive assistant coach for Houston Texans and currently, he is the Wide receivers coach of San Francisco 49ers.
Five times Pro Bowl winner was born as Wesley Carter Welker on May 1, 1981, in Oklahoma City. He completed his high school from Heritage Hall and later enrolled at Texas Tech. He went undrafted during the 2004 NFL Draft and signed as an undrafted free agent with the San Diego Chargers.
Net Worth and Salary
The former NFL wide receiver earns a pretty good sum as an assistant coach of the San Francisco 49ers. He is the current wider receiver coach of San Francisco 49ers where his annual salary is between $900,000 to $1 million. He has an estimated net worth of around $15 million as of 2019.
Wes Welker On His Car
SOURCE: Instagram @weswelker
After retirement, he started his career as an offensive coach for Huston Texans with whom he signed a 1 year, $970,000 contract in 2017.
As a player, he played 12 years in NFL and reportedly made the career earnings of $40,845,098 until 2015. signed a 5-year contract with The New England Patriots which was worth $18.5 million. Before that, he was signed to a 2 year, $12 million worth contract with Denver until 2015.
Married to Ann Welker
The former Patriot's wide receiver is married to Ann Welker. The couple is tied in a knot with each other since 2012 after dating each other for 2 years since 2010.
They are the parents of t three children, a son Carter Welker who is 12 years now, a daughter Caroline Welker and a 2-year-old child born in 2017.
Wes Welker With His Wife Ann Burn Welker and Their Children Caroline Welker and Carter Welker
SOURCE: Instagram @weswelker
Wes and Ann seem to know each other since 2010 and their relationship came in front of the public when Ann was spotted sitting in the owner's box at a patriot's game back in 2010.
After dating a couple of years they got engaged in January 2012 and tied a knot with each other later the same year. As per some reports, the couple was married in a ceremony held in Aspen.
Wes Walker With his Wife Ann Burn Welker
SOURCE: Instagram @weswelker
Before meeting Wes, Ann used to be the bikini model who was named Miss Hooters International in 2005. She has also appeared in Hotters Calander Girls.
Ann Making Stand For Her Husband
After the end of the season, this year Wes's wife Ann was on the news for her reaction like Tom Brady's wife Gisele Bündchen was last year. When New England faced defeat in Baltimore in the AFC title game, Ann passed the offensive comments against Ravens' Ray Lewis on Facebook by posting,
"Proud of my husband and the Pats. By the way, if anyone is bored, please go to Ray Lewis' Wikipedia page. 6 kids 4 wives. Acquitted for murder. Paid a family off. Yay. What a hall of fame player! A true role model!"
And after her post, it made sensation throughout the internet and after several days she apologized for her mistake by saying,
"I'm deeply sorry for my recent post on Facebook. I let the competitiveness of the game and the comments people were making about a team I dearly love get the best of me. My actions were emotional and irrational and I sincerely apologize to Ray Lewis and anyone affected by my comment after yesterday's game. It is such an accomplishment for any team to make it to the NFL playoffs, and the momentary frustration I felt should not overshadow the accomplishments of both of these amazing teams".

Family Details

Wes Welker grew up in Okland with is a supportive elder borther Lee Welker. Wes and lee are the children of the Shelley Welker and their father's name is Leland welker who is a corporate guy.

Wes Welker With His Parents Shelley and Leland And His Brother Lee Welker

SOURCE: Instagram @weswelker
Wes brother Lee is also a salaryman who has married Sarah and together they have a son, Cal Welker.
Awards and Achievements
5× Pro Bowl (2008–2012)
2× First-team All-Pro (2009, 2011)
2× Second-team All-Pro (2007, 2008)
3× NFL receptions leader (2007, 2009, 2011)
NFL record 99-yard reception (tied)
Mosi Tatupu Award (2003)
First-team All-Big 12 (2003)
Second-team All-Big 12 (2002)
Visit Playerswiki for more updates.