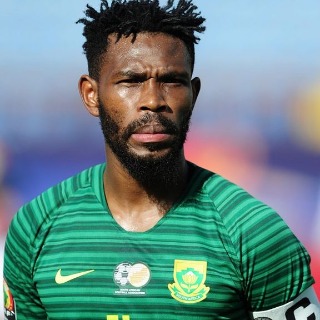 Personal Info
Date of Birth

Age

33 Years Old

Famous Name

Thulani Tyson Hlatshwayo

Country South Africa ZA
Facts
Father

Unknown

No. of Instagram Followers

95,600+

Mother

Unknown

Birth Name

Thulani Tyson Hlatshwayo

Net Worth

$2.38 million

Currently Married

Yes

Salary

300,000 Rands per month

Married to

Kenosi Hlatshwayo

Birth Country

Soweto, South Africa

Famous Name

Thulani Hlatshwayo

Children

3 boys

Horoscope

Sagittarius

Position in Team

Defender

Nationality

South African

Current team

Orlando Pirates

Ethnicity

Black

Profession

Football player
Thulani Hlatshwayo is a professional football player from South Africa who currently plays in the South African top league, Premier Soccer League. He plays in the central defender position for Orlando Pirates where he joined in 2020. He can also play in the right-back position too. He wears the number 14 for his current team.
He is a 1-time champion of the MTN which he won in 2020 with his current club Pirates. MTN is a South African football cup played between top teams. Before, he was with Bidvest Wits FC where he won the Premier Soccer League in the 2016/17 season. In 2016, he also won the MTN with the same team.
Besides, he has also represented South Africa in international tournaments. He has been playing for the national team since 2013. Before also, he played for the Under 17, Under 20, and Under 23 teams of South Africa.
Thulani's Bio and Personal Information | Who are his parents?
Thulani Tyson Hlatshwayo, famously known as Thulani Hlatshwayo was born on December 18, 1989, in Soweto, South Africa. According to astrology, his birth sign is Sagittarius.
Young Thulani Hlatshwayo
SOURCE: [email protected]
Read: Noor's Bio, Personal Information, Family and Early Career
Information regarding his father and mother's names is still a mystery. He has never talked about them in the public and never mentioned them on his social media too.
He is also not sure about whether he has any siblings or not. So, the family background and detail of Hlatshwayo is unknown at the moment.
Early Career
He started playing professionally with the youth team of Senaoane Gunners FC. After playing there for some years, he moved to Ajax Cape Town in 2005. He played for the team for more than 4 years before getting promoted to their senior squad in 2009.
In 2014, he moved to the French club Lille. After playing for their youth team for a year, he was promoted to their A team in 2017. His first game for Ajax Cape Town was against Orlando Pirates on August 5, 2009. The match was the quarterfinal of the MTN.
Later in 2014, he transferred to Bidvest Wits where he played for another 6 seasons.
In 2020, he moved to Orlando Pirates where he is currently playing.
What is the height and weight of Thulani H?
As of 2022, Orlando Pirates defender Thulani is just 32 years old and possesses a height of 6 feet 2 inches (1.89 meters).
His weight is around 88 kg and has short black hair along with a well-trimmed beard.
Thulani's net worth, Cars, Sponsors
Thulani has been playing professional football for more than a decade. He has been associated with top teams in South Africa where he has been able to earn a massive wage.
The net worth of Hlatshwayo is estimated to be $2.38 million approximately which is about 3.6 million in Rands. His net worth includes his properties, cars, houses, and assets. He sometimes flexes his cars and luxuries items on his social media.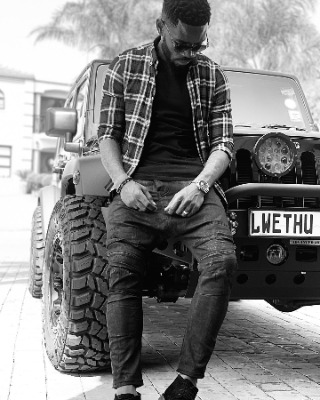 Thulani Hlatshwayo with his car
SOURCE: [email protected]
Most of the earnings come from his profession of playing football in his home country.
He lives a lavish lifestyle with his family in South Africa. He also likes to go on vacations and shares them with his fans.
Contract and Salary at Orlando Pirates
Thulani H s one of the highest-paid players in his current club Orlando. As per the source, he is the second highest-earning player of Pirates. He earns more than 300,000 Rands per month which equals 19828 USD per month.
The only player who earns more than the defender is Deon Hotto Kavendi who earns about 500,000 Rands per month. Similarly, Richard Ofori also ears 300,000 Rands per month.
He joined the club on September 11, 2020, but his contract expiry date is not revealed yet.
Market value in 2022
According to transfermarkt, his market value is just 1.20 million pounds in 2022. His highest value was on February 14, 2020, which was 1.3 million pounds.
Since then, it has been constantly decreasing. In October of 2020, it was 15 million pounds.
Sponsorship
He has also partnered with various brands. Some of his famous sponsors are Adidas, Avalife, and Nivea.
Partnership with Adidas
He's one of the major sponsors is Adidas, a sportswear manufacturer. He has been partnering with him for more than 2 years.
He sometimes posts about them on his Instagram.
Avalife
His other sponsor is Avalife South Africa which is a holistic wellness solution. He often promotes them on his Instagram.
Thulani Hlatshwayo promoting his sponsor
SOURCE: [email protected]
In June of 2021, he posted a photo with the product of the company and encouraged his fans to buy it. He clearly mentioned it as Paid PArtnership and captioned,
"Thank you Energy boost from @avalifeza for giving me the natural boost I need for my day. #avalife #energyboost #health #ad"
Nivea
Likewise, he has also a sponsorship deal with Nivea. He used to promote them during 2017. The exact monetary value between the parties is not revealed at the moment.
Volkswagen
He has also partnered with Volkswagen Constantia Kloof, which he has mentioned on his social media. But there are no further details about the deal between Thulani and Volks Wagen.
Read: What is the net worth of James Jeggo? His contract, net worth, and salary at Eupen
Relationship status and love life of Thulani
Thulani Hlatshwayo is currently living a happily married life with his wife Kenosi Hlatshwayo. The couple has been living together for more than 6 years as of 2022.
Thulani Hlatshwayo with his wife
SOURCE: [email protected]
The couple started dating before 2014. He revealed his relationship to his fans for the first time in 2014 through his Instagram. At that time, he was playing for Ajax Cape Town.
After dating for a few years, the pair got married on June 23, 2017. The wedding ceremony was held in South Africa in the presence of their close friends and relatives.
Each year, Thulani shares a particular photo of his marriage where we can see the couple holding the wine glass. He wishes his partner cheesy messages.
His regular caption is,
"Happy 4th year anniversary. @kenosi21 I love you so much Nuna."
Who is Thulani's wife Kenosi?
Thulani Hlatshwayo's partner, Nuna whose full name is Kenosi Hlatshwayo is best known for becoming the wife of the Thulani.
She has been supporting her husband for more than years.
She is also active on Instagram with the username @kenosi21 where she has more than 400 followers. We cannot extract further information as she has kept the profile private.
Thulani Hlatshwayo's wife Kenosi
SOURCE: [email protected]
Thulani never forgets to wish his wife her birthday too which is on October 21 of each year. On her 30th birthday, he posted a beautiful message where he said,
"You are my all in one package my wife, friend, lover, soul mate and my partner in crime for everything. Let's celebrate this bond and your Birthday together. Happy Birthday Nuna. #ThisIs30"
Thulani: Parents of 3 children
Thulani and his wife Nuna are blessed with 3 children, all boys. They are the proud parents of 3 boys.
Their eldest son's name is Thando Hlatshwayo who was born on November 9, 2015. Each year, a proud father wishes his eldest son on his birthday.
His second so's name is Khetho who was born on July 23 od 2019.
His youngest son's name is still not known yet as he has never mentioned his name on his Instagram.
Thulani Hlatshwayo with his sons
SOURCE: [email protected]
He mostly shares about his wife and children's photos on his Instagram showing his love ad affection towards his family. The Hlatshwayo family lives together in South Africa where he plays football professionally.
International Career of Thulani
Thulani has been playing for his nation South Africa for more than 15 years. He started playing for the Under 17 team of South Africa in 2005. After that, he played for their Under 20 and Under 23 teams too.
He started playing for their senior team in 2013 and has already made more than 45 appearances.
In 2015, he was in the national team of South Africa that played in the Africa Cup of Nations.
Social Media Presence
Thulani H is an active social media user is active on Instagram and Twitter.
His Twitter id is @ThulaniTyson03 where he has more than 6,800 followers. He regularly gives updates to his fans through his Twitter.
He also has an Instagram id where he has more than 95,600 followers. His Insta Id is @thulani03 where he frequently shares about his games and training. Also, he shares about his family too.
Explore more about your favorite athletes and sportsperson at PlayersWiki.