Souffian El Karouani is a professional football player born in 's-Hertogenbosch, the Netherlands, who plays for the Morocco national team as he belongs of Moroccan descent. Besides, Karouani plays as a left-back for Eredivisie club NEC.
The young footballer was interested in pursuing a career in this sport from an early age, and he aimed to be a professional footballer. So, Karouani plays at the international level and is doing pretty well in his career. Not to mention, Karouani wears jersey number 16 in his current team.
Everything on His Professional Football Career
Beginning his early days, Karouani's football career started when he joined TGG and played with them until 2008. After that, he moved to play with Den Bosch. Also, Karouani was a part of the BVV team until he went to play with Elinkwijk.
Souffian El Karouani plays for the national team
SOURCE: Instagram @souffian073
In 2017, Karouani joined NEC and was promoted to NEC's first team in the year 2019. On August 9, 2019, Karouani made his debut for the team while playing against FC Eindhoven. Furthermore, Karouani has already made over 50 game appearances for NEC.
Moving into his career at the national team, Karouani plays for the national football team of Morocco. Karouani debuted for the senior team while playing against Guinea-Bissau on October 9, 2021, in the 2022 FIFA World Cup qualification.
Read More: Mohamed Chibi
More on His Salary & Net Worth
Karouani makes most of his gains from being a professional footballer. Currently, he is with the NEC team, but his salary remains under investigation as none of the verified outlets have given the fact. As we know, a football player in Morocco earns MAD 95,158 a year and MAD 46 an hour.
So, being a prominent player for the Morocco national team, Karouani may earn in the same range. Some online portals claim Karouani's net worth is around $500k to $1 million. On the other side, Karouani's market value is €900Th.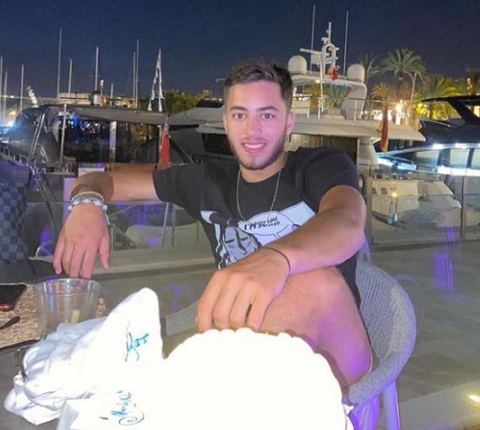 Souffian El Karouani during a visit to Switzerland
SOURCE: Instagram @souffian073
Exploring his graph on Transfermrkt, we can say that his market value will surely skyrocket in the future.
Is Souffian El Karouani Single?
Well, Souffian appears to be a single man who does not have a girlfriend or a wife. Karouani has a strong presence on Instagram, but the footballer has not made a single post regarding his love life. From this, it becomes clear that he is highly aware of his privacy, and rather than exposing his personal matter to the media, Karoauni prefers to keep it confidential.
Souffian El Karouani with his teammates
SOURCE: Instagram @souffian073
As he is young, we can also say that Karouani has not been engaged in a love affair in the past too. As Karouani's well-wishers are eager to know about his partner, Karoauni may give some hints in the future from his Instagram handle, where Karoauni is registered as @souffian073.
Click To Read: Ayoub El Amloud
Karouani's Birth & Nationality
Souffian El Karouani was born on October 19, 2000 in 's-Hertogenbosch, Netherlands. So, Karouani holds dual nationality of Morocco and Netherlands. As Karouani has not shared much info about his family life, his father and mother's identity also remains under review.
Speaking of his physical appearance, Karouani has an average height of 5 feet 10 inches which is 1.78 m.