Sis Bates is a former well-known infielder in the world of softball, who played for the Washington Huskies. Bates has received numerous prestigious awards, notably winning the Pac-12 Defensive Player of the Year title consecutively in 2018 and 2019. Bates has become famous for her exceptional skills as a shortstop.
Bates' remarkable talent has also led her to represent Team USA on the international stage. Beyond her on-field prowess, Bates is admired for her friendly demeanor and close bonds with her teammates, fostering a strong sense of camaraderie.
Sis Bates Net Worth, Salary, and Earnings from Softball
Sis Bates has an estimated net worth of $100,000. She boasts a considerable following on Instagram, where she has amassed over 86k followers. While Bates has collaborated with brands such as @adidasdugout and @wilsonballglove on her social media platform, she has kept her financial arrangements private, choosing not to divulge the specifics of her monetary deals.
Sis Bates has an estimated net worth of $100,000.
SOURCE: Instagram- @sisbates22
Although Bates maintains an active presence on Instagram, she refrains from sharing details about her income from playing softball or disclosing information about her salary. Instead, she focuses on engaging with her followers and promoting a positive image of herself and the sport.
While Bates may not openly discuss her earnings from softball, her net worth suggests a level of financial stability. Her success in the sport, coupled with her endorsements and social media presence, contribute to her overall financial standing.
Sis Bates Real Name, Nicole Bates: Why is she called Sis Bates
The nickname "Sis" has become an integral part of Nicole Bates' identity and serves as a testament to her journey in the world of sports. As the lone girl among her brother's friends who shared a love for baseball, Bates embraced the challenges and defied gender stereotypes with determination. This experience not only shaped her as an athlete but also earned her the affectionate nickname that has stuck with her throughout her career.
Sis Bates is sponsored by Wilson ball glove
SOURCE: Instagram- @sisbates22
Beyond the field, Bates has formed a deep emotional bond with her equipment, particularly one of her gloves named "Carmella." This connection goes beyond the physical utility of the glove; it represents the countless hours of hard work, dedication, and countless plays made by Bates. She treats "Carmella" with immense care and respect, going as far as nurturing it like a cherished child. This unique attachment highlights her unwavering commitment to her craft and exemplifies the level of passion she brings to the game.
Read More: Alyssa Denham: bio, net worth, softball stats, career Journey, and Relationship status
Who is Sis Bates's Boyfriend? Bates Single or Dating Someone
Sis Bates is pretty private in terms of her relationship status. The softball player seems to be single, and there is no publicly known information about her romantic relationships. While she shares glimpses of her daily life on Instagram, she has not revealed any details about her love life.
Although there is a possibility that Bates may be dating someone privately, she has chosen not to make any official statements regarding her relationship status.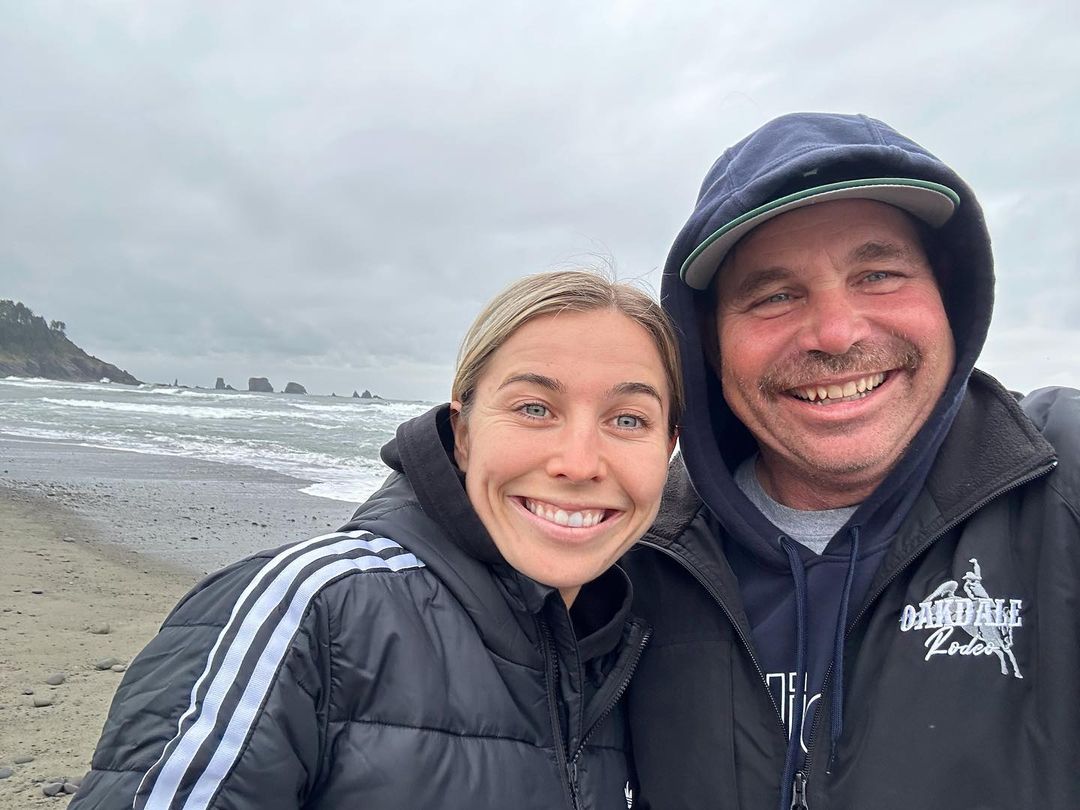 Sis Bates with her dad John Bates.
SOURCE: Instagram- @sisbates22
While fans and followers may speculate about her romantic life, Bates keeps her love life private, allowing her to maintain a sense of privacy and protect her personal affairs from public scrutiny. Her dedication to her craft and her commitment to excelling in softball demonstrate her single-minded focus on her career and her desire to make a significant impact in the sport.
Despite the absence of official statements or public knowledge about her relationship status, Bates continues to captivate fans with her remarkable talent on the softball field. Her commitment to her sport and her determination to succeed suggests that she is content being single at this stage of her life, as she channels her energy into achieving her professional goals and making her mark in the world of softball.
Sis Bates Washington Huskies Stats: Bates former Huskies player
Sis Bates made a significant impact during her college softball career at the University of Washington Huskies, where she played as an infielder. With a remarkable record, Bates has established herself as the all-time hits leader for the Huskies, accumulating an impressive total of 320 hits in 261 games played. This achievement speaks volumes about her consistency and ability to contribute to her team's success.
Sis Bates is a former Huskies player.
SOURCE: Instagram- @sisbates22
In addition to her hits record, Bates also holds the distinction of having the most triples in Washington history, recording a remarkable 18 triples throughout her college career. This statistic highlights her speed and agility on the basepaths, as well as her knack for finding gaps in the defense and taking advantage of her opportunities.
Bates' individual performance in specific seasons further showcases her skills as a player. In the 2018-2019 season, she boasted an impressive batting average of .387, ranking her 7th in the highly competitive Pac-12 conference. Her on-base percentage of .463 ranked 8th in the conference, while her slugging percentage of .472 placed her 37th. Similarly, in the 2020-2021 season, Bates excelled with 55 runs, ranking her 2nd in the conference, and 221 plate appearances, which topped the conference rankings.
Read More: Caleigh Clifton: bio, net worth, softball stats, career journey and relationship status
Sis Bates Washington Huskies Journey: Former Huskies Infielder
Sis Bates' passion for softball ignited during her childhood in Ceres, California, Her brother, Jimmy is one of her main supporters of her who introduced Bates to softball. The camaraderie shared with her brother's friends earned her the affectionate nickname "Sis." Determined to pursue her dreams, Bates made a weekly 12-hour journey to train with her club team, Firecrackers Rico, in southern California, showcasing her dedication to the sport even at a young age.
After graduating from Ceres High School in 2016, Bates started her university career at the University of Washington. Joining the Huskies as an infielder, she quickly made an impact on the field. In her freshman year, Bates demonstrated her speed and agility, leading both her team and the conference in triples, coming just shy of breaking the program's single-season record.
As her college career progressed, Bates continued to shine as a key player for the Washington Huskies. Her exceptional performance and unwavering commitment to the game propelled her to become the all-time hits leader for the Huskies, amassing an impressive tally of 320 hits in 261 career games.