Aliyah Andrews is a professional softball player who is currently playing for Athletes Unlimited Softball. She gained recognition in 2022 when she was honored with a spot on the All-Defensive Team. Additionally, Andrews proudly represents her country as a member of the Women's National Team.
Aliyah Andrews was born Aliyah Sharrel Andrews and is the daughter of Michael and Jeanene Andrews. Aliyah has three siblings, namely Michael, Ayanna (A.J.), and another sibling. Specializing as an outfielder, Andrews made a significant impact during her time playing for LSU in 2021. Her outstanding defensive skills were acknowledged when she earned a spot on the All-Defensive Team in 2022.
Alliyah Andrews Net Worth: Andrew's Sister A.J. Andrews Net Worth
Alliyah Andrews, a talented professional softball player, has achieved a commendable net worth of approximately $100,000. With a significant following of over 29,000 on Instagram, she has garnered a substantial online presence.
Aliyah Andrews has an estimated net worth of $100,000.
SOURCE: Instagram- @aliyahandrews
Alliyah's success extends beyond the field as she has been fortunate enough to secure sponsorships from renowned brands such as Wilson Glove, Adidas, and Sluggerfp, specializing in softball equipment and attire.
Alliyah Andrews Boyfriend: Alliyah is a Single Softball Player
Alliyah Andrews is pretty private about her personal life and is currently single. She is fully committed to her flourishing career in the sport. While Alliyah has offered glimpses into her daily life on Instagram, she has not shared any details about her romantic relationships, leading us to believe that she may be keeping her love life private.
Aliyah Andrews is a single softball player.
SOURCE: Instagram- @aliyahandrews
Although there is a possibility that she may be dating someone discreetly, no official statements have been made regarding her personal life. Alliyah's unwavering focus remains on her softball journey, as she strives to achieve her goals and excel in the sport she loves.
Read More: Caleigh Clifton: Net Worth, Bio, Relationship Status, and Softball Stats
Alliyah Andrews Softball: Andrews' LSU Journey
Aliyah Andrews had a remarkable five-year stint as an outfielder for LSU softball. Her exceptional speed and ability to make diving catches set her apart as a standout player on the field. Her contributions to LSU softball continued the legacy of the Andrews family, leaving a lasting impact on the program and the sport as a whole.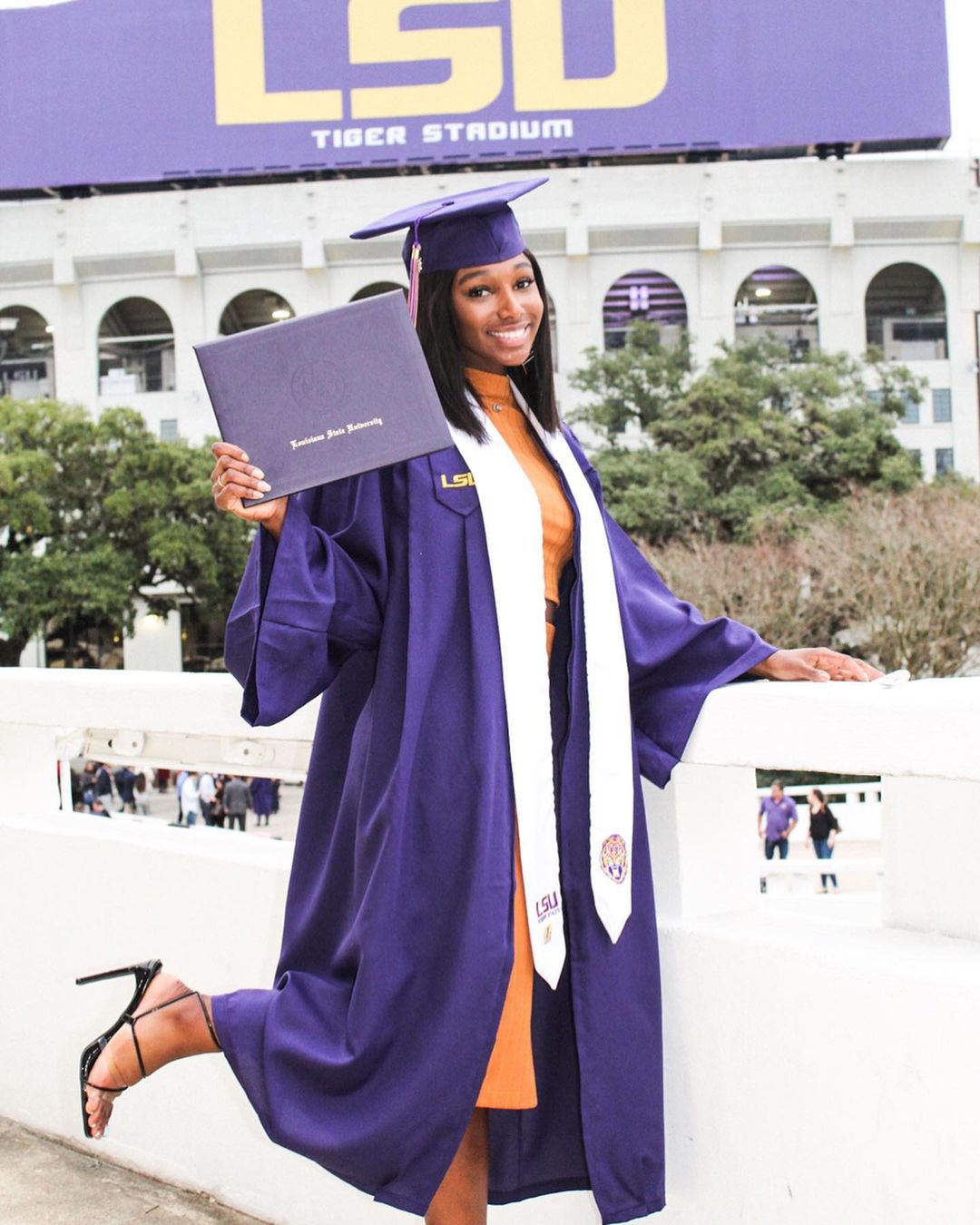 Aliyah Andrews graduated from LSU.
SOURCE: Instagram- @aliyahandrews
After graduating from University, Andrews transitioned into the realm of professional softball, joining the ranks of Athletes Unlimited Softball. Andrews's journey as a professional softball player serves as a testament to her skills, determination, and the significant impact she has made throughout her softball career.
Alliyah Andrews LSU Stats
Aliyah Andrews had a successful collegiate career as a member of LSU softball. Graduating in December 2019, she completed her undergraduate degree in an impressive 3.5 years while also being named to the 2019 SEC Spring Academic Honor Roll. Andrews's dedication extended beyond her academic pursuits, as she pursued a graduate degree in Mass Communications with a focus on Sports Administration.
Andrews earned the distinction of being a two-time All-SEC selection and was recognized for her outstanding defensive skills, earning a spot on the SEC Defensive Team. Andrews's contributions to the team extended to her offensive prowess, boasting a career batting average of .353. In the 2020 season, she reached her highest season-long batting average of .408 and led the team with 29 runs scored.
Read More: Alyssa Denham Net Worth, Bio, Softball Stats, Sponsors, and Professional Career.
Alliyah Andrews From LSU to Professional Softball
In the 2020 season, Andrews concluded with an impressive .408 batting average, solidifying her status as a key contributor to the team with a team-leading 29 runs scored. Additionally, she excelled academically, completing her undergraduate degree in just 3.5 years and being honored on the 2019 SEC Spring Academic Honor Roll.
Aliyah Andrews has stepped into the pro softball world.
SOURCE: Instagram- @aliyahandrews
Following her collegiate journey, Andrews transitioned to the professional stage as she embarked on her softball career. Currently, she is a prominent American professional softball player affiliated with Athletes Unlimited Softball.
In 2022, Andrews garnered further recognition for her outstanding defensive abilities, earning a spot on the All-Defensive Team. Her reputation for incredible speed and the ability to make diving catches in the outfield has made her a standout player and a valuable asset to her team. Notably, Andrews's talents have also earned her a spot on the Women's National Team, showcasing her prowess on both the national and professional levels.