Personal Info
Date of Birth

Age

19 Years Old

Famous Name

Shoretire

Country United Kingdom GB
Facts
No. of Instagram Followers

295K

Past Team

Wallsend Boys Club, Newcastle United

Father Nationality

Nigerian

Market Value

€3.00m

Birth Name

Shola Maxwell Shoretire

Net Worth

 £83,200

Mother Nationality

English

Salary

£1,600 weekly

Birth Country

Newcastle

Famous Name

Shoretire

Horoscope

Aquarius

Position in Team

Forward

Nationality

English

Current team

Machester United.

Ethnicity

Black

Awards

Jimmy Murphy Young Player of the Year for 2020/21.

Sponsors

Promotes Addidas

Profession

Footballer

Famous for

Football

Currently Club

Machester United Club

Show

English Premier League
Shola Maxwell Shoretire is an English professional footballer who recently signed with the Machester United Club and plays as a forward in the Premier League. Shola was named the Jimmy Murphy Young Player of the Year for 2020/21.
Shola is known for his playing skills and has gained several fans. He made his first debut through the Manchester United Under-19 team. He had a hattrick against Blackburn, which made him popular among the fans.
Early Life and Career
Shola was born on 2nd February 2004 in Newcastle upon Tyne to his Nigerian parents. He belongs to the Nigerian personality but was later moved to England and joined England's youth set-up.
During Shola's early life, he played with Whitley Boys Club, Newcastle City Juniors, Wallsend Boys Club, and Hebburn and Cramlington Juniors. In December 2018, Shola became the youngest ever player to appear in the UEFA Youth League at the age of 314 days.
Seeing his impressive performance, coach Neil Wood made his first debut when he was 16, where he scored a hat-trick against Blackburn, which made it possible for people to know him.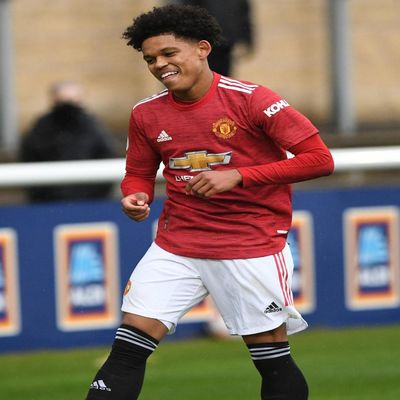 Shola Shoretire playing for Manchester United
SOURCE: [email protected]
Shola signed for Manchester United on 8th February 2021, which was his first professional contract, and made his first-ever debut substituting Marcus Rashford in the 88th minute, winning over Newcastle United. He was the youngest player to appear in a European competition where he played the UEFA Europa League.
Shola was named the Jimmy Murphy Young Player of the Year for 2020/21.
Shola Shoretire winning Player of the month.
SOURCE: [email protected]
Shola is eligible to play for Nigeria and England as his father was Nigerian and his mother was English. He represented England under 16 against the Republic of Ireland and progressively made his debut for the England U18 national team against Wales.
Shola Shoretire Salary and Contract
Shola Shoretire is a professional footballer, and playing in such a competitive league means he has been earning a good amount of money. Playing for such a reputed club Machester United in the world, which might be possible for him to get sponsors and opportunities in these coming years.
Shola Shoretire promoting Addidas Shoe
SOURCE: [email protected]
Shola is young, and his net worth will get pushed rapidly in the coming year. Currently, Shola earns £1,600 weekly and earns £83,200 annually, and has a great year ahead of himself. His current contract expires on 30th June 2023. He, too, goes through brands endorsements. He has been promoting Addidas Shoes.
Who is Shola Shoretire Dating?m
Shola is enjoying the single life. He is dedicated to his career, which we can see from his social media. The young player is busy in training rather than in love. But Shola is not that open about his private life and prefers to keep it private.
Shola's previous relationship is too unknown. He is too young to have such things. His progress in football shows how much he is dedicated to it. Many clubs and sponsors already have an eye on him for these coming seasons.
Social presence
Shola is too popular on Instagram and has a mass number of followers. He posts about the training and other achievements he has achieved in his career. Ha has 295K followers on Instagram. His Instagram account goes by sholashoretire.
Stay tuned with Playerswiki