Personal Info
Date of Birth

Age

29 Years Old

Famous Name

Sasa Lukic

Country Serbia RS
Facts
Father

Radenko Lukic

Relationship Status

single

Weekly wage

£20,000

First Name

Sasa

Market Value

€15.00m

Mother

-

Last Name

Lukic

Birth Name

Saša Lukić

Net Worth

$2 Million

Salary

£1,040,000

Birth Country

Serbia

Famous Name

Saša Lukić

Position in Team

Midfielder

Nationality

Serbian

Current team

Torino

Girlfriend

N/A

Profession

Football Player

Squad No

10
Sasa Lukic is a Serbian football player positioned as a midfielder for the Italian club Torino and the Serbia national team. Likewise, Sasa previously played for the club, Teleoptik on loan. He earned 35 caps and has recorded two goals for the national team.
Lukic is among the valuable players on his squad; he is a pro-level football player who mainly plays as a midfielder but also has well-experienced as a Defensive and Attacking Midfield. Similarly, he was a jersey number 10 for his fellow club and had incredible playing skills and techniques that consistently wowed his fans.
How Much Is Sasa's Net worth?
Considering his long and incredible playing history, he must be a Millionaire. Still, as the information regarding his earnings remains a mystery to us, we couldn't expose the exact facts regarding his net worth value. In addition to this, Sasa has gone through many shifts so far in his active career.
As per our closed reports, the estimated net value of the footballer is $2 Million. Apart from that, Lukic earned £13,000 per week and £676,000 per year in 2020. The player takes home a sum of £1,040,000 annually while playing for his current team. The player has already touched the height of success at such a young age that he never left his fans amazed.
Sasa Lukic enjoying his life on a vacation
SOURCE: Instagram @sasalukic_
Moreover, the current market value of the Torino players is €15.00 million, which was last updated on 2022 Jun 7. Likewise, he contracted with the club on Jul 29, 2016, under the player agent, Friends & Football International. In addition to this, the contract expires on Jun 30, 2024.
Also, read about Strahinja Pavlovic, the Serbian football player.
Have A Look At His Lovelife- Is He Dating?
Many people seem captivated by Sasa Lukic's love life and wonder if he is dating someone. To be clear, his current relationship status is possibly single; Despite being public fame, the pro-level player has kept his relationship status self-hidden. Moreover, his name is never linked with any women, so we don't have any information regarding his past love life.
Following his social media life, we found no updates about his engagement or marriage facts, so it remains a mysterious topic. Additionally, we found no snaps or videos mentioning his loved one, which made us believe that Lukic is currently single and focusing on his career rather than a relationship.
Sasa Lukic with his friend
SOURCE: Instagram @sasalukic_
Moreover, his private nature is one of the main reasons the footballer hasn't shared any information about his love life. He sees someone secretly; he might have kept them away from public reach. Thus, to explore his dating life in detail, we must wait longer unless the Serbian footballer feels comfortable sharing them online.
Lukic Made his Professional Career Debute With Partizan
A true football fan is well-acknowledged for Sasa's successful football career. Besides, he was introduced to football at a young age. Thus, as a youth, he played for the POFK Savacium and Partizan club. Likewise, he always had a keen interest in football from a young age, making him one of the most famous football players today.
Similarly, he made his senior career debut in 2013 with Partizan's club. For your concern, he signed his first professional contract with the club, signing a three-year deal. To establish himself as a prosperous player, he was loaned to Teleoptik. Following his loan, he played for the Opticians in the 2013–14 season.
Sasa Lukic after scoring a goal
SOURCE: Instagram @sasalukic_
Additionally, he made his debut for Partizan and played the entire match in 2016 for Partizan. And on Aug 8, Sasa scored his first official goal for the team. He also captained the team in the absence of some players for several games. On Jul 29, 2016, he arrived at the Italian club Torino. Two years later, Sasa was loaned to La Liga side Levante for one year.
Facts On His International Career
Along with his professional career, he was also a player for the national team, and he made a debut for the national team by playing in the 2017 UEFA Under-21 Championship qualification.
Do not forget to learn about Aleksa Terzic's personal and professional career.
How Old Is Sasa? Detail On His Family Background
Sasa Lukic was born on 13 August 1996. Further, his birthplace is Sabac, Serbia, FR Yugoslavia. Additionally, he holds a Serbian nationality with a citizenship card. For more details, his zodiac sign is Leo. Despite his fame, there is not much information about his childhood career, so the facts about his boyhood remain behind the curtain.
Regarding his family background, Sasa was born to his father, Radenko Lukic, but the name and information about his mother are still away from social media sources. However, none of the sources have talked about his family background, nor has DSasa himself ever preferred to drag his parents on the media sources.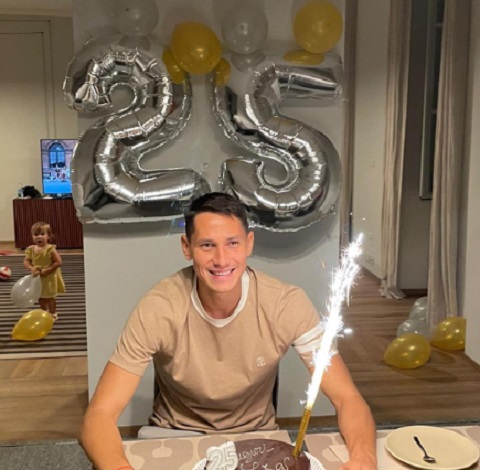 Sasa Lukic celebrating his 25th birthday
SOURCE: Instagram @sasalukic_
Therefore, the information about his siblings is also not accessible. Furthermore, Sasa has never revealed his family details on his social media sources.
Awards
Partizan, Lukic, and his team have played for the club and won the Serbian SuperLiga 2014–15 and the Serbian cup 2015-16.
How Can We Follow Him On Social Media Handle
Many people are captivated by Sasa's social media presence and often want to teach him on different online platforms ms. Hence, we can follow him on Instagram as @sasalukic_, where more than 30k people follow im. Apart from that, he often shares his football-related content on the handle with his fans.
Additionally, he is fond of staying active on Instagram and communicating with his fans through the platform. Therefore, we suggest his fans follow him on Instagram to keep updated on his day-to-day activities.
For further information about different players, stay tuned to Playerwiki.com.