Santiago Gimenez is an Argentine-born professional footballer who currently plays as a forward for the Dutch Eredivisie club Feyenoord. Gimenez represents the Mexico national team even though he was born in Argentina. The athlete's father is Christian Gimenez who is a former professional player.
Santiago has been a part of Mexico's youth teams, including the U-15, U-18, U-20, and U-23 squads. Gimenez scored a heroic in the Gold Cup 2023 finale and took home around $1 Million with his teammates. The athlete enjoys his lavish life with his passionate senorita.
Mexico vs. Panama score: Santiago Gimenez's Led Mexico to Victorty Securing Heroic Goal
Mexico secured their ninth CONCACAF Gold Cup championship with a 1-0 victory over Panama. Substitute Santiago Gimenez became the hero of the match by scoring the winning goal in the 88th minute. This win held special significance for Mexico, as they had suffered defeats in the previous two Gold Cup finals against their arch-rivals, the United States.
Mexico Wins Gold Cup for Ninth Time
SOURCE: Instagram- @miseleccionmx
Gimenez's goal served as redemption for his missed penalty in the 2021 final. Mexico's victory solidified its position as the most successful nation in Gold Cup history. Panama who was the dark horse of the tournament, reached their first-ever final but couldn't overcome Mexico's experience and quality.
The intense final took place at SoFi Stadium in Los Angeles and was witnessed by a capacity crowd of 70,240 fans. Mexico's triumph reaffirms their dominance in CONCACAF football and leaves fans eagerly anticipating their potential defense of the title in 2025.
Santiago Gimenez Net Worth and Salary: Gimenez's Earnings from Gold Cup Title 2023
Santiago Gimenez is estimated to have a net worth of approximately $500,000. He earns an impressive annual salary of $935,371. The CONCACAF Gold Cup is a prestigious soccer tournament for national teams in North and Central America and the Caribbean. The champion of the Gold Cup in 2023 will receive a guaranteed prize of $1 million, while the runner-up will be awarded $500,000.
Santiago Gimenez
SOURCE: Instagram- @sant.gimenez
In the past, winning the Gold Cup also meant qualifying for the FIFA Confederations Cup, a global tournament. However, FIFA discontinued the Confederations Cup in 2019, so now the Gold Cup champions primarily receive the trophy and prize money as recognition for their achievement.
Meet Santiago's Spicy Senorita, Fer Serrano: Gimenez's Girlfriend
Santiago Gimenez and Fernanda Serrano, also known as Fer Serrano, have a loving relationship. While Santiago focuses on his soccer career with Feyenoord Rotterdam, Fernanda pursues her passion as an actress and presenter.
Santiago Gimenez with his girlfriend,
SOURCE: Instagram- @sant.gimenez
They publicly declared their love for each other on June 14, 2020, and have been together for some time. The couple often shares pictures of each other on social media, indicating their strong bond and support for one another. Both Santiago and Fernanda are dedicated to their respective careers at the moment.
It's possible that they have made plans for the future, including the possibility of marriage and starting a family. While specific details about their future plans are not available, their commitment to their careers suggests that they are focused on personal growth and achieving their goals before taking the next steps.
Read More: Oriana Sabatini who is the girlfriend of Paulo Dybala.
Santiago Gimenez Rotterdam Earnings, Carrer Earnings, and Endorsement Deals
Santiago Gimenez's career has shown consistent progress, starting at Cruz Azul with increasing wages from $192 per week and $10,000 per year to $385 per week and $20,000 per year. In the 2019-2020 season, his adjusted gross income reached $20,940.
Santiago Gimenez celebrates his birthday.
SOURCE: Instagram- @sant.gimenez
After his successful stint at Cruz Azul, Gimenez made a significant move to Feyenoord in the Eredivisie for the 2022-2023 season. He received a substantial boost in earnings, earning $17,988 per week and a remarkable annual gross income of $935,371.
Santiago Gimenez has kept his endorsement deals a secret, but it is mentioned that he supplements his income through endorsements and sponsorships. While the specific brands or companies he has partnered with are not mentioned.
Feyenoord Rotterdam Player, Santiago Gimenez Soccer Career
Santiago Gimenez's soccer career with Feyenoord Rotterdam has been interesting since his arrival on July 29, 2022. Signing a four-year contract, Gimenez officially began his journey with the Eredivisie club. Making an immediate impact.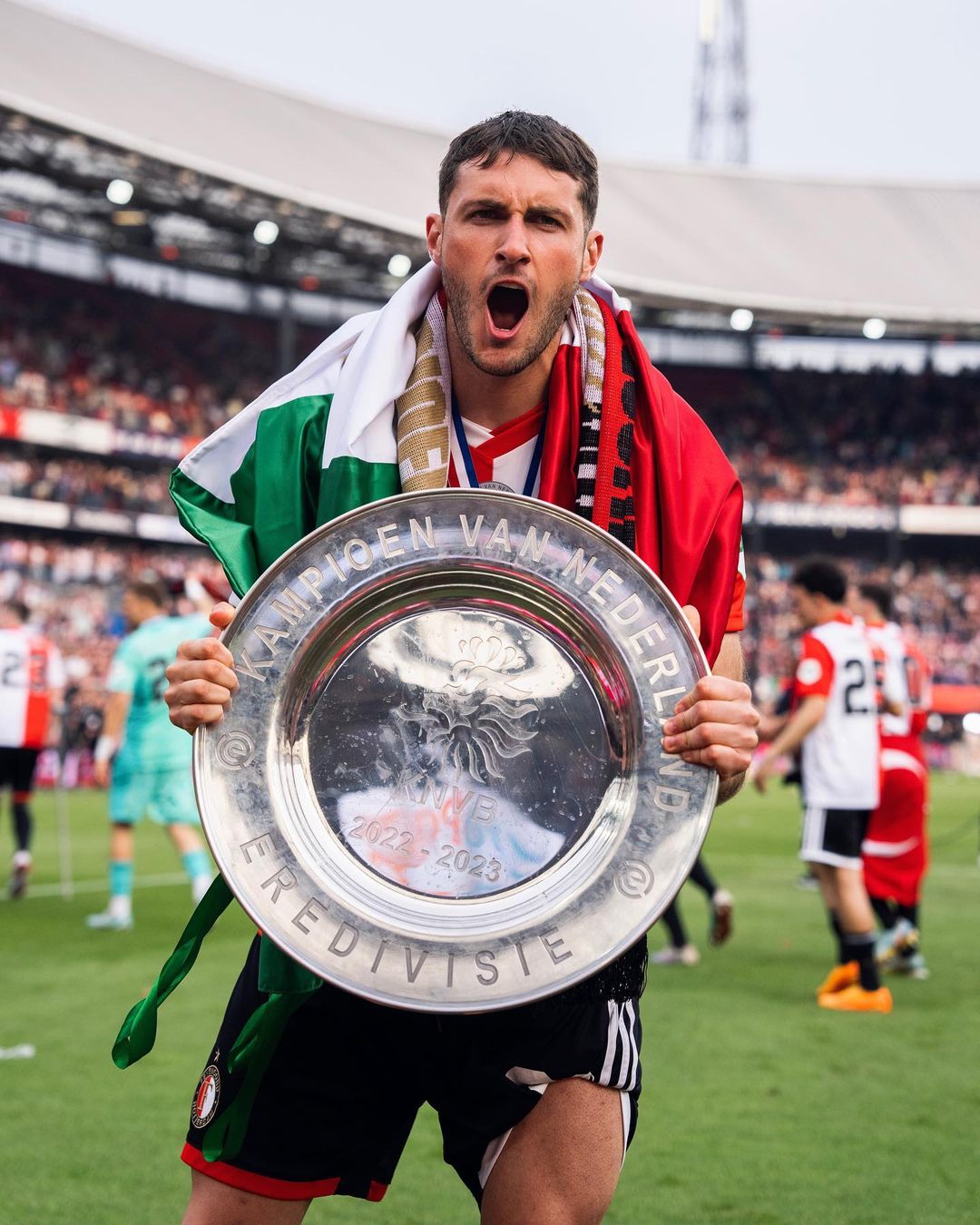 Santiago Gimenez plays for Feyenoord Rotterdam
SOURCE: Instagram- @sant.gimenez
he showcased his goal-scoring prowess by netting his first goal for Feyenoord on August 27, 2022. His decisive strike helped secure the team's second goal in that particular match, demonstrating his ability to contribute to the team's success.
Throughout the 2022/2023 season, Santiago Gimenez has been a regular and influential figure in Feyenoord's lineup. With his consistent performances, he has made an impressive 32 appearances for the team in Eredivisie games.
Related: Mexico vs. Panama score: Mexico Wins Gold Cup for Ninth Time (Mexico 1 - 0 Panama)
Santiago Gimenez Playing Style and Soccer Stats
Santiago Gimenez's soccer statistics highlight his impact as a forward for Feyenoord Rotterdam in the Eredivisie. In 25 appearances, he has scored an impressive total of 13 goals, showcasing his ability to find the back of the net consistently. Additionally, Gimenez has provided one assist, demonstrating his playmaking skills and ability to contribute to the team's offensive efforts.
Gimenez excels in several key areas. He ranks in the 94th percentile for non-penalty goals per 90 minutes. With an average of 3.78 shots per game, he demonstrates a willingness to take on goal-scoring chances and ranks highly in the 93rd percentile for this metric.
Gimenez showcases his versatility on the field. He attempts an average of 15.12 passes per game and completes 67.3% of them. His ability to create opportunities for teammates is evident through his 2.28 shot-creating actions per game and 1.39 progressive passes per game. Defensively, he contributes with 0.46 tackles, 0.15 interceptions, 0.69 blocks, and 0.39 clearances per game, displaying his well-rounded skill set.