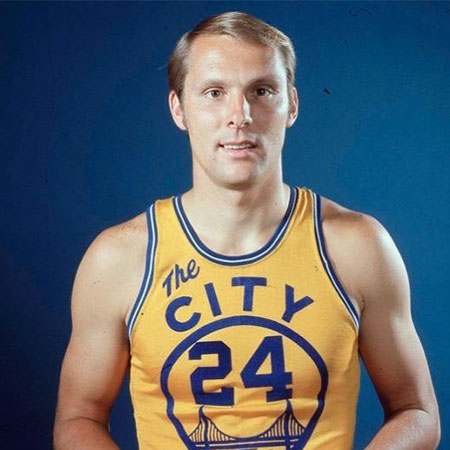 Facts
Birth Name

Richard Francis Dennis Barry

Birth Place

Elizabeth, New Jersey

Famous Name

Rick Barry

Birth Date

28 March 1944

Horoscope

Aries

Father

Richard Francis Dennis Barry

Net Worth

$4 million

University Team

Miami Hurricanes Men's Basketball

No. of Twitter Followers

4372

No. of Instagram Followers

8439

Height

6' 7''

University attended

University of Florida

School attended

Rosselle Park

Graduated year

1965

Married to

Lynn barry

Divorce

Pam Hale
Named one of the 50 greatest players in history by the NBA in 1996, Rick Berry is an American Retired Professional basketball player who played both in American Basketball Association and National Basketball Association. He was known for his underhand effective free throws. He was drafted by the San Francisco Warriors as the 2nd overall pick in Round 1 of the 1965 draft. He retired from basketball in 1980. He is one of the greatest players in basketball history.
Richard Francis Dennis Barry was bron on 28 March 1944 under the star sign Aries in Elizabeth, New Jersey. He is born to father Richard Barry jr.
Rick Barry's Net Worth and Career Earning in 2020
The 75-years-old has a estimated net worth of $4 million. He was a great athlete in his youthful days and has earned himself some great achievements during his active career.
He was committed to the San Francisco Warriors until 1967 where he had an average of $30,000 annually. On 20 June 1967, barry signed a three-year contract with the Oakland Oats worth $500,000 plus he was given fifteen percent stock in ownership and five percent of the sales in the ticket.
| | |
| --- | --- |
| Date | Team |
| 1965-1967 | San Francisco Warriors |
| 1968-1970 | Oakland Oaks / Washington Caps |
| 1970-1972 | New York Nets |
| 1972-1978 | Golden State Warrior |
| 1978-1980 | Houston Rockets |
After dedicating 15 years of his career in the basketball industry, he has certainly earned a much more than anyone can imagine. During his time in the Golden State Warrior and the New York Nets, he received an annual salary of $75,000.
He signed a two-year contract with the Houston Rockets on 17 June 1978, the details about the contract are not available but he would have definitely received amount worthy of him.
During the 1990s, he coached the Cedar Rapids Sharpshooters of the Global Basketball Association and the Continental Basketball Association. In 1998 and 1999, he served as the coach of the New Jersey ShoreCats of the United States Basketball League. He would have received $15000-$20000 during his time in the Cedars.
Barry is also a part-owner and promoter for the Ektio basketball shoe, where doctor and former college basketball player Barry Kats designed to reduce ankle injuries where he also served as the Board of Directors. As a member of the Board who has stock in the company, he enjoys various remuneration and other returns from the company.
Being Honored by the Warriors
SOURCE: [email protected]
The former basketball player was among the first people to successfully transition to the Broadcasting Profession. He began broadcasting during the 1967-68 seasons. He started in this field when he began with his own radio show in San Francisco and also worked in the CBS while still an active player and then in the TBS.
While working as a CBS analyst during game 5 of the 1981 NBA Finals, the 6' 7'' tall made a controversial comment when CBS displayed an old photo of an old colleague Bill Russell who is African American but later apologized for his behavior. CBS didn't renew Barry's employment for the next season.
After the season ended, he did some broadcasting for the Seattle Supersonics however a plan for permanent employment fell through when he insisted that his then-wife Pam Hale be allowed to join him when the team was on the road.
The Hall of Fame honored Rick hosted the pilot for the mid-1980s game show "Catchphrase" which debuted in the fall of 1985. He was then replaced by the game show veteran, Art James. His last job was on a sports talk show on KNBR, a radio station, in San Francisco until June 2003 being paired up with Rod Brooks.
The show was named Rick and Rods where they argued about the sports-related topic which was entertaining and intellectual due to his on-point analysis about the game
During his whole career, he has never once stopped being active and was always working in some way or another. He is a hard-working individual who never once relied on anybody else to support him.
Married to Lynn Barry
Rick Barry was married to Pam hale in 1965. After 16 years of marriage, the couple decided to go their seperate ways in 1981. They had five children from their marriage Scooter Barry, Brent Barry, Jon Barry, Drew Barry, and Shannon Barry. The information about the divorce is not revealed in any media.
Rick Barry and Lynn Barry Marriage
SOURCE: [email protected]
After ten years, the then 47-years-old decided to tie the knot with Lynn Barry, who is a professional player playing for the Chinese Club Hunan Jinjian Miye in the 2018-2019 season. They exchanged their vows in 1991. There aren't any controversies or affair news regarding the two and are happily married for about 31 years now. They had a son Canyon Barry from their marriage.
Early Life
Barry is of Irish, English, French, and Lithuanian descent who grew up in Roselle Park, New Jersey. He is a member of the Kappa Sigma Fraternity. He went to Roselle Park High School in 1962. For his Collegiate year, he went to the University of Miami where he played for the Miami Hurricanes Men's Basketball.
Rick Barry for the Miami Hurricanes
SOURCE: [email protected]
He played three seasons for the Hurricanes. He met his first wife Pamela, the daughter of the Hurricanes head coach Bruce Hale. He is one of the two basketball players to have his number retired by the school.
Career Highlight and Awards
NBA Championship (1975)
NBA Finals MVP (1975)
ABA Champion 1969
8* NBA All-Star ( 1966, 1967, 1973-1976)
5* All-NBA First Team (1966, 1967, 1974-1976)
All-NBA Second Team 1973
4* ABA All-Star (1969-1972)
4*All-ABA First Team (1969-1972)
NBA Rookie of the Year (1966)
NBA All-Rookie of the Year (1966)
NBA Scoring Champion (1967)
NBA Steals Leader (1975)
NBA's 50th Anniversary All-Time Team
No 24 retired by Golden State Warriors
Consensus first-team All-American (1965)
NCAA Season Scoring leader (1965)
No. 24 retired by Miami Hurricanes
Stay tuned with Playerswiki