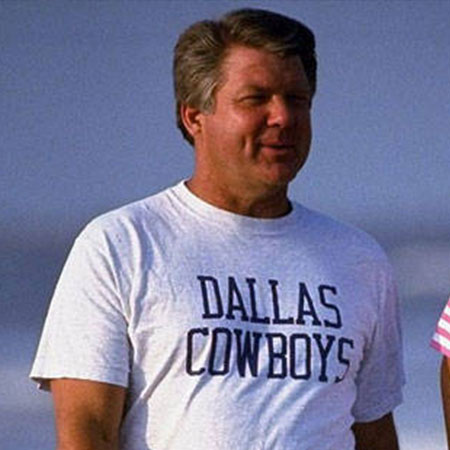 Rhonda Rookmaaker is a hairdresser famous for being Johnson's wife. She is the second spouse of Jimmy Johnson, an American football broadcaster and former player, coach, and executive. On 18 July 1999, Johnson married Rhonda Rookmaaker. As of now, they live in Islamorada in the Florida Keys.
Rhonda was born on July 1, 1954, in the United States. She is 65 years old as of 2020.
Married to Jimmy Johnson
Rhonda Rookmaaker is the second wife of Jimmy Johnson. They first met at Miami University. He was a football coach for the University of Miami then while Rhonda was a hairdresser at Coral Gables Salon.
They got married on 18 July 1999 in a private ceremony at the oceanfront home that he had bought in the Florida Keys. Since then, they have been together for almost two decades and live in Islamorada, Florida Keys. It was the second marriage for both of them.
Rhonda and her husband Jimmy Johnson
SOURCE: Pinterest
Despite their long and happy relationship, they have no children together yet, and there is no rumor about their divorce.
Johnson was Previously Married to Linda Kay
Previously, Johnson was married to his college girlfriend, Linda Kay Cooper. They married on 12 July 1963. Together they gave birth to two sons, Chad Johnson, 39, and Brent Johnson, 49.
Johnson with his sons from his first wife
SOURCE: Fabwags
As Johnson became a coach for the Dallas Cowboys, he realized that he would have no time for marriage. This resulted in filing a divorce with his wife, Linda Kay, the college sweetheart he married in 1963. They divorced in January 1990 after 26 years of marriage.
Johnson went on to marry his longtime girlfriend, Rhonda Rookmaaker.
Brief Career Overview of Rhonda's Husband
Jimmy Johnson is an American football broadcaster, a retired NFL player, coach, and executive. He has worked as a head coach for many universities' football teams and NFL teams. He also worked as a head coach at the University of Oklahoma and the University of Miami.
He was a head coach for Dallas Cowboys, Miami Dolphins of the National Football League (NFL). He is currently an analyst for Fox NFL Sunday.
Rhonda and Jimmy Johnson's Net worth in 2020
Rhonda Rookmaaker shares her husband's net worth, which is estimated to be $40 million. Former NFL player Jimmy Johnson also served as a coach and is now an analyst for Fox NFL Sunday, the Fox network's NFL. He made most of his fortune by playing in the NFL.
Johnson owns a restaurant and a bar. He runs a restaurant named Three Rings in Miami, Florida, and a bar in Key Largo, Florida called "JJ's Big Chill," which is located at mile marker 104. Johnson opened the restaurant after winning three championships in college and professional levels.
Jimmy Johnson and Rhonda's restaurant
SOURCE: TripAdvisor
Previously, Johnson owned a second restaurant in Oklahoma City. It is now closed. He also has a fishing boat which he docks behind the oceanfront home in Florida.
Keep Visiting Playerswiki for more updates!