Personal Info
Date of Birth

Age

24 Years Old

Famous Name

Sam Ehlinger

Country United States US
Facts
No. of Twitter Followers

82.5 K

Father

Ross Herbert Ehlinger

No. of Instagram Followers

161 K

Mother

Jena Ehlinger

Birth Name

Samuel George Ehlinger

Birth Country

Austin, Texas

Siblings

Jacob McAdams Ehlinger (died in 2021) and Morgen Adeline Ehlinger

Famous Name

Sam Ehlinger

Horoscope

Libra

Nationality

American

Net Worth

$1 million - $2 million

Salary

$660,000 in 2021

Past Team

Texas Longhorns

Position in Team

Quarterback

Current team

Indianapolis Colts

Profession

American Football Player

University attended

University of Texas at Austin

School attended

Westlake High School

Currently Married

No

Girlfriend

No
Sam Ehlinger is a talented American football quarterback who played college football for the Texas Longhorns. He was recently picked 218th overall by the Indianapolis Colts in the 6th round of the 2021 NFL Draft.
Born in 1998, Sam Ehlinger celebrates his birthday on the 30th of September every year. The 22 years old football quarterback goes by the birth name of Samuel George Ehlinger. He hails from the suburbs of Austin, Texas.
Family
His father's name is Ross Herbert Ehlinger and his mother's name is Jena Ehlinger. He is one of three children of his parents. His siblings' name is Jacob McAdams Ehlinger and Morgen Adeline Ehlinger. Jacob, mainly known as Jake Ehlinger also played football as a linebacker.
On March 3, 2013, an unfortunate event struck the Ehlinger family as Sam's father passed away during the Escape from Alcatraz triathlon. Years later, the family suffered another heartbreak as Jake was found dead on May 6, 2021. In those greaving times, the whole family was supported by close and near family members and friends.
Career Details
Sam Ehlinger started playing football while studying at Westlake High School. His skills were sharpened with the help of head coach Todd Dodge. During his time with the high school team, he was able to achieve a lot and tally quite the record.
Sam Ehlinger after winning a football game
SOURCE: [email protected] Ehlinger
By the end of his high school, he was already the school's all-time leader in passing yards and touchdowns. For his performance, he was also named the MaxPreps National Junior of the Year and was rated by Rivals.com as a four-star recruit.
With such an amazing record, he committed to play college football for the University of Texas at Austin's football team, Texas Longhorns. He played in 9 games in his freshman year and tallied a record 158 passes (57.5% of the whole team) for 1,915 yards and 11 passing touchdowns.
In his sophomore year, he played in 14 games and completed 275 passes (64.7% of the whole team), for 3,292 yards and 25 passing touchdowns. In that season, he also made 16 rushing touchdowns, the most by a quarterback in a season in the University of Texas history.
As time flew by, his performance improved more and more. By the end of his college career, he had played a total of 46 games with 923 passes completed (62.5% of the whole team) for 11,436 yards and 94 passing touchdowns. He also received a few awards and was named to a few prestigious teams, such as Second-team All-Big 12, during his college playing career.
After an illustrious college career, Sam Ehlinger finally decided to declare his name for the 2021 NFL Draft. In the draft, he was drafted by the Indianapolis Colts in the 6th round as the 218th overall pick. Recently, on May 19, 2021, he signed a four-year rookie contract with the NFL team.
Earnings, Contract, Net Worth
Sam Ehlinger has had a great college football career which has resulted in him getting picked in the NFL by the Indianapolis Colts. Not only he has earned praises in his career, but he also has earned a healthy sum through his performance.
Although his earnings during his college career might be relatively low and not disclosed, the same cannot be said about his earnings as an NFL player. As per spotrac.com, it is reported that Ehlinger's 4-year contract with Colts is worth $3,610,708, including signing bonuses. In 2021 only, he might earn a base salary of $660,000, with some add-ons.
Sam Ehlinger signing his pro contract with Indianapolis Colts
SOURCE: [email protected] Ehlinger
The base salary will increase as the years passes, with him earning $825,000 in 2022, $940,000 in 2023, and $1,055,000 in 2024. After 2024, he will be a free agent, unless he extends his contract with the team.
Considering all of that, it must be sure that Sam's net worth has also seemingly increased. Well, it is believed that Sam Ehlinger currently has an estimated net worth of $1 million - $2 million. However, the figures might increase sooner or later.
Ehlinger's Relationship Status (Single or Dating?)
Indianapolis Colts' newest quarterback doesn't like to share much about his personal life details in the public. He has also maintained quite the privacy in his Instagram handle. Although he has been using Instagram since 2013, he has only shared 90 pictures, as of this writing.
Also, most of the pictures he has posted are mostly related to his family, friends, career, and travel. There are also little to no details available on his past relationship.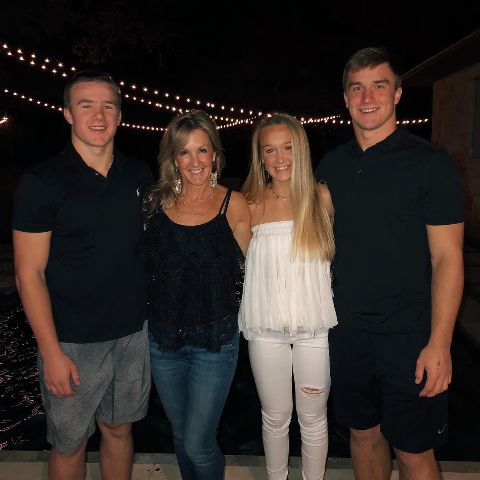 Sam Ehlinger alongside his mother and siblings
SOURCE: [email protected] Ehlinger
Due to that, it is believed that Sam Ehlinger is currently single and doesn't have a girlfriend. Well, he must be giving more focus towards his career and might not be looking for a romantic relationship, at least for now.