Personal Info
Date of Birth

Age

49 Years Old

Famous Name

Country United States US
Facts
First Name

Rebecca

Last Name

Hickenbottom

Birth Name

Rebecca Curci Hickenbottom

Currently Married

Yes

Married to

Shawn Michaels

Birth Country

United States

Instagram

Famous Name

Rebecca Curci, Whisper

Children

Cameron Kade Hickenbottom, Cheyenne Michelle Hickenbottom

Profession

Actress, Model, Ballet Dancer

Famous for

Actress, Shawn Michaels' wife

Started career as

Dancer

Came to fame after

WCW Monday Nitro in 1995

Height

175
Rebecca Curci gained recognition for being the spouse of Shawn Michaels, a popular former professional wrestler in WWE. Her marriage to Michaels brought her into the public eye and she became known in wrestling circles as well as among fans of the sport.
Although she is known primarily for her marriage to Michaels, Curci has also had her own career in entertainment. She has worked as a model and actress, appearing in several films and television shows over the years. However, her personal life and marriage to Michaels remain her most well-known aspect.
Shawn Michaels' Marriage and Family Life with Rebecca Curci
Rebecca Curci and Shawn Michaels got married on March 31, 1999, at the Graceland Wedding Chapel in Las Vegas, Nevada, after a short period of dating. The couple met when Shawn saw Rebecca dancing, and he immediately fell in love with her. A few days later, he was introduced to her by one of his close friends.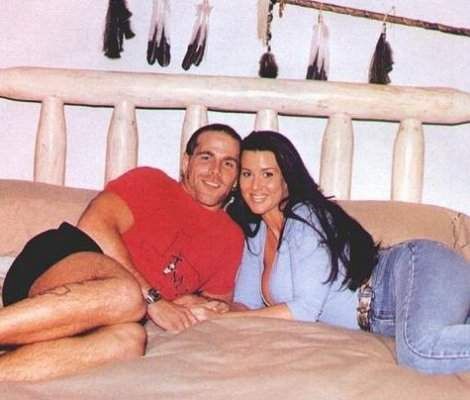 Rebecca with her husband for a photoshoot
SOURCE: Pinterest
The couple has two children together. Their son Cameron Kade was born on January 15, 2000, and their daughter Cheyenne was born on August 19, 2004. Despite Shawn's previous failed marriage with Theresa Wood, his relationship with Rebecca has been going strong.
Before marrying Rebecca, Shawn was married to Theresa Wood, but their marriage was short-lived, leading to a separation between the two.
Rebecca Curci: The Mysterious Beauty's Early Life
Rebecca Curci, who was born in Tampa, Florida on June 16, 1973, is a private individual who prefers to keep her identity of her parents out of the public eye. Despite her desire for privacy, it is known that she attended San Antonio High School for her secondary education. After completing her high school studies, she went on to attend a well-regarded university to further her education.
At the age of 48, Rebecca Curci looks younger than her years. Her zodiac sign is Gemini, which is known for its enigmatic and resilient qualities. While she has not revealed much about her personal life, it is clear that she has achieved a level of success and is highly regarded by those who know her.
Rebecca Curci's Husband Shawn Michaels' Net Worth and Income Sources
Rebecca Curci is a homemaker and has not disclosed her source of income. On the other hand, her husband, Shawn Michaels, is estimated to have a net worth of $17 million, which includes his earnings from his successful career in wrestling, as well as additional income from endorsements and advertisements.
Shawn live at NXT
SOURCE: Instagram @officialshawnmichaels
Shawn Michaels earns a salary of $200,000 from his work, which has contributed to his impressive wealth. Additionally, he owns a house in San Antonio, and after his retirement, he purchased a ranch. With his work ethic and involvement in new projects, it is likely that Shawn Michaels' net worth will continue to increase in the future.
Despite not disclosing her own income, it is clear that Rebecca Curci is enjoying a comfortable life with her husband's success and wealth. The couple has been together for many years and has been blessed with two children, Cameron Kade and Cheyenne.
You Might Also Like John Cena, Dwayne Johnson
Rebecca Curci's Career as a Wrestler, Actress, and YouTube Personality
Rebecca Curci made her debut in 1998 as a professional dancer for World Championship Wrestling, using the stage name Whisper. She was part of The Nitro Girls, a dance troupe that entertained and energized the live crowds during commercial breaks. However, she left the group after a year in 1999.
Aside from dancing, Rebecca also ventured into acting and appeared in several WWE movies. She starred in The Shawn Michaels Story: Heartbreak and Triumph in 2007, Wrestle Mania 22 in 2006, and WWE No Way Out in 2009.
Furthermore, she has shared her insights and opinions on various wrestling events on her YouTube channel, including her predictions for the Edge vs. Randy Orton match at WWE Backlash, a discussion on Mankind and Mind Games in 1996, and a feature on life after retirement with Shawn Michaels.
Rebecca Curci's Career in Wrestling and Acting
Rebecca Curci is a well-known actress who has appeared in several popular movies and TV shows throughout her career. She is most famous for her work in the WCW (World Championship Wrestling), where she was a prominent figure on their weekly TV show, WCW Monday Nitro, in 1995.
Apart from her work in the wrestling world, Rebecca Curci has also made a name for herself as an actress in the entertainment industry. She has appeared in various WWE (World Wrestling Entertainment) events and has been featured in several documentaries, such as The Shawn Michaels Story: Heartbreak and Triumph (2007) and WWE No Way Out (2009). Her performances in these documentaries have been well-received by audiences and critics alike.
In addition to her wrestling and documentary work, Rebecca Curci has also made guest appearances on popular TV shows such as Pacific Blue (1996). Her performances in these shows have been highly praised, and she has received critical acclaim for her acting skills. Overall, Rebecca Curci is a talented actress and performer who has left a significant mark in the entertainment industry through her work in both wrestling and acting.
Social Media Presence of Rebecca Curci's Husband: An Overview
While Rebecca Curci is not active on social media, her husband Shawn Michaels is an Instagram user with over 28.3k followers. He has provided his email address, [email protected], for business inquiries. However, his Instagram account is set to private, making his posts inaccessible to the public. Michaels also maintains a YouTube channel that has 326 subscribers and features numerous videos.
Rebecca Curci has not made any public appearances on social media, and it seems that she prefers to maintain her privacy. Her husband, on the other hand, appears to use social media to interact with his fans and promote his brand. Despite being private on Instagram, Michaels has a sizeable following, and his YouTube channel is a testament to his engagement with his fans.
Physical Appearance of Rebecca Curci: Height, Weight, and Body Measurements
Rebecca Curci stands at a towering height of 5 feet 10 inches, or 1.78 meters, which is notably above average for women. She maintains a slender figure with a weight of around 50 kg but has not disclosed any specific measurements for her chest, waist, or hips. However, she is known for her striking features, with beautiful brown eyes and blonde hair that complements her overall appearance.
Despite her reserved nature, Rebecca's physical attributes have not gone unnoticed. Her height and slender figure are often remarked upon, and her captivating eyes and blonde hair are frequently praised. Though she keeps a low profile on social media, fans and admirers alike appreciate her natural beauty and effortless style.