Dana White II lives his life in the forefront of the spotlight. However, the President of the Ultimate Fighting Championship does like to keep certain things out of the fans' view. And one such thing would be his married life with his wife. Although Dana is comfortable with the camera's flare and the fame, his wife, Anne White, likes to keep herself free from the media's focus.
The UFC president and his wife lead a healthy married life. However, Dana and Anne did face many ups and down in their relationship over the years. Moreover, Ms. White stood by her husband's side through some nasty rumors over the years. White and his wife have been married for over two decades.
When did Dana White II and Anne White marry? How long have they been married?
Dana White Jr and his wife, Anne White, née Stella, married in 1996. Furthermore, White and his wife held their wedding in a more reclusive setting. As such, Anne and Dana exchanged their sacred vows in the presence of their family and friends.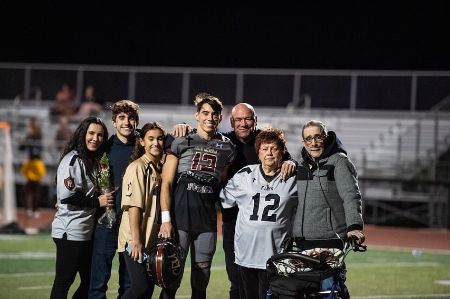 Dana White II with his family.
SOURCE: Instagram@danaiiiwhite
The lovebirds first met in their 8th grade. However, whether the duo started dating during high school or sometime later stays uncertain. Nevertheless, Dana and Stella remain faithful and stick together through thick and thin.
For five years in their married life, the UFC president and his wife stayed focused on their career. And so, Dana and his spouse didn't welcome a child in the 90s. Whites gave birth to their first kid in 2001.
Dana White II and his sons went to Geno's Steaks and took a picture together under the sign.
SOURCE: Instagram@danawhite
On 2001 June 9th, Dana and his girlfriend turned spouse gave birth to Dana White III. And the following year, on July 18th, 2002, Anne and her husband welcomed Aidan White, their second child.
Although White and his wife welcomed three children in their marriage, Savannah White, Anne and Dana's only daughter, remains an elusive individual. Besides, Savannah is the youngest of the married couple's kids.
Dana keeps his past relationships out of the world's view. Besides his relationship with his wife, the UFC president never talked about other partners. And so, the names of his ex-girlfriends stay hidden in the murky waters. But, White has been involved in scandals over the years. More on which is down below!
Scandals of Dana White II
In 2014, Dana White II became involved in a sex-tape lawsuit after an exotic dancer "taped" their sexual encounter without his consent. Furthermore, White was in Brazil when the said scandal happened. The stripper's live-in boyfriend, Ernesto Joshua Ramos, tried to get easy pay and extort money from the UFC president. Ramos found himself sleeping in the jail cell instead of the thousands of dollars.
Oh, but it doesn't end there; more recently, in 2020, Ernesto tried his hand again with a $10 million lawsuit against the UFC president. But, once again, Ramos's dream of easy money was dashed by the court of Nevada.
How Rich is Dana White II? Net Worth and Assets of Dana
In recent years, Dana White II managed to earn a massive fortune. What's more, Dana, the UFC president, currently holds an estimated net worth of $500 million. White also claimed that the Ultimate Fighting Championship is a multi-billion company.
Dana White II and the legendary actor Mario Lopez.
SOURCE: Instagram@danawhite
White and his wife, Anne White, gave their kids a life filled with luxury. Moreover, in 2016 and 2017, Dana bought three mansions totaling $6.2 million. Also, the UFC president could be planning on combining the four mansions into one giant piece of property.
As the President of UFC, Dana earns a considerable income. Moreover, White earns an estimated salary of $20 million. Furthermore, he holds a massive online following. However, the man doesn't gain income from his online presence as he only promotes UFC on his social media accounts.
Speaking of which, White managed to gain millions of followers on Instagram and Twitter. Furthermore, Dana's Instagram currently consists of 7.7 million followers. Likewise, on Twitter, the UFC president holds a whopping 6 million followers on the dot.