Pierre-Emile Højbjerg is a famous footballer from Denmark who currently plays for the national team and Premier League club Tottenham Hotspur. Besides, he has mastery in midfield. The Danish player is one of the successful and commendable footballers who has a net worth estimated to be a million dollars.
Højbjerg is a professional-level club Tottenham Hotspur teammate who also plays for his national football team. Besides that, he kicked off his career in the football vocation at just the age of 14. Additionally, the footballer has a huge fan base as people are in love with his football skill and techniques.
Explore His Early Career And Family
The Danish footballer, Pierre-Emile Højbjerg was born Pierre-Emile Kordt Højbjerg to his lovely parents in 5 August 1995. Besides, Højbjerg spent most of his childhood in his birthplace, Copenhagen, Denmark and his star sign is Leo. Furthermore, he attended a school emphasizing Denmark; however, Hojberg hasn't revealed the name of his school and college yet.
Pierre-Emile Hojbjerg with his mother
SOURCE: Instagram @hojbjerg23.com
Additionally, Pierre-Emile is the son of Christian Højbjerg, but the name of his mother remains barred from public reach. But we know that his parents are of mixed nationality as his father, Christian Højbjerg is Danis, whereas his mother is French. Rather than that, the footballer hasn't shared much about his family details yet. For your concern, he is the second of three children. In addition to this, Højbjerg is very private when it comes to his family and bloodlines.
Likewise, the name of his siblings is also unknown to us whom he must share a great bond. So on, the player doesn't prefer to talk much about his parents and family, which might be why we don't have much to discuss. However, we will try our best to fill the missing session as soon as the athlete shares his personal life.
His Football Career
The fan's favorite, Pierre-Emile, always had a keen interest in football from an early age and was instructed to play football at the age of five. While exploring his career bio, he officially began his football career at the age of fourteen when Pierre-Emile played for BK Skjold, In his early age, Højbjerg played for various clubs, including F.C. Copenhagen and Brøndby IF, as a junior footballer.
Pierre-Emile Hojbjerg with his teammate celebrating after a victory
SOURCE: Instagram @hojbjerg23.com
Additionally, Højbjerg considers Zinedine Zidane, the French professional former footballer and football manager, as his role model. He was active and never missed any training and sports-related activities since childhood. That level of dedication and passion brought him to be one of the best football players so far in Denmark's football history.
The player joined one of the best German-associated clubs Bayern Munich in July 2012; however, he made his professional debut in 2014 by competing against 1. FC Nürnberg in the Bundesliga. Similarly, in 2015, he was loaned to F.C. Augsburg and Schalke 04. A year later, Højbjerg joined English club Southampton with a five-year contract with an estimated fee of £12.8 million.
As per the sources, Pierre-Emile joined his fellow club, Tottenham, on 11 August 2020 with a five-year deal. And he is said to be receiving the initial fee of £15 million plus add-ons.
International Career
For your concern, he began his international career in 2010 when Højbjerg was selected the represented his national team in various matches, including under 16, 17 to 19, and 21. Similar to this, he also has a lengthy list of honors and awards, like he was honored with the title "Danish under-17 player of the year" and "Danish talent of the year" by Spillerforeningen, which was the major turning point for his football career.
Apart from that, Højbjerg made his senior career debut for his national team in May 2014 when the team played a friendly match against Hungary and Sweden. Pierre-Emile has played in various championships in his home country, like the 2018 FIFA World Cup in Russia and UEFA Euro 2020.
Read more about Jens Jonsson, a Danish football player who plays for Spanish league La Liga club, Cadiz CF, as a midfielder
Højbjerg Net Worth And Salary
As we already know, Pierre-Emile Højbjerg has a lengthy career in football and is a professional level football player with a net worth of million euros. The sources reveal that Hojbjerg has a net worth of €15 million. Furthermore, the current market value of the player is 40million euros which is one of the highest market values of his entire football career.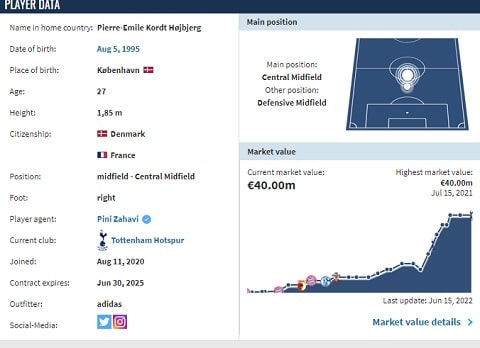 CAPTION: Pierre-Emile Hojbjerg's current market value
SOURCE: transfermarkt.com
According to Sporttrac.com, the midfielder has signed a contract worth £26,500,000 with Tottenham Hotspur F.C. He will also receive an annual average salary of £5,300,000. Apart from that, in In 2022, Pierre-Emile is earning a base salary of £5,300,000; the data surely shows how rich and well-settled the player is.
Facts On Pierre-Emile Wife And Kids
The talented footballer Pierre-Emile Højbjerg is happily married to his wife, Josephine Siw Nielsen. Besides the couple started dating in 2015. After dating for four years, the sweet duo shared wedding vows in traditional culture and private ceremonies in 2019 in the presence of their closest friends and family.
While talking about his wife, Josephine, she is also a Denmark citizen and is a degree holder in European Business. According to the last updates, he worked as an Executive Assistant at MM Properties ApS in 2016. Apart from that, the lovebirds are the parents of two, a son and a daughter.
CAPTION: Pierre-Emile Hojbjerg with his wife and kids
SOURCE: Instagram @hojbjerg23.com
Additionally, the pair shares picture on their social media handle with their fans. Further, Josephine is among the great supporters of her husband as she keeps attending his match and is the lucky charm of Højbjerg.
Social Media Activeness
The popular Danish footballer, Højbjerg, is active on Instagram under the username @hojbjerg23, where more than 390k people follow him. Besides that, he prefers Instagram over any social media handles, whereas Højbjerg often shares pictures and stories on the handles.
In addition, Højbjerg is more interested in sharing football-related content on his I.G. wall.