The three times World Cup Winners and Soccer legend has died at the age of 82. He became a global icon and is often acknowledged as the 'Athlete of the Century.' According to sources, Pele lost his battle with colon cancer, which he had been battling for over three years.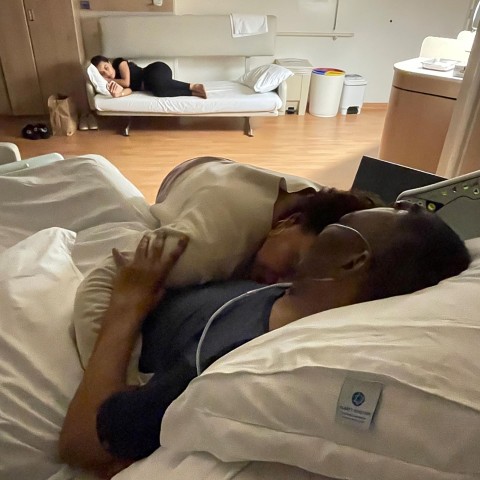 The last photo of Pele while in the Hospital
SOURCE: CNN
The entire world is mourning the death of Pele. After the news of Pele's death, Many global stars paid tribute on their social media handles.
Cristiano Ronaldo shared a photo on his Instagram timeline captioned.
"My deep condolences to all of Brazil, and in particular to the family of Edson Arantes do Nascimento," he wrote, translated from Portuguese, alongside a photo of the pair shaking hands.
Ronaldo added, "A mere 'goodbye' to the eternal King Pelé will never be enough to express the pain that the entire football world is currently embracing. An inspiration to so many millions, a reference yesterday, today and forever. The love you always showed me was reciprocated in every moment we shared even from distance. He will never be forgotten and his memory will live forever in each and every one of us football lovers. Rest in peace King Pelé."
Even United States President Joe Biden mourned with a tweet
"For a sport that brings the world together like no other, Pelé's rise from humble beginnings to soccer legend is a story of what is possible."

Today, Jill and I's thoughts are with his family and all those who loved him. pic.twitter.com/EkDDkqQgLo
— President Biden (@POTUS) December 29, 2022
On the other hand, Argentina's World Cup winner, Lionel Messi, posted a picture on Instagram of him with Pele with the message: "Rest in peace, @pele."
Pele's daughter Kely Nascimento shared the news of her father's death on Sunday evening, a final picture of the legend's family holding his hand.
Pele is the only football player to win three World Cup events. His goal record stands at 1,279 goals in 1,363 games, which included friendlies, and is recognized as a Guinness World Record.
He scored a remarkable 77 goals in 92 games for the national team.