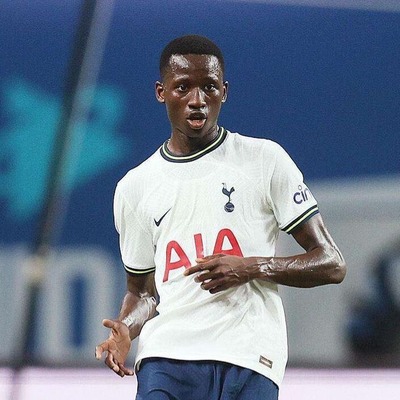 Personal Info
Date of Birth

Age

20 Years Old

Famous Name

Pape Matar Sarr

Country Senegal SN
Facts
Father

Unknown

League Name

Ligue 1

Relationship Status

Single

Weekly wage

£ 20,000

No. of Twitter Followers

93.7K

First Name

Pape

No. of Instagram Followers

276K

Past Team

FC Metz II

Market Value

€15.00m

Mother

Unknown

Last Name

Sarr

Birth Name

Pape Matar Sarr

Net Worth

$4 million

Facebook

Currently Married

Update soon

Twitter

https://mobile.twitter.com/papematarsarr15

Salary

£572,000(Per Year)

Married to

No/update

Birth Country

Senegal

Instagram

https://www.instagram.com/pape_matar_sarr_15/

Famous Name

Pape Matar Sarr

Contract

2020

Horoscope

Virgo

Position in Team

Midfielder

Date

September 14

Nationality

French

Current team

Tottenham Hotspur F.C. and Senegal national football team

Current City

Religion

Muslims

Profession

Football Player

Is played fifa word cup 2018

Not/No

Started career as

Footballer

Currently Club

Tottenham Hotspur F.C. and Senegal national football team

Rank

72
Pape Matar Sarr is a Senegalese professional football player playing for the Tottenham Hotspur Football Club, known as Tottenham, which is an English professional football club based in Tottenham, London, England. Pape Matar also plays for the Senegalese national team and has earned nine International caps as a senior player.
Pape Matar Sarr plays from a central-midfield position. Since Pape Matar's debut in football, Pape Matar has played in different football clubs based in multiple regions. Pape Matar currently plays in the English highest football league, English Premier League. For his current team, Tottenham, he wears jersey number 29. Pape Matar is also one of the delivered players of the Senegalese national team. Sarr has won multiple trophies playing for numerous teams including the Africa cup of nations.
Pape Matar Sarr Personal Details
Pape Matar Sarr better known as Sarr was born in Thiaroye, Senegal, on September 14, 2002. Pape Matar's star sign is Virgo. Pape Matar is 20 years old as of 2022. Sarr is 6 feet 1 inch tall and weighs over 70.0 kg. Pape Matar Sarr spent most of his childhood in Senegal. The attractive central midfielder from Tottenham holds Senegalese citizenship.
Pape on Tottenham Hotspur outfit
SOURCE: [email protected]_matar_sarr_15
Pape Matar went to a school that puts a lot of emphasis on Senegal. Because he was born in Senegal, he got a chance to represent Senegal in different international games. Pape Matar attended educational facilities and institutes there as well. Pape Matar's parents were both raised in Senegal. Pape Matar, however, has withheld from disclosing his parents' full identities and fields of competence. Pape Matar Sarr has preserved the identities and sentiments of self of his siblings.
Matar Sarr Football Career
Prior to signing a five-year deal with Ligue 1 team Metz on September 15, 2020, Pape Matar Sarr made his professional debut with Generation Foot in his home Senegal.
Sarr committed to Premier League team Tottenham Hotspur on August 27, 2021. He was returned on loan to Metz until the conclusion of the 2021–22 campaign.
Pape Matar's salary and net worth details
Tottenham's excellent midfielder, Pape Matar Sarr, started playing football professionally in 2020. Sarr played for three teams during his two-year, trained, and experienced football career. Pape Matar Sarr is currently in starting phase of his footballing career.
Pape on his car
SOURCE: [email protected]_matar_sarr_15
According to salary sport, Pape Matar allegedly earns £572,000 per year and £20,000 per week playing football for his previous club Metz FC. Pape Matar's current club salary details are unknown as of now. The transfer market currently estimates Pape Matar's value to be £15.00 million. In 2022, Pape Matar's net worth is $4 million. Sarr's highest market worth as of now is £20.00 million.
Pape Matar also earns some money from endorsement and sponsorship agreements. However, Sarr has not exposed to the media how much he earns from such deals. Pape Matar has his own home in Senegal. Pape Matar is living his extraordinary life in his own house in Senegal with his family.
Also, read the biography, relationship details, and net worth of Stephen Eustaquio.
Is Pape Matar Sarr still single?
Yes, Pape Matar Sarr is a single athlete as of now. When it comes to his romantic situation, Pape Matar Sarr is quiet and introverted by nature. Due to Sarr's reclusive personality, the Tottenham sportsman has kept his romantic life a mystery. Since Sarr has never been recorded as dating anywhere, it is difficult to demonstrate his present romantic situation.
Pape with his teammate
SOURCE: [email protected]_matar_sarr_15
Sarr could be seeing someone else and holding off on telling them till the time is right. Because Sarr is still preoccupied with his career, Sarr might not have the time to be involved in such activities. Despite the absence of details, Pape Matar Sarr might not be in a relationship.
Is Sarr Likely to Appear in World Cup 2022?
Fans of Matar Sarr are excited to know if he will participate in the impending FIFA 22. Because the Senegal national team has qualified for the match, Sarr has also been shortlisted for the national team that will compete in the FIFA World Cup in Qatar in 2022.
You may uncover an expansive range of sports info, buzz, and love concerns on Playerswiki.