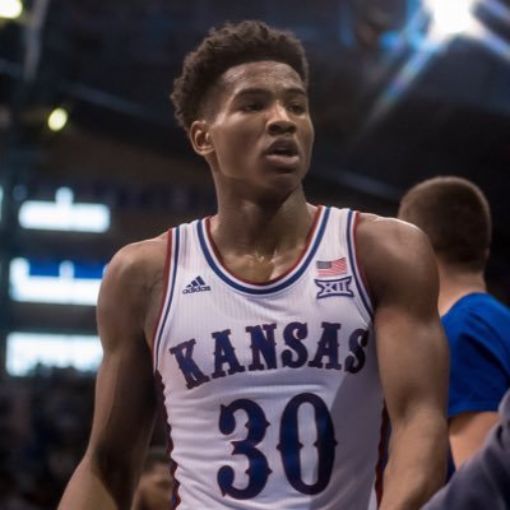 Personal Info
Date of Birth

Age

22 Years Old

Famous Name

Country United States US
Facts
Birth Place

Milwaukee, Wisconsin

Father

Olofu Agbaji

Mother

Erica Agbaji

Siblings

Has an older sister, Orie

No. of Twitter Followers

14k

No. of Instagram Followers

34k

Current team

Kansas

Nationality

American

Ethnicity

African-American

Profession

Basketball player

Currently Working For

Kansas

School attended

Oak Park
Ochai Agbaji is a three-star college basketball prospect from the United States who plays shooting guard. He is currently a member of the Big 12 Conference for the University of Kansas (from 2018-present date). He was selected the Kansas City Star All-Metro player of the year during his senior season.
Kansas Jayhawks No. 30 declared his name for the NBA Draft 2021. KU's leading scorer has entered his name into the NBA draft pool with the option to return to school for his senior season. He returned to play senior season.
Bio and Family
On April 20, 2000, Ochai Agbaji was born in Milwaukee, Wisconsin. Olofu, a community planner, and Erica, a kindergarten teacher, are his parents. Ochai's older sister, Orie, is a volleyball player for Texas, and she was the one who inspired him to improve. He is of African-American descent and holds American nationality.
Ochai Agbaji with his family
SOURCE: kansancity.com
When his parents were at the University of Wisconsin-Milwaukee, they played basketball which also inspired Ochai to choose to play basketball rather than other sports. He is 6 foot 5 inches tall and weighs 215 pounds.
Basketball Career from High school to College
Agbaji began his career at Oak Park but did not receive any offers from a Power Five school until his senior year. He was selected the Kansas City Star All-Metro player of the year during his senior season, averaging 27.6 points and 8.6 rebounds per game. He turned down offers from Texas A&M and Wisconsin to play for Kansas.
In his freshman season, he made his first career appearance on January 29 against Texas, averaging 24 points, seven assists, and two steals. He averages 8.5 points and 4.6 rebounds per game in 22 games as a rookie, including 16 starts, and was voted Big 12 Conference Newcomer of the Week for both results.
He made his sophomore session debut on November 5, 2019, scoring 15 points in a loss to Duke's Champions Classic. He was voted Honorable Mention All-Big 12 after finishing second on his team with 10 points and 4.2 rebounds per game.
Ochai Agbaji Net worth; Does he have any Source of Income?
Ochai's net worth in 2022 is unknown since it has not been assessed. We don't know how much he's made so far because he hasn't said anything about his net worth.
Agbaji is still a college athlete and doesn't have any earning source. According to NCAA rules, college players are not permitted to take any wage. Rather, they are presented with various scholarship opportunities to help them pay for education and other expenses. His college in Kansas is currently providing him with various amenities.
Relationship Status and Girlfriend
Ochai is single and without a girlfriend at the age of 21. He hasn't said much about his relationship status. Ochai, like many other players, has decided to keep his personal life private.
As a player, he is putting all of his time and hard work into building his career. He's spending all of his time honing his abilities in preparation for upcoming matches, so he may not have had much time for other things.
Stay Tuned With Playerswiki