Personal Info
Date of Birth

Age

28 Years Old

Famous Name

Nikola Jokic

Country Serbia RS
Facts
Father

Branislav Jokic

League Name

Relationship Status

married

Weekly wage

$372,078

Points

First Name

Nikola

Endorsment brands

No. of Instagram Followers

102K

Father Nationality

Serbian

Last Name

Jokic

Birth Name

Nikola Jokic

Net Worth

$80 Million

Facebook

https://www.facebook.com/VMarinkovicOfficial

Currently Married

Natalija

Siblings

Strahinja and Nemanja

Salary

$30,510,423 (per Year)

Married to

Natalija

Birth Country

Serbia

No. of Siblings

3

Endorsement earnings

Instagram

https://www.instagram.com/jokicnikolaofficial/?hl=en

Famous Name

Nikola Jokic

Divorce

No

Wife profession

Model

Horoscope

Pisces

Date

February 19

Nationality

Serbian

Ethnicity

White

Religion

Christians

Profession

Basketball player

Famous for

Basketball

Started career as

Basketball player

Currently Club

Denver Nuggets and Serbia national basketball team
Nikola Jokic, a Serbian national, is a talented and prowess basketball player who competes in the Nationa Basketball Association (NBA). He is a crucial player who plays in the center position for Denver Nuggets. He is the 2014 NBA draft pick in the second round by the Denver Nuggets. For your concern, Nikola is also the four times NBA All-star who has won the NBA's most valuable player Award for the 2020-21 and the 2022-23 seasons.
Former Mega Basket star player Nikola also represents his nation on international platforms. He accomplished Silver medals in the 2016 Olympic Games and the U19 World Championship with the Serbian basketball team.
Details On His Family, Parents, And Siblings
Nikola Jokic, the Serbia international, was born on February 19, 1995, in Sombor, Serbia, FR Yugoslavia. He is now 27 years old, and his sun sign is Pisces. He spent all his adolescent time in his hometown Sombor. Moreover, due to his fun character, Nikola is given the nickname "The Joker" by his colleagues. The Serbian descent came from medium family background. His father's name is Branislav Jokic, and he was an agriculture engineer, whereas his mother's identity remains under review for now. He had a rough childhood where he had to share a cramped two-bedroom apartment with all his family members six.
Nikola with his elder brothers
SOURCE: Instagram
Furthermore, he is the youngest child of his parents. He has two eldest brothers, Strahinja Jokic and Nemanja Jokic, with whom he played basketball in his early days. Like him, they are also professional basketball players who compete in the European Sides. Wherever he is now, some of its credit goes to his brothers, with whom he learned to play basketball in his before years.
Nikola Jokic's Body Stature (Height And Weight)
Nikola Jokic, the 2015 ABA League MVP, is one of the tallest players in the NBA. Standing 6 ft 11 inches and weighing 129 kg, the player is one of his team's gifted and proficient players. The Serbian is quite fair in skin tone and has short blonde hair. Additionally, he has a long elongated body type which has become a plus point in his game.
Is Nikola A Married Guy?
Despite posting a few about his love life, we came to the that, Yes, Nikola is a happily married guy. He is wedded to his Longtime Love, Natalija Mesic, on October 24, 2022, in his hometown, Sombor. The couple's wedding party was on every news headline in Serbia. They had a grand reception bash with big celebrities and players in attendance. Before tying their marital know, the duo was in a loving relationship where they resided in Denver.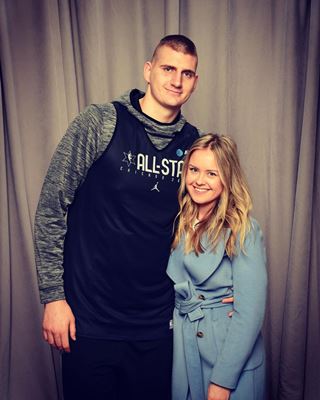 Nikola and his wife
SOURCE: Instagram
Furthermore, the pair has a family of three, including his adorable baby. They welcomed their first baby girl in September 2021, who just turned a year old last September. Apart from being a pro player, he has equally been a proud and responsible father to his lovely daughter. In addition, his wife Natalija has been his huge fan and supporter. Presently, the lovebirds are enjoying the parenthood phase.
Everything On his Salary, Net Worth And Yearly Earnings
Sombor-born professional basketball Nikola Jokic is among the most famous and highest-earning players in the NBA. He is the only Serbian who has gained such a name and fame worldwide. Despite his popularity, he lives a simple and comfortable life. He started his career in 2012; it has already been more than a decade in this field. On top of that, he has played for the world's top basketball leagues, including NBA and KLS Adriatic League. Playing in such big leagues must have fitted him with huge fortunes in his bank account.
Concerning his salary details, the Serbian international is one of his team's vital players, so just appearing in a single match, he makes $3,72,078. Likewise, in weeks, he allegedly earns $5,86,739 and $2,542,535 in months and $30,510,423 per season. With such astronomical pay, his net worth must be very impressive. As asserted by various online sites, his current net worth is around $80 Million. Besides this, he also makes income collaborating and doing business too. In general, just appearing in an ad, the average NBA player accumulates $3,500.
Wiki Review In his Career
After playing in numerous local tournaments, he was spotted by the Mega Basket and welcomed into the team. Likeswise, his dominance and prowess performance even caught the interest of the bigger group. At age 17 only, he had already made his name in the Serbian League. Appearing three in the Serbian League, he tried for the NBA, which turned well, and he also got his entry after being drafted by the Nuggets in the 2014 NBA Draft. In the Summer of 2015, he signed his first official contract with the Denver Nuggets.
Nikola representing Nugget in the 2021-22 season
SOURCE: Instagram
His performance improved daily, and with such consistent performance, he won several individual tiles and rewards till now. He is at the peak of his career at the moment. Moreover, he is still grinding hard to stay on this level.
Activeness On Social Media
Appearing in the NBA has got him colossal popularity worldwide. He is one of the most searched Serbian athletes. He is a role model for many people too. Most people are curious about him so we can locate him on Instagram under the username @jokicnikolaofficial. He out gives his career and personal news via this handle. Under that handle, the professional has a strong fan following of 102K. Moreover, he grabs his popularity opportunity to generate income by promoting and advertising various companies and brands' products.
Career Accomplishment And Honors
2x NBA Most Valuable Player.
4X NBA All-Star.
2X the Serbian player of the year.
ABA Top League Prospect.
2015 ABA League MVP.
NBA All-Rookie Forst Team.
All-NBA Second Team.
3xs All-NBA First Team.
Stay tuned to playerswiki.