Personal Info
Date of Birth

Age

26 Years Old

Famous Name

Nick Kerr

Country United States US
Facts
Father

Steve Kerr

Relationship Status

single

First Name

Nick

Fiance

Father Nationality

American

Mother

Margot Kerr

Engaged Person Name

Property Status

no house

Last Name

Kerr

Birth Name

Nicholas Kerr

Net Worth

Mother Nationality

American

Twitter

https://mobile.twitter.com/treybeats35

Siblings

Matthew Kerr, Maddy Kerr

Salary

Birth Country

United States

No. of Siblings

2

Famous Name

Nick Kerr

Career Earnings

Horoscope

Scorpio

House Location

House Price

Nationality

American

Ethnicity

Mixed

Girlfriend

Religion

Christians

Profession

School Location

San Diego, California

Famous for

Steve Kerr's Son

Started career as

Basketball Player

University attended

University of San Diego

School attended

Torrey Pines High School
Nick Kerr is the son of former NBA player and current Golden State Warriors head coach, Steve Kerr. He is famous for his association with basketball and memes, as well as his successful college basketball career. Currently, Nick is an Assistant Video Coordinator at Golden State Warriors.
Nick has never confirmed anything about his relationship status publicly. While his net worth is not available, his father Steve Kerr has an estimated net worth of $50 million. Despite being relatively young, Nick has made a name for himself in the basketball world and continues to be a notable figure in the public eye.
Net Worth, Salary, Career Earnings and Contracts
Nick currently works in Golden State Warriors as an Assistant Video Coordinator, and there he earns an annual salary of $55K. However, his net worth is not been publicly disclosed yet.
His father, Steve Kerr has amassed a significant net worth of $50 million over the years. This figure takes into account his earnings as an NBA player, his coaching career, and his endorsement deals.
During his playing career, Steve Kerr earned a total of $30,375,000 in salary over 15 seasons. His highest salary was during the 1998-99 season when he earned $3,200,000 while playing for the San Antonio Spurs.
Steve Kerr signed his first NBA contract in 1988 with the Phoenix Suns. The contract was a two-year deal worth $670,000. Kerr would go on to play for several teams during his career, including the Cleveland Cavaliers, Orlando Magic, Chicago Bulls, San Antonio Spurs, and Portland Trail Blazers.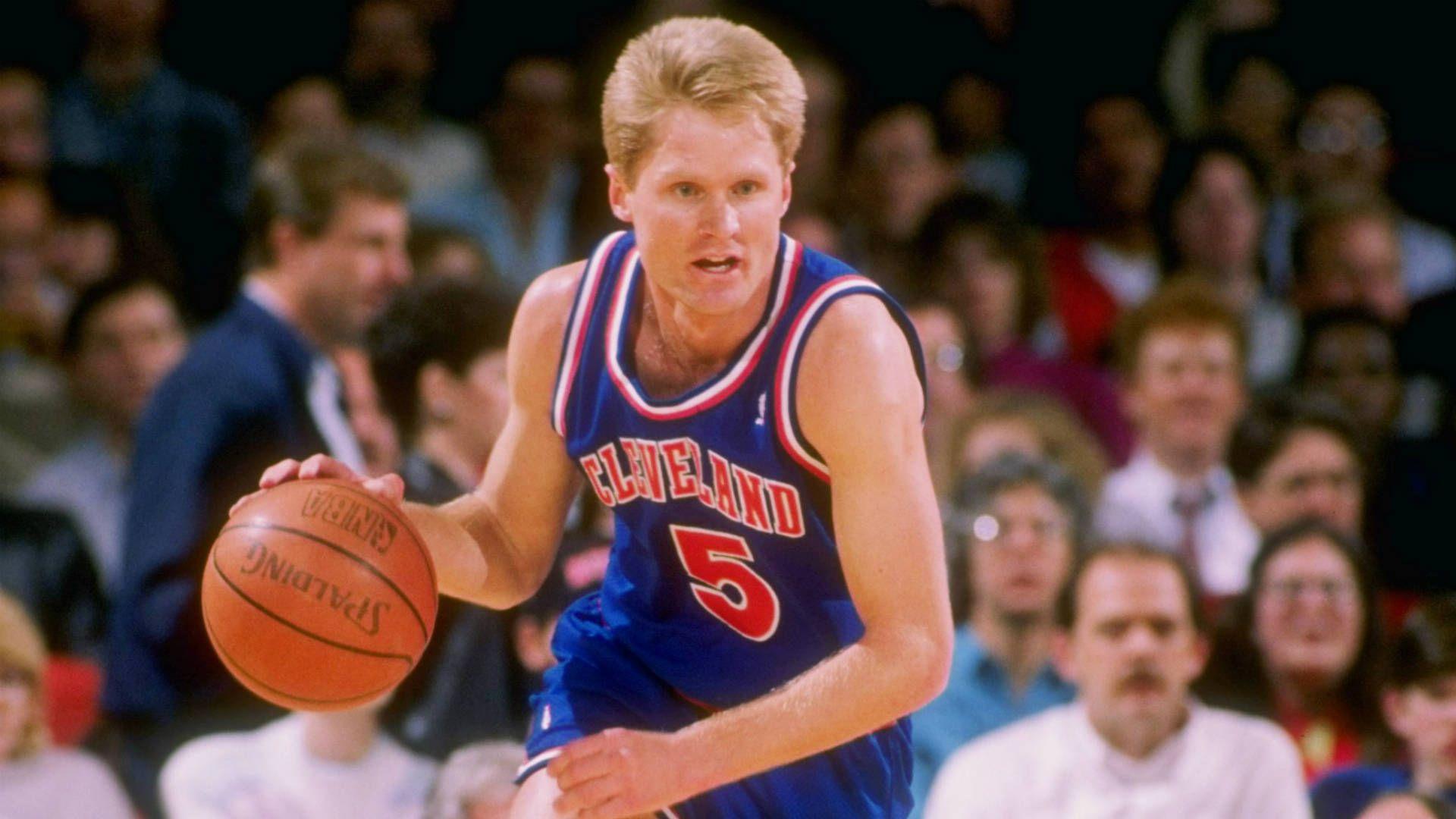 Steve Kerr in a basketball drive action, 1992
SOURCE: wallpaper cave
In 1994, Kerr signed a three-year contract with the Chicago Bulls worth $4.2 million. This contract included a $1.5 million signing bonus. During his time with the Bulls, Kerr won three NBA championships and solidified his reputation as one of the league's premier three-point shooters.
In 1999, Kerr signed a two-year contract with the San Antonio Spurs worth $11 million. This contract was the largest of his career and came after he had won his fourth NBA championship with the Bulls. Kerr played two seasons with the Spurs before retiring as a player.
After retiring as a player, Steve Kerr transitioned to coaching. He started out as a broadcast analyst for TNT before being named the general manager of the Phoenix Suns in 2007.
In 2014, Kerr was hired as the head coach of the Golden State Warriors. He signed a five-year, $25 million contract with the team. During his first season as head coach, Kerr led the Warriors to their first NBA championship in 40 years. He has since won two more championships with the team in 2017 and 2018.
As the head coach of the Golden State Warriors, Steve Kerr earns a yearly salary of $10 million. This salary makes him one of the highest-paid coaches in the NBA.
Investments, Real Estate, and Other Assets of the Kerr Family
Real Estates
Steve Kerr owns several properties, including a home in San Francisco's Presidio Heights neighborhood. The home is worth an estimated $7.35 million and features five bedrooms, six bathrooms, and a spacious backyard.
Steve Kerr's $7.3 million home in San Francisco's Presidio neighborhood, 2018
SOURCE: abc7news
In addition to his primary residence, Kerr also owns a vacation home in San Diego, California. The home is worth an estimated $5.8 million and features four bedrooms, five bathrooms, and stunning ocean views.
Kerr has also invested in real estate, with several properties in the San Diego area. In 2016, he purchased a home in the Del Mar Country Club for $5.1 million. The property features 7 bedrooms, 7.5 bathrooms, a pool, and a tennis court. Kerr also owns a home in Rancho Santa Fe, which he purchased for $4.75 million in 2015.
Sports Investments
One of Kerr's most significant investments is in the Phoenix Suns, a basketball team he played for during his career. In 2004, Kerr joined a group of investors led by Robert Sarver to purchase the team for $401 million. Kerr reportedly invested $1 million of his own money into the deal, which has since appreciated in value significantly.
Vehicles and Guitar Collections
Steve Kerr owns several vehicles, including a Porsche Panamera which is worth $103,700, a Tesla Model S worth $109,990, and a Toyota Prius having a market value of $34,465. The exact value of his car collection is around $250,000.
Steve Kerr owns an all-white Tesla Model Y
SOURCE: TopGear
Steve Kerr has several vintage guitars in addition to his car collections. He owns a collection of vintage guitars that is worth an estimated $400,000. Kerr is an avid musician and has been known to play guitar in his spare time.
Philanthropy
Steve Kerr is known for his philanthropic efforts and has donated money to several charities over the years. In 2020, he donated $100,000 to help support local businesses impacted by the COVID-19 pandemic. He has also supported organizations such as the Make-A-Wish Foundation and the Special Olympics.
Relationship Status, Dating History, and Family
Nick Kerr has largely kept his dating life out of the public eye. It is unclear whether Nick is in a relationship or single because he has never confirmed it, but his sister, Maddy, once revealed about his girlfriend in an interview saying, "He sits there and watches basketball or other sports all day. Luckily, he found a girlfriend who is supportive of that. I don't know if many people would be."
As for his parents, Steve and Margot Kerr, they have been married since 1990. The couple met while they were both attending the University of Arizona, and they tied the knot on September 15, 1990. The couple is blessed with three children.
Steve Kerr sits in the stands with his wife Margot Kerr during the match between the San Francisco Giants and the New York Mets at AT&T Park in San Francisco, California, June 2014
SOURCE:NBA
As for Nick's siblings, Maddy was born on February 6, 1993. After playing volleyball at Torrey Pines High School, she went on to play at UC Berkeley, where she was a four-year letter winner and earned All-Pac-12 Honorable Mention in 2014. After graduating from college, Maddy worked as a marketing coordinator for the NBA's Golden State Warriors.
Matthew, Nick's younger brother, was born on October 3, 2001. He attended La Jolla Country Day School in San Diego and played basketball there before moving on to play at the University of San Diego. In his freshman year, Matthew appeared in 16 games for the Toreros, averaging 1.1 points and 0.5 rebounds per game.
Early Life, Education, Family, and College Career Stats
Nick was born Nicholas Kerr on September 9, 1996, in San Diego, California. He grew up in a family that was passionate about sports, with his father having played in the NBA and later coached several teams.
Nick attended Torrey Pines High School in San Diego, where he played basketball. From 2012-2016, he was a walk-on player on the varsity basketball team and helped lead the team to a San Diego Section championship in his senior year. During his four-year tenure, Kerr appeared in 39 games, averaging 1.1 points per game.
Nick Kerr runs a drill during California Bears men's basketball practice in Berkeley, California, 2015
SOURCE: Connor Radnovich / The Chronicle
After graduating from high school in 2014, Nick enrolled at the University of San Diego where he studied BBA and graduated in 2015. Later, he completed his Master's degree in Public health from the University of California, Berkeley.
After graduating from the University of California in 2018, Nick worked as a video coordinator for the Santa Cruz Warriors, the Golden State Warriors G League affiliate. He worked closely with the team's coaching staff and players, helping to break down game films and prepare scouting reports.