Personal Info
Date of Birth

Age

38 Years Old

Famous Name

Country United States US
Facts
Father

Branislav Jokic

Relationship Status

married

No. of Twitter Followers

48

First Name

Jokić

Fiance

Sheron Genovea

Mother

Unknown

Engaged Person Name

Sheron Genovea

Last Name

Nemanja

Birth Name

Nemanja Jokić

Currently Married

Yes

Twitter

https://mobile.twitter.com/namisryder

Siblings

Strahinja Jokić, Nikola Jokić

Married to

Sheron Genovea

Birth Country

Serbia

No. of Siblings

2

Past married if any

No

Famous Name

Children

Divorce

No

Wife profession

Horoscope

Virgo

Nationality

Serbian

Religion

Christians

Profession

basketball player

Famous for

Nikola Jokić's brother

Height

191

University attended

University of Detroit Mercy

School attended

Mechanical High School
Nemanja Jokic is the brother of three-time All-NBA player Nikola Jokic. He played at the Division I level previously, and made his MMA debut in 2018.
Strahinja Joki and Nemanja Joki, Nikola Joki's siblings, gained notoriety for being violent giants who fiercely guarded their younger, two-time MVP brother Nikola. They always had his back and are the people that no one would want to mess with.
Net Worth Of The Jokic Brothers
Nemanja Jovic has kept his economic stats away from the public. He has not yet received any brand endorsements. Hir, s brotheNikola has an estimated net worth of $30 million that he has accumulated throughout the course of his career and vocation.
Nikola Jokic owns several cars
SOURCE: CARHP
On the other side, his brother Nikola has received endorsements from numerous companies, including the shoe industry giant Nike. Also, he has the support of Italian business Panini as well as American global financial services giant Western Union.
Is Nemanja Involved In A Relationship?
Nemanja is married to an African-American beauty named Sheron Genovea, who is now Jokic. According to the sources, he met his future wife while playing in Detroit. The couple has been together since then.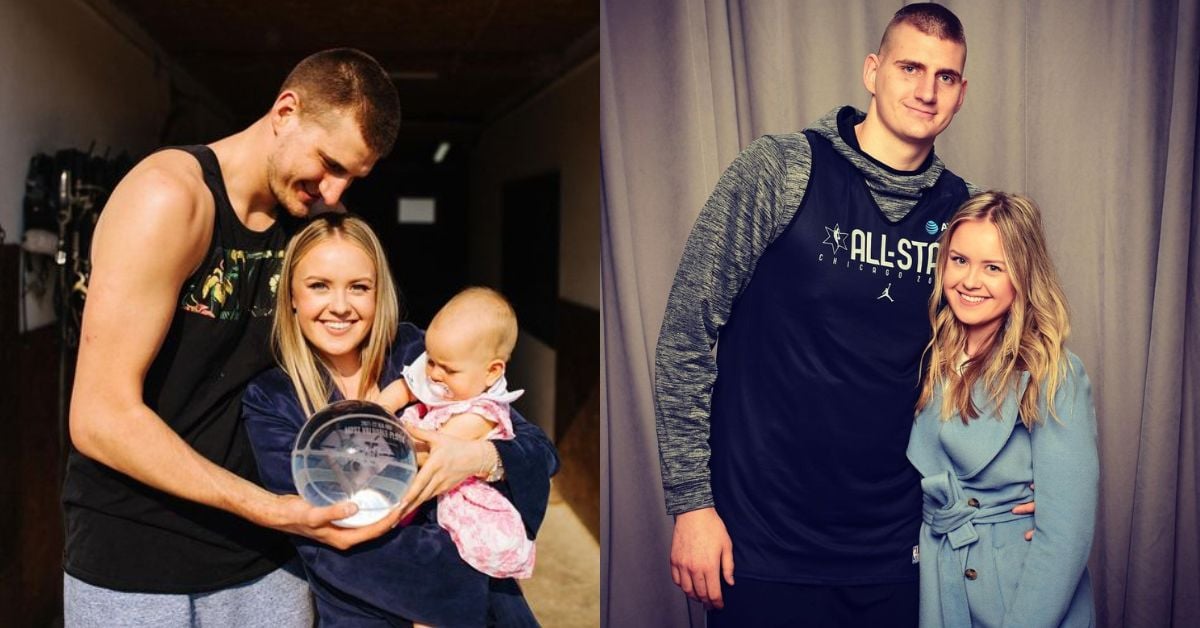 Nikola Jokic with his wife
SOURCE: Sportsmanor
However, Nikola is married to his beautiful wife, Natalija Macesic. They were high school sweethearts. They have been dating since 2013. They exchanged their wedding vows in October 2020 in Sombor, Serbia, in a private wedding ceremony.
Natalija shares a strong bond with Nemanja and Strahinja since they have been living together since the day Nikola was drafted to Denver.
Career and Professional Life of Nemanja Jokic
Nemanja competed in MMA in 2019. He had three victories and zero losses as of March 14 of the same year. Regrettably, no further information about his MMA career has appeared since. Now he makes cross-state trips to see his brother Nikola's games.
Nemanja during his game
SOURCE: Twitter
The only thing known about Nemanja Jokic's career or occupation is that he is the brother of NBA player Nikola Jokic. In contrast, Nikola Jokic, who began playing basketball as a youngster in Serbia and finally joined the Denver Nuggets in 2015, has had a great basketball career.
His season-high of 23 points and 12 rebounds against the San Antonio Spurs and his 37 points, 18 rebounds, 5 assists, and 3 steals in a playoff game against the Golden State Warriors are just a few of his outstanding achievements.
Moreover, Nike, Western Union, Panini, and other businesses have all promoted Nikola Jokic, although Nemanja's brand endorsements are unknown.
Let's Know About The Family Of Nemanja Jokic
Nemanja was born in Serbia to a devoted mother and his father, Branislav Jokic. He is his parents' middle son. His father was an Engineer in agriculture. He grew up along with his mother, father, two brothers, and grandmother. They occupied an apartment with two bedrooms.
The Brothers For Life
SOURCE: 5280 Magazine
Nemanja has an elder brother named Strahinja who played basketball in Europe in addition to their younger sibling Nikola. Despite having a roughly ten-year age gap, Strahinja Jokic and Nemanja with Nikola are quite close to one another.
The three siblings and Nikola's future bride lived together in a downtown Denver three-bedroom apartment during their early years in Denver.
Early Life of The Jokic
Nemanja Jokic was born in 1984, in his birthplace, Sombor, Serbia. He celebrates his birthday every year on the 26th of August. He was born to his father Branislav Jokic but his mother's name is not available at the moment. He has two brothers named Strahinja Jokic and Nikola Jokic.
Nemanja was enrolled at Mechanical High School for his high-school education. Later, he joined the University of Detroit Mercy for his graduation.
The Jokic Brothers Involved In A Controversy
During a basketball game between the Denver Nuggets and the Phoenix Suns on November 8, 2021, Nikola Jokic accidentally hit Suns defender Cameron Payne while trying to slap the ball out of his hand.
The Jokic Brothers
SOURCE: Sideline Sources
This led to an intense altercation between Jokic and Suns' player Devin Booker, during which Jokic's two brothers were seen screaming and getting ready to fight from the sidelines. Jokic was later ejected from the game and his brothers' reactions went viral on social media.
Despite the intense moment, it was clear that Jokic's hit on Payne was unintentional.