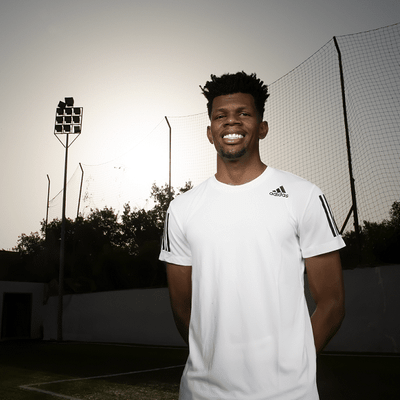 Personal Info
Date of Birth

Age

25 Years Old

Famous Name

Mohammed Al Rubaie

Country Saudi Arabia SA
Facts
Market Value

1.20M Euro

Birth Name

Mohammed Al Rubaie

Net Worth

$5M

Currently Married

Unmarried

Siblings

Masoud Al-Rubaie

Salary

572,000 Euro per year

Birth Country

Najran, Saudi Arabia

Famous Name

Mohammed Al Rubaie

Horoscope

Aries

Position in Team

Goalkeeper

Nationality

Saudi Arabian

Current team

Al-Ahli SFC

Ethnicity

Asian

Girlfriend

Unkonown

Profession

Football Player

Is played fifa word cup 2018

No

Squad No

71

Started career as

Football Player

Caps

5

World Cup Game

Not Played

Currently Club

Saudi Second League
Mohammed Al Rubaie is a Saudi Arabian professional football player playing football for the Al-Ahli Saudi Football Club, known as Al-Ahli SFC, which is a Saudi professional football club established in the Jeddah district. Mohammed also represents the Saudi Arabia national team and has earned five international caps for his country, Saudi Arabia as a senior player.
Mohammed Al Rubaie plays from a goalkeeper position. Since his debut in football, Mohammed has played in the Saudi Professional League and in the Saudi second division league. He has appeared just 32 times combined in the Saudi football teams league. For his current team, Al-Ahli SFC he wears jersey number 71.
Mohammed Al Rubaie Personal Details
Mohammed Al Rubaie better known as Al Rubaie was born in Najran, Saudi Arabia on August 14, 1997. Mohammed's star sign is Aries. Mohammed is 24 years old as of 2022. He is particularly tall and stands 6 feet 3 inches tall and weighs over 72kg.
Mohammed grew up in Saudi Arabia for most of his youth. Al Rubaie is of Saudi Arabia national and bears Saudi Arabian Citizenship. Mohammed's educational background is not known as of now. But, he does study in Saudi Arabia as per sources. The parents of Mohammed Al Rubaie are Saudi Arabians.
Mohammed Al Rubaie
SOURCE: t3me.com
Al Rubaie has kept his parents' names and professions a secret, as well as their identities. They are both Saudi Arabians and have Asian origins. Mohammed has a brother as well, his brother's name is Masoud Al-Rubaie, who represents the Saudi Arabian side and also Al-Batin, a pro league side of Saudi Arabia. He is also the cousin of Saudi Arabian football players, Saeed Al-Rubaie, Hamad Al-Rabaei and Abdullah Al-Rubaie.
Mohammed Al Rubaie's football career
Al Rubaie has always excelled in sports. Al Rubaie once expressed interest in whatever he could think of that including universities or research centers. Mohammed participated in a variety of events and activities at school. As a youngster, Al Rubaie participated in extracurricular activities and has always cherished them.
Club career
Al-Rubaie moved from Al-Akhdoud to Al-Ahli on May 17, 2013. Al-Rubaie joined Al-Batin on loan on August 2 and will remain there till the end of the 2018–19 campaign. On October 19, 2018, Al-Rubaie made his professional debut for Al-Batin in the Saudi Professional League. He replaced Adriano Facchini in the 72nd minute of the team's 0-2 loss against Al-Nassr at home. He later made a total of six further appearances across all events.
Al-Rubaie extended his agreement with Al-Ahli for another four seasons on January 28, 2020. On September 4, 2020, he made his Al-Ahli debut, replacing Yasser Al-Mosailem in the 11th minute of the team's 2-1 loss against Abha on the road. Al-Rubaie made his debut for Al-Ahli on October 22, 2020, and recorded a clean sheet in the team's 1-0 victory over Al-Wehda.
Al Rubaie on Al-Ahli's outfit
SOURCE: newsfounded.com
Al-Rubaie suffered an injury during the league game against Abha on January 21, 2021, and Yasser Al-Mosailem took his place. Following Mohammed Al-Owais, the first-choice goalkeeper, suffering an injury, Al-Rubaie started the final four games of the 2020–21 campaign. Mohammed Al Rubaie is now giving the squad his all. Mohammed is receiving acclaim from both his teammates and coach for playing better in each game.
International Career
Mohammed is a key member of the national squad of Saudi Arabia. Mohammed made his national team debut for Saudi Arabia in 2020 as a senior player. He joined the Saudi Arabian national team thereafter. Even though he only has a few opportunities to participate in Saudi Arabian matches, he is always a part of the team there.
He has made five appearances for his country's team when the matches for the senior teams are included. Mohammed is prepared to represent Saudi Arabia at the FIFA World Cup, which will be in November 2022. The planning for the upcoming World Cup in 2022 will be under Qatar's control.
Also, read the biography, relationship status, and net worth of Ali Alipour.
Salary and Net Worth of Mohammed Al Rubaie
The most significant player for Al-Ahli SFC, Mohammed Al Rubaie, started playing football professionally in 2018. Mohammed was a member of several teams during the course of his four-year professional goalkeeper career. Mohammed's successful football career may be credited for a major portion of his financial fortune. Because of Mohammed's diligence and hard work, he enjoys an amazing existence.
Mohammed representing Al-Ahli SFC
SOURCE: https://laodong.vn/
According to salary sport, Mohammed Al Rubaie earns £572,000 yearly and £11,000 weekly as a Al-Ahli SFC player. According to the transfer market, Mohammed has a current market value of £1.20M. Mohammed's all-time most valuable market worth was £1.50M in 2022. Mohammed Al Rubaie's net worth is $5M in 2022.
Mohammed receives a substantial sum of money via sponsorship and product endorsement deals. At the FIFA World Cup 2022, which will take place in November of this year, Mohammed is ready to represent Qatar.
Relationship status, Love life and affairs.
When it comes to his romantic situation, Mohammed is quiet and introverted by nature. Due to his reclusive personality, the Saudi Arabian sportsman has kept his romantic life a mystery. Since Mohammed has never been recorded as dating anywhere, it is difficult to demonstrate his present romantic situation.
Mohammed could be seeing someone else and holding off on telling them till the time is right. Because he is still preoccupied with his career, Mohammed might not have the time to socialize. Despite the absence of details, Mohammed Al Rubaie is no longer in a relationship.
Social Media Presence
The brilliant Saudi Arabian footballer doesn't seem to be very active on social media. Mohammed does not allow anyone to enter his personal life through social networking platforms. Mohammed doesn't currently use any social media platforms.
Mohammed Al Rubaie representing Saudi Arabia
gettyimages
Despite not utilizing social media to market himself, Mohammed Min-Gyu is one of the most looked-up-to Saudi Arabian players online. On online markets, Mohammed is one of the most sought-after football players. Mohammed's style of life and place of employment are prominent topics for the online investigation. He is also a top athlete for Protimonense and Saudi Arabia.
You may uncover a broad range of sports news, buzz, and love matters on Playerswiki.