Personal Info
Date of Birth

Age

65 Years Old

Famous Name

Matt Millen

Country United States US
Facts
Father

Harry Millen

Relationship Status

married

First Name

Matthew

Father Nationality

American

Mother

Elizabeth Millen

Wikipedia

https://en.wikipedia.org/wiki/Matt_Millen

Last Name

Millen

Birth Name

Matthew George Millen

Net Worth

$10 Million

Mother Nationality

American

Currently Married

Yes

Siblings

Salary

$3 million

Married to

Patricia Millen

Birth Country

United States

No. of Siblings

10

Famous Name

Matt Millen

Children

Matt Millen Jr., Michalyn Millen, Marcus Millen, Marianne Millen

Career Earnings

$24 million

Nationality

American

Religion

Christians

Profession

former American football linebacker and executive

School Location

Whitehall, Pennsylvania

Famous for

American football player

Started career as

American football player

Came to fame after

played for the Raiders, the San Francisco 49ers, and the Washington Redskins

University Team

Penn State Nittany Lions football

University attended

Pennsylvania State University

School attended

Whitehall High School
Matt Millen is a former American football linebacker and executive who is best known for his 12-year career in the National Football League (NFL). He played for the Oakland and Los Angeles Raiders, San Francisco 49ers, and Washington Redskins, and won a Super Bowl ring for each of the three franchises.
Millen was also president and chief executive officer of the Detroit Lions from 2001 until the 2008 NFL season which helped him amass a net worth of roughly around $10 million. Millen has had a successful career both on and off the field. He has been married to Patricia Millen and the couple is blessed with four children.
Net Worth, Salary and Career Earnings
Matt Millen's net worth is evaluated to be around $10 million, a figure that reflects both his successful playing career and his continued work in broadcasting.
Millen's NFL career began when he was drafted by the Oakland Raiders in the second round of the 1980 NFL Draft. Over the course of his career, he played for the Raiders, San Francisco 49ers, and Detroit Lions, where he served as the team's president and general manager from 2001 to 2008. Millen's playing career was lucrative, with estimated career earnings of over $8 million.
After retiring from football, Millen moved into broadcasting, working as an analyst for CBS and Fox before joining ESPN as a color commentator. In addition to his broadcasting work, Millen has also served as an executive in the NFL, working as a vice president and general manager for the Detroit Lions from 2001 to 2008.
Matt Millen in his Detroit mansion, October 2013
SOURCE: pennlive.com
Millen's net worth is derived from a variety of sources, including his salary as a television analyst and executive, his investments, and his earnings from his playing career. While his exact salary as an analyst and executive is not publicly known, it is believed to be in the six-figure range.
In addition to his work in football, Millen has also made investments in a variety of industries, including real estate. Millen owns a number of properties, including a ranch in Montana and a home in Pennsylvania. While the exact value of these properties is not publicly known, they are believed to be worth several million dollars in total.
Millen's net worth has fluctuated over the years due to various factors, including his health. In 2018, Millen announced that he was undergoing treatment for amyloidosis, a rare disease that affects the heart and other organs. The cost of his treatment is likely to be significant, which could impact his net worth.
Relationship Status and Dating History
Matt has been married to his wife Patricia since 1979 and they have four children together. Millen and Patricia met while they were both students at Penn State University. They have been married for over 40 years and have maintained a strong relationship throughout their time together.
Patricia Millen is also a well-known figure in her own right, having worked as a broadcast journalist and public relations executive. She has been actively involved in various charitable organizations and has supported her husband throughout his career in football.
Matt Millen with his wife, Patricia Millen
SOURCE: lisabyington.com
The Millens are known for their philanthropy, having donated significant amounts of money to various charitable causes over the years. They have also been involved in the creation of a number of nonprofit organizations which supports patients with life-threatening illnesses.
While Millen has been married to Patricia for over 40 years, there is no record of any previous dating relationships. Millen has been very private about his personal life, focusing instead on his career in football and his family.
In interviews, Millen has spoken about the challenges of balancing his career in football with his responsibilities as a husband and father. He has credited his wife and children with helping him maintain a healthy work-life balance and has expressed gratitude for their support.
Professional Career, Statistics, Awards and Achievements
Millen played for 12 seasons in the NFL, during which he was a member of four Super Bowl-winning teams. After retiring from playing, Millen transitioned to a career in broadcasting and later worked as a front office executive for several NFL teams.
Millen's professional career began when he was selected by the Oakland Raiders in the second round of the 1980 NFL Draft. Millen played for the Raiders for three seasons before being traded to the San Francisco 49ers in 1983. He played for the 49ers for two seasons before joining the Washington Redskins in 1986. Millen played for the Redskins for one season before being signed by the Philadelphia Eagles in 1987.
Millen played for the Eagles for two seasons before signing with the Detroit Lions in 1989. He played for the Lions for three seasons before retiring from playing in 1991. Millen was a member of four Super Bowl-winning teams during his career, having won two with the Raiders and two with the 49ers.
Millen's career statistics are impressive, with a total of 11 interceptions, 9.5 sacks, and 9 fumble recoveries. He also played in 173 regular season games, starting in 146 of them. Millen was named to the Pro Bowl once, in 1988.
Matt Millen during the course of a football match
SOURCE: bleacherreport.com
After retiring from playing, Millen transitioned to a career in broadcasting. He worked as a color commentator for NFL games on CBS, FOX, and ESPN. He was also a studio analyst for ESPN's Sunday NFL Countdown and Monday Night Countdown.
In 2001, Millen was hired as the president and CEO of the Detroit Lions. He held this position for seven seasons, during which the Lions had a record of 31-84. Millen's tenure as Lions executive was controversial, with many fans and commentators criticizing his management style and decision-making.
Despite the challenges he faced as an executive, Millen's achievements as a player and broadcaster have earned him numerous accolades over the years. In 2002, he was inducted into the National Football Foundation's College Football Hall of Fame. In 2009, he was inducted into the Michigan Sports Hall of Fame.
Millen's contributions to the NFL and the sport of football have been widely recognized. He has received numerous awards and honors over the years, including the Pete Rozelle Award for broadcasting excellence and the NFL Alumni Association's Order of the Leather Helmet.
Despite his successes on the field and in the broadcast booth, Millen's tenure as an executive was a challenging one. He faced criticism for his management style and decision-making, and the Lions struggled to find success on the field during his time with the team.
Millen's Upbringing, Early Life, Education, and Family
Matt Millen was born as Matthew George Millen, on March 12, 1958, in Hokendauqua, Pennsylvania, U.S. to his parents, Elizabeth and Harry Millen. Matt was the youngest of ten children and grew up with his siblings in a working-class environment. He attended Whitehall High School, where he played football, basketball, and baseball.
After high school, Matt Millen attended Pennsylvania State University (Penn State) from 1976 to 1979. At Penn State, he played football under the legendary coach Joe Paterno and helped lead the team to two national championships in 1978 and 1979. He also earned a degree in physical education.
Matt Millen is married to his wife, Patricia Millen. They met in college and have been together ever since. They have four children together, Marcus, Matthew, Michele, and Marcus. Marcus and Matthew both played college football at the University of California, Berkeley, with Marcus becoming an All-American center. Michele is a lawyer, and Marcus is a firefighter.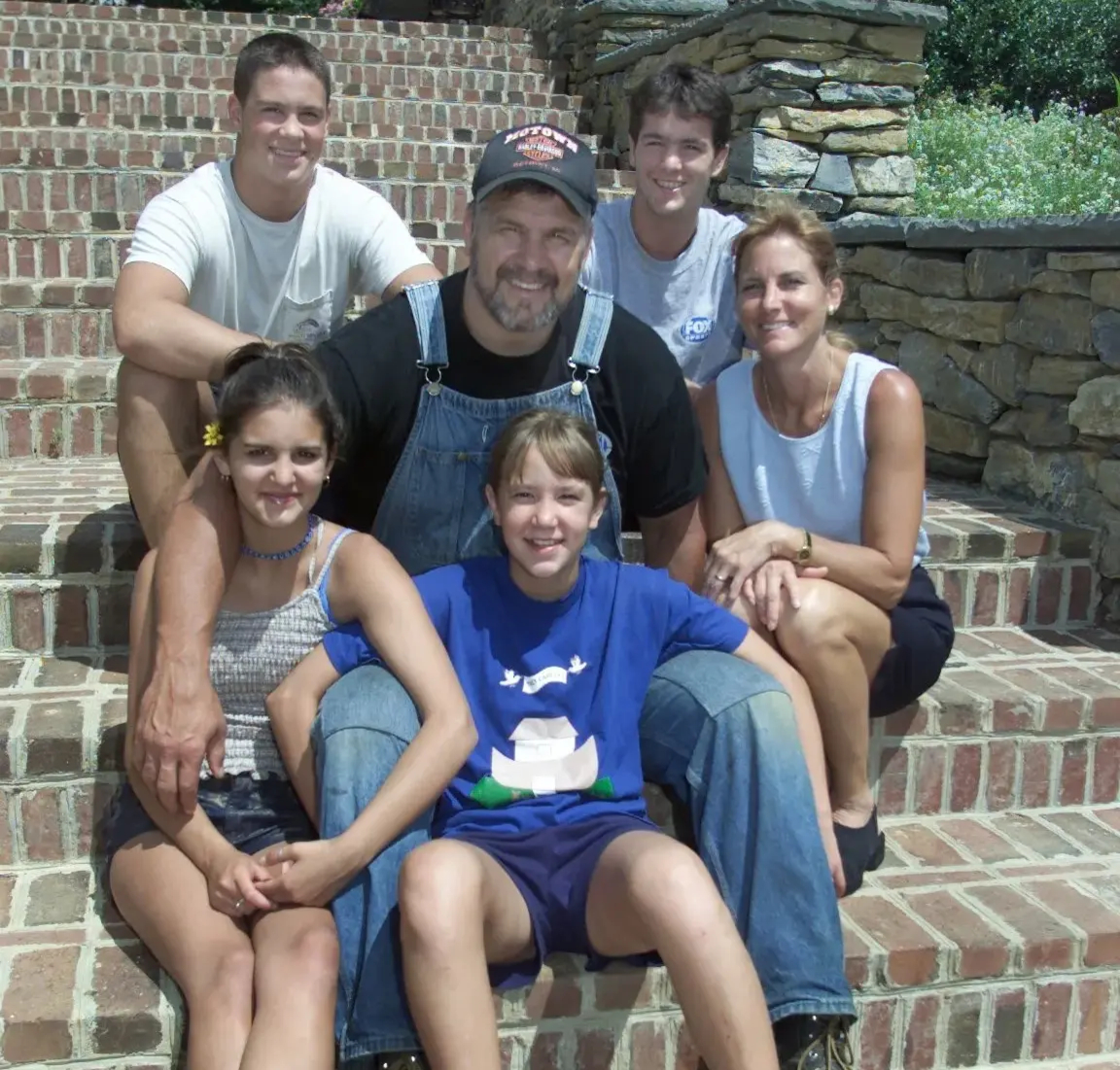 Matt Millen with his wife and children in his Pennsylvania home, July 2001
SOURCE: Detroit Free Press
Growing up, Matt Millen's father was his biggest influence. His father instilled in him the values of hard work, discipline, and a strong work ethic. His father's guidance helped him become the successful football player and executive that he is today.
Throughout his career, Matt Millen has been recognized for his contributions to football. He was inducted into the College Football Hall of Fame in 2001 and the National Polish-American Sports Hall of Fame in 2003. In 2016, he was honored with the Walter Camp Football Foundation's Distinguished American Award for his contributions to the sport.
Today, Matt Millen is retired from football and lives with his wife Patricia in Pennsylvania. He enjoys spending time with his family and staying active through outdoor activities like hiking and fishing. His legacy in the world of football is secure, and he will always be remembered as a dedicated player and executive who gave his all to the game.