Personal Info
Date of Birth

Age

25 Years Old

Famous Name

Lucas Paqueta

Country Brazil BR
Facts
Father

Marcelo Paqeta

No. of Twitter Followers

741,000 +

No. of Instagram Followers

4.8 million +

Past Team

AC Milan, Flamengo

Father Nationality

Brazillian

Market Value

35 million

Mother

Cris Paqueta

Birth Name

Lucas Tolentino Coelho de Lima

Net Worth

$5 million

Mother Nationality

Portuguese

Currently Married

Yes

Salary

2.4 million +

Married to

Maria Fournier

Birth Country

Rio de Janeiro, Brazil

No. of Siblings

1

Past married if any

No

Famous Name

Lucas Paqeta

Children

2

Divorce

No

Horoscope

Virgo

Position in Team

Attacking midfielder

Wife nationality

Brazillian

Nationality

Brazillian

Current team

Lyon

Ethnicity

Latino

Profession

Football player
Lucas Paqueta is a professional football player from Brazil who currently plays in the French top league, Ligue 1. He plays in the attacking midfielder position for Lyon and has been playing for them since 2020. Before joining Lyon, he used to play for AC Milan. He wears the Number 10 Jersey for his team.
Recently, in the 2020-21 season, he was included in the UNFP Ligue 1 Team of the Year. He had his best time during his career at Flamengo. There he won the Campeonato Carioca in 2017 and Bola de Prate in 2018. He was also included in the Campeonato Brasileiro Serie A Team o the Year in 2018. The same year, he was also named in the Campeonato Carioca Team of the Year.
He has also represented his nation Brazil in various international tournaments. He was in Brazil's national squad that won the Copa America in 2019. Also in 2021, he became the runner-up of Copa America after they were defeated by Argentina in the final.
Paqueta's Bio and Personal Information || His love for his mother
Lucas Tolentino Coelho de Lima, famously known by the name Lucas Paqueta was born on August 27, 1997, in Rio de Janeiro, Brazil. According to astrologers, his birth sign is Virgo.
He was born to his father Marcelo Paqueta and mother Cris Paqueta. As per sources, his mom is of Portuguese descent while his father is Brazilian.
Lucas Paqueta with his mom Cris
SOURCE: [email protected]
Information about his dad is not much revealed as he barely talks about him in the public. But he is very close with his mom Cris. He has posted several photos with his mother and appreciated her love and sacrifices.
According to him, she deserves all the praises for his success On her birthday on September 4, 2022, he wrote a long post saying,
"Today is my mom's birthday! I wish you all the best in your life mom, health, peace, happiness, success, love and much more!". He added, "Thank you for being an amazing mom and for doing everything for us! Our journey is long and we will continue together in search of what we dream and plan! I love you infinitely!"
Siblings
Lucan Pacqueta grew up along with his brother Matheus Paqueta who is also a professional footballer. He currently plays for the local Brazillian team Uberlandia where he is on loan from Tombense.
Other than Matheus, he has no brothers and sisters.
Are Lucas and Matheus Paqueta related?
According to Wikipedia, Lucas and Matheus Paqueta are siblings. They both were brought and raised by their mom Cris.
Lucas Paqueta with his elder brother Matheus
SOURCE: [email protected]
The Paqueta brother has an age gap of 2 years old. Matheus was born in 1995 while Lucas was born in 1997.
The younger siblings is having more successful careers comparatively. They both play as attacking midfielders.
Early Career
Born and raised in Rio de Janeiro, he joined his hometown club, Flamengo, at the age of 10. He started playing for the team's youth team in 2007. He was one of Flamengo's youth talent who has strong technical sill as well as physical abilities. He helped the team to win Copa Sao Paulo in 2016.
Young Lucas Paqueta
SOURCE: [email protected]
Impressed by his abilities, Flamengo promoted him to their senior team in 2016, after the tournament. He spent another 3 seasons with the team before moving to Italian top club Serie A.
Lucas's physical measurements | How tall is he?
As of 2022, Lucas Tolentino Paqueta is just 24 years old and possesses a height of 5 feet 11 inches (1.80 meters).
His weight is around 72 kg and has short black hair.
What is his net worth? How much does Lucas earn at Lyon?
The Brazillian midfielder has played in top leagues with the tp teams. And he has been very successful in his career as well as wage.
His net worth in 2022 is more than $5 million. His net worth includes all his cars, houses, monetary values, assets and others. His primary source of income is from his profession of playing football while he also earns from sponsorships deals and partnerships.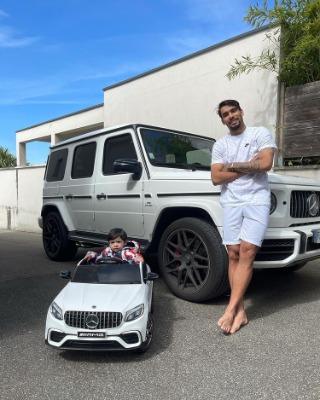 Lucas Paqueta poses in front of his car
SOURCE: [email protected]
He lives a luxurious lifestyle with his family in France. He likes to go on vacation in different places and often shares his life moments with his fans.
Contract and Salary with Lyon
Lucas Paqueta signed his professional contract with his current club, Lyon on September 30, 2020. And his contract will end on June 30, 2025.
CAPTION: Lucas Paqueta signed a contract with Lyon
SOURCE: [email protected]
As per Salary Sport, his yearly salary in 2022 is £2,548,000 yearly. So, he earns 49 thousand pounds per week in 2022. He earned £2,288,000 in 2021 with his team.
He is one of the highest-paid Lyon players. But Jerome Boateng tops the list with his yearly salary of £4,264,000. Likewise, Anthony Lopes and Xherdan Shaqiri earn £3,380,000 each.
Similarly, he used to earn £2,704,000 in 2020 and £4,264,000 in 2019 with AC Milan. His yearly wage at Flamengo was comparatively very less. It was around 40 thousand pounds during his time at Brazilian club Flamengo.
Market Value
According to the transfermarkt, the market value of Lucas is 35 million pounds in February of 2022.
It is the highest market value of Lyon's midfielder which was just 20 million pounds during the time of joining the club.
Sponsorship
Sponsorship with Nike
Lucas is sponsored by one of the top sportswear brands named Nike.
He is seen sometimes promoting his partner through his Instagram.
With Cases Cell
He also had a partnership with a local brand named Cases Cell. It is a seller of mobile accessories.
In 2018, he promoted them captioning,
"I was at @casescell_ and I already secured my iPhone XS Max... I highly recommend it! In addition to iPhone sales, they also work with repairs and accessories."
It was in 2018, but it is not sure whether they are currently partnered or not.
Paqueta's married life and relationship status || Who is he married to?
Lucas Paqueta is currently living a happily married life with his wife, Maria Eduarda Fournier. The couple has been married for more than 3 years as of 2022. Before that, they dated for at least one year.
Lucas Paqueta and his wife Maria wedding ceremony
SOURCE: [email protected]
The couple started dating in 2017 during his time at Flamengo. And they got married on November 27, 2018, in Brazil in the presence of their close friends and relatives. Since then, Lucas has been sharing his anniversaries moment with his fans every year. In November of 2021, he posted a photo of their wedding ceremony and wished his partner 3 years of completion.
He also captioned,
"3 years of the only wedding I've ever been to in my life, ours!!! The only one like our love... Perfect day, where I was more nervous than entering the field in a final ahahaha It almost gave a black ceiling, I cried, but I lived one of the best days of my life!!!"
He is currently living with his partner in Lyon.
Who is Paqueta's wife Maria?
Lucas Paqueta's partner Maria Fournier is a family woman. She is also famous for becoming the wife of the Brazillian attacking midfielder, Lucas.
She was born on February 10, 1993, in Brazil. She is 4 years older than her husband, Lucas P.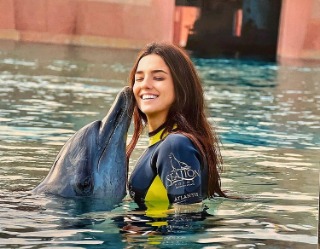 Lucas Paqueta's wife Maria
SOURCE: [email protected]
Like her husband, she is also quite famous on Instagram where she has more than 243,000 followers. Her Instagram Id is @dudafournier and frequently posts about her private life. She frequently gives updates about her partner and their children through their Ig.
She also has an official Youtube Channer named Duda Fournier. She mostly posts about her and her husband's moments.
Lucas and Maria: Parents of 2 child
Lucas Paqueto and his loving wife, Mrs. Fournier are blessed with 2 children, both sons. His first son's name is Benicio Paqueta who was born in 2021.
While their second child's name is Filippo who was born in 2021.
Lucas Paqueta with his wife and children
SOURCE: [email protected]
The couple frequently posts about their children on their social media. They have also opened an Insta account for their child with the username @beepippo. It has already more than 8,500 followers.
Social Media Presence
Lucas is quite active on social media like Instagram and Twitter.
His Twitter id username is @LucasPaqueta97 and he has more than 740,000 followers.
He has a huge fan following on his Instagram account. His Insta id is @lucaspaqueta where he has more than 4.8 million followers. He mostly posts about his games, training, wife children's and vacation photos on his Insta.