Leevi Merilainen is a Finnish ice hockey goaltender who plays for the Belleville Senators in the American Hockey League (AHL). He was drafted by the Ottawa Senators in the third round, 71st overall, of the 2020 NHL Entry Draft.
Merilainen is known for his impressive performance in the 2020-21 season with Karpat in Finland's SM-sarja junior U20 league, where he led the league in wins and had a save percentage of .928 and a goals-against average of 1.71.
How Much is Leevi Merilainen's Net Worth?
Meriläinen's net worth is estimated to be around $500,000. He earns his income from his ice hockey career and his contract with the Ottawa Senators.
Leevi Merilainen has an estimated net worth of $500,000 as of now.
Image Source: Instagram@merileevi
Not only that, he also receives bonuses for his performance and achievements on the ice, such as winning games, making saves, and recording shutouts. Meriläinen is considered one of the most promising young goaltenders in the NHL.
The Ottawa Senators of the National Hockey League (NHL) have agreed to a three-year deal with Finnish goaltender Leevi. The contract has a total value of $2,515,000, with a guaranteed salary of $2,515,000 and a signing bonus of $240,000. Meriläinen will earn an average of $838,333 per year.
Early Years
Merilainen was born on August 13, 2002, in Oulu, Finland. He started playing ice hockey at a young age and joined the youth system of Kärpät, a local team in the Finnish Liiga.
The young star played for various Kärpät junior teams from 2016 to 2021, winning several championships and awards along the way.
Draft & NHL Debut
Merilainen was selected by the Ottawa Senators in the third round of the 2020 NHL Entry Draft (with pick number 71). On April 12, 2021, he put pen to paper on a three-year, minor league contract with the Senators.
For most of the 2021-22 season, he was the starting goaltender for the Kingston Frontenacs of the OHL. In 53 games, he had a record of 31-16-5, a goals-against average of 3.29, and a save percentage of.891.
Leevi Merilainen is a Finnish ice hockey goaltender.
Image Source: Instagram@merileevi
While playing for Finland, he went 3-1-0 with a 2.70 GAA and.893 save percentage in four games at the 2022 World Junior Championship, helping his side to a bronze medal finish.
Merilainen made his NHL debut on April 4, 2023, against the Toronto Maple Leafs, after being recalled from the AHL due to injuries to other Senators' goaltenders. He stopped 37 of 41 shots in a 4-3 overtime loss. He played one more game for the Senators that season, a 3-2 shootout loss to the Montreal Canadiens on April 6, 2023, where he made six saves on eight shots.
AHL Career
During the 2022-23 season, Meriläinen was a star goaltender for Kärpät in the Finnish Liiga, with an 18-13-7 record with a 2.02 GAA, a.918 save percentage, and eight shutouts in 42 games. After that, he spent the rest of the season with the AHL's Belleville Senators, where he posted a record of 3-0-0 with a 2.06 GAA, a.933 SV%, and one shutout in four games.
Merilainen is expected to return to Belleville for the 2023-24 season and compete for the starting goaltender position. He is regarded as one of the top prospects in the Senators organization and a potential future NHL star.
RELATED: Brooks Orpik Net Worth, Contract Breakdown, Cap Hit, Salary, NHL Earnings, & Brand Endorsements
Who is Leevi Merilainen Dating or Married to?
Leevi Merilainen does not have a partner at the moment. He keeps his personal life private and does not reveal anything about his romantic history. The star is focused on his ice hockey career and improving his skills as a goaltender. He values his family and friends and spends quality time with them when he is not busy with hockey.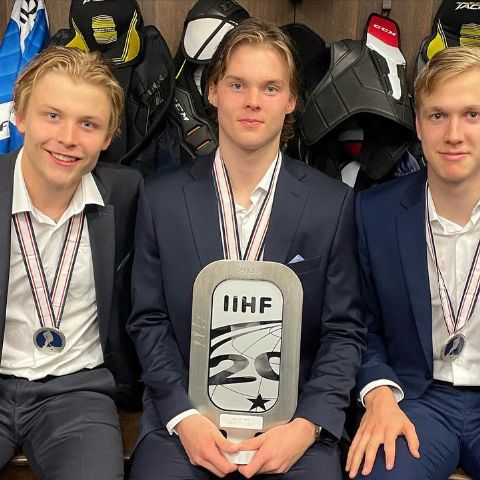 Leevi Merilainen alongside Jani Lampinen and Juha Jatkola
Image Source: Instagram@merileevi
In addition, he has a lot of talent and can achieve more. The athlete influences many young ice hockey players with his performance and character.
The NHL player is a private person and does not share much information about his personal life. However, he is known for being a kind and caring person. He is also a good communicator and can lead his defense.
RELATED: How Much is Connor McDavid's Net Worth, Know About His Net Worth, Salary and Contract Details in the NHL
Body Measurements: Height & Weight
With a height of 6'3" and a weight of 190 lbs, Leevi has a healthy proportion of 1.89 for a goaltender. His tall stature allows him to cover a large area of the net. His strong physique enables him to maintain his balance and react swiftly.
Here are Leevi Meriläinen's body measurements in more detail:
Height: 6'3" (190 cm)
Weight: 190 lbs (86 kg)
Chest: 42" (107 cm)
Waist: 32" (81 cm)
Hips: 34" (86 cm)
Arm length: 32" (81 cm)
Leg length: 34" (86 cm)
Merilainen possesses the typical physique of a professional goaltender, characterized by his height and strength, attributes that provide him with the physical attributes necessary for success in the NHL.