For some, golf is just a hobby, but for some, it's the way to their livelihood. And those in the big leagues earn millions by playing the game. Padraig Harrington is among such players, so he lives a life of luxury from the wealth he accumulated. And the golf player who lives a comfortable life with his wife and two children.
Padraig bagged the Open Championships in 2007-2008. In 2008, Padraig also took home the PGA Championship. Harrington started playing golf while in school. And by 1996, the Irish golfer bagged his first victory, Padraig won the Peugeot Spanish Open. In his long career, he faced many defeats, but he kept pushing. With many wins and losses, Harrington is counted among the few players still playing in their fifties.
Padraig Harrington commands a net worth that's pushing forty million!
Like the many sports played worldwide, golf stands very lucrative among the rest. Top-tier players bag a six-figure pay cheque in a single game without much trouble. As one of the top braces in the golfing world, Padraig Harrington boasts an estimated $40 million, as his net worth.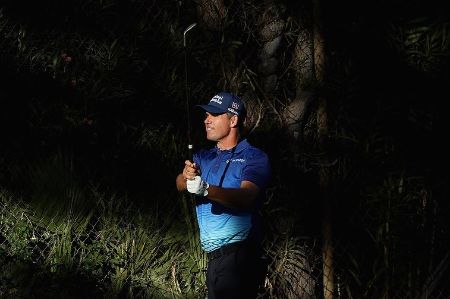 Padraig Harrington commands a net worth of millions as a golfer.
SOURCE: Instagram@padraigharrington
And speaking of earning, Padraig bagged a win with a six-under-par round of 65 in the recent PGA Champions Tour. And from that win, the talented Irish golfer took home pay of €440k. His yearly winnings now make around €4.5 million. Suffice it to say, the Irish golfer, Harrington, is in trouble of being broke anytime soon.
Earlier in 2022, Harrington played in the US Senior Open. The talented golfer earned a whopping €720k from the tournament. However, Steven Alker took the €1 million bonus after winning the 2022 PGA Tour Champions.
Besides earning from golf, the talented player also made hundreds of thousands through sponsorship. In 2012, Padraig signed a deal with IdentityX, Clune Construction, and Blarney.com. And through this deal, Harrington earned $200k from each brand listed above. And all the money earned through the part-time sponsorship went straight to Padraig Harrington Charitable Foundation.
Titles Earned by Padraig:
| | |
| --- | --- |
| Tournaments | Year |
| Smurfit Irish PGA | 1998 |
| Irish PGA Championship | 2005 |
| The Honda Classic | 2005 |
| Dunlop Phoenix Tournament | 2006 |
| Irish PGA Championship | 2007 |
| The Open Championship | 2007 |
| The Open Championship | 2008 |
| PGA Championship | 2008 |
| The Honda Classic | 2015 |
| The U.S. Senior Open | 2022 |
Harrington owns a private jet! And Padraig lives in a detached house in South Dublin!
In 2011, Padraig Harrington joined the list of celebrities who own a private jet. Since he often needs to fly to the States to participate, he'd figure owning a private jet would be convenient. And so the Irishman forked up $2 million and got himself a secondhand plane.
Padraig Harrington lives in a great house on the outskirts of South Dublin.
SOURCE: Instagram@padraigharrington
After keeping an eye out for an "affordable" private jet for years, Harrington finally got the chance to buy one. Padraig bought a 1986-built, 13-seater Gulfstream G3. Initially, the seller wanted $3 million but later caved in and sold it for $2 million.
Besides the jet, Harrington also owns a lavish house in South Dublin. However, because he likes his privacy, the Irish golfer's state sits in a separate part of Dublin. And the millionaire athlete lives in his luxurious but private home with his wife and kids.
Harrington's mansion stays detached from the town. However, the property is close to Killiney and Shankill villages. Padraig's house is furnished like a luxurious hotel yet still retains the homey touch.
Padraig Harrington married the love of his life and welcomed two children with his wife!
Despite his age, Padraig Harrington still looks much younger. The talented golfer looks like he's in his mid-forties, to be honest. But looks can be deceiving, Harrington is in his early fifties, and it's been over two decades since Padraig tied the knot.
Padraig Harrington took a picture with his wife and their two children.
SOURCE: Tour Miss
Harrington and his wife, Caroline Harrington, exchanged wedding bands in the late 90s. The duo held a private wedding in their hometown in 1997. Despite living a life of a celebrity, Padraig prefers to keep his personal life away from the media.
And after five years of their wedlock, Padraig and his wife, Caroline, welcomed their firstborn in 2003. Likewise, the name of their eldest kid is Patrick Harrington.
The Harringtons later welcomed their youngest member in 2007. Padraig and his wife became ready for their next child four years after Patrick was born. And in November 2007, Caroline gave birth to their second kid Ciaran Harrington.
Padraig and Caroline first met in their childhood.
Sometimes fairy tale love stories become a reality, and Padraig and his wife, Caroline Harrington, experienced it first hand. The duo first met during their childhood in Dublin. However, not much about their past is known to the world.
Padraig Harrington and his wife, Caroline Harrington, with their kids.
SOURCE: Instagram@padraigharrington
On the same note, Padraig's past relationships stay buried and hidden from his fans. Similarly, Coraline remains elusive to the world. However, both stayed loyal, and no news about the golfer's divorce came to light. As such, the Irish golfer and his spouse avoid any nefarious activity.