Personal Info
Date of Birth

Age

25 Years Old

Famous Name

Khalid Muneer

Country Qatar QA
Facts
Market Value

350Th Euro

Birth Name

Khalid muneer

Net Worth

$2M

Currently Married

Unmarried

Salary

170,600 Euro

Birth Country

Doha, Qatar

Famous Name

Khalid muneer

Horoscope

Pisces

Position in Team

Left Winger

Nationality

Qatari

Current team

Al-Weakah SC

Ethnicity

Asian

Girlfriend

Unkonown

Profession

Football Player

Is played fifa word cup 2018

No

Squad No

8

Started career as

Football Player

Caps

10

World Cup Game

Not Played

Currently Club

Qatari Stars League
Khalid Muneer is a Qatari professional football player playing football for the Al-Wrakah Sports Club, known as Al Wrakah SC, which is a Qatari professional football club established in the Wrakah district. He also plays for the Qatar national team and has earned a single cap.
Khalid Muneer plays from a left-wing position. Since his debut in football, he has played in the Qatar Stars League and in Tercera Division. He has appeared 61 times combined in Qatar Star Leagues games and in Tercera Division Leagues and has scored nine goals so far. For his current team, Al-Wrakah he wears jersey number 8.
Khalid Muneer Personal Details
Khalid Muneer better known as Muneer was born in the capital city of Qatar, Doha on Feburary 24, 1998. Khalid's star sign is Pisces. Khalid is 24 years old as of 2022. He is 5 feet 9 inches tall and weighs over 71kg.
Khalid Munner
SOURCE: gettyimages
Khalid grew up in Qatar for most of his youth. He is of Qatar national and bears Qatari Citizenship.
The parents of Khalid Muneer are Qataris. Muneer has kept his parents' names and professions a secret, as well as their identities. They are both Qataris and have Asian origins. Khalid has concealed the uniqueness and self-identity of his siblings.
Khalid Muneer's football career
Muneer has always been an athletic precision. Muneer used to be interested in any activity related to universities or research institutes that he could think of. Khalid participated in a variety of activities and events at school. Muneer always enjoyed extracurricular activities as a youngster and was interested in them.
Club career
At the age of 19, he made his professional debut as a proficient midfielder for the Spanish fifth-tier league club Atletico Astorga. He signed a one-year contract with Atletico Astorga until 2018. When he was in Astorga he only appeared 4 times. Before his professional debut with Astorga, he played youth football at Lekhwiya Sports club.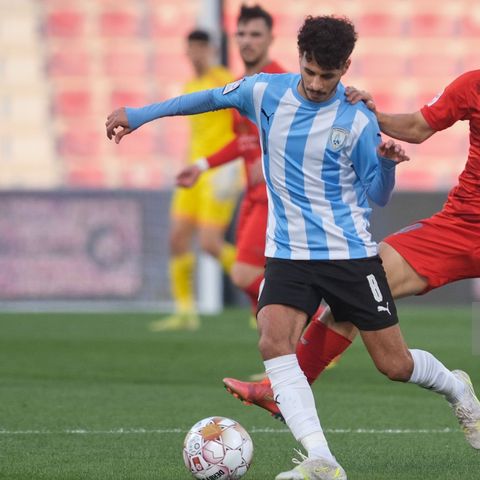 Khalid playing for Al-Warkah SC
SOURCE: gettyimages
After his contract ended with Astorga he was signed by Jupiter Leones. He played there for six months starting from January 1, 2018, to June 2018. On July 1, 2018, he was involved with the Al-Duhail SC squad and began to show his mastery in matches that he get a chance to play. Due to his consistent performance in matches, he was always in the starting eleven of matches that were played by Al-Duhail SC.
In 2019, he has transferred to Al-Warkah from club Al-Duhail SC. He played there for two years until 2021. On July 1, 2021, he joined the Qatari club Al-Wrakah, where he is currently playing and is giving his best performance for the club. Since his debut in club Wrakah, he has appeared 19 times and has scored two goals so far.
International Career
Since 2016, he was involved with the Qatari U19 national team. He played three matches as a U19 player for Qatar. He also played U23 matches for Qatar national team, where he scored a goal in his six appearance.
Khalid in his national team jersey
SOURCE: gettyimages
Khalid is one of the important players for the Qatari national team. On 11 June, 2019 he scored his first goal in a macth for Qatar against Bahrain in a Toulon tournament . The match was played at Stade D'Honneur, Mallemort, France.
Including the U19 and U23 matches he has appeared 10 times in his national team matches. Khalid is all set to play the FIFA world cup 2022 with Qatar national team which is going to be held in November 2022. The upcoming world cup is going to be organized by Qatar.
Also, read the biography, relationship status, and net worth of Shaheed Salmon.
Salary and Net Worth of Khalid Muneer
The most significant player for Al Wrakah SC, Khalid Muneer, started playing football professionally in 2017. He was a member of several teams during the course of his five-year professional football career. Khalid's successful football career may be credited for a major portion of his financial fortune. Because to his diligence and hard work, he enjoys an amazing existence.
Khalid Muneer
SOURCE: twitter.com
According to salary sport, Khalid Muneer earns £170,600 yearly and £3,100 weekly as an Al Wrakah SC player. According to the transfer market, Khalid has a current market value of £350Th. His all-time most valuable market worth was £350Th in 2022 when he joined for his current club Al Wrakah SC. Khalid Muneer's net worth is $2M in 2022.
For Khalid, endorsement and sponsorship partnerships bring quite a lot of money. For the FIFA World Cup 2022, which will take place in November of this year, Khalid is ready to represent Qatar. Future World Cup planning will be in the hands of Qatar.
Relationship status, Love life and affairs.
Khalid is quite and introvert nature when it comes to his relationship status. The Qatari athlete has kept his love life a secret because of his reclusive nature. There are no records of him dating anyplace, making it hard to determine his current love position.
It's possible that Khalid is seeing someone else and is waiting to inform them till it's appropriate. Khalid could perhaps not have the time to make friends because he is still focused on his work. Khalid Muneer is no longer in a relationship, despite the lack of information on it.
Social Media Presence
On social media, the former Al-Duhail footballer appears to be highly inactive. Through social networking sites, he does not provide outsiders access to his private life. As of right present, he doesn't utilize any social networking sites.
Khalid Muneer, a talented player, is one of the most searched for Colombian players online despite not using any social media platforms to promote himself. He is one of the most sought-after football players on internet marketplaces. On the Internet, people prefer to look into his way of life and employment statistics.
You may uncover a broad range of sports news, buzz, and love matters on Playerswiki.