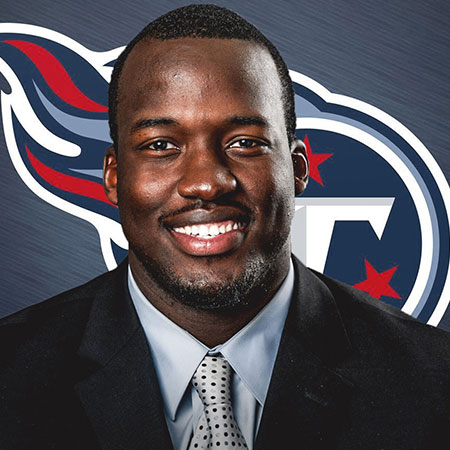 Personal Info
Date of Birth

Age

30 Years Old

Famous Name

Kevin Pamphile

Country Haiti HT
Facts
Birth Name

Kevin Serge Pamphile

Birth Place

Haiti

Famous Name

Kevin Pamphile

Net Worth

$2.25 million

Past Team

Tampa Bay Buccaneers

University Team

Purdue University

Career Earnings

$6.5 million

No. of Instagram Followers

4 k

Position in Team

Offensive guard

Current team

Tennessee Titans

Nationality

Haitian

Profession

NFL Player

Current City

Nashville, Tennessee, United States

University attended

Purdue University

School attended

William H. Turner Technical Arts High School

Squad No

66
Kevin Serge Pamphile is the American Football Offensive guard who plays for NFL team Tennessee Titans. Kevin got drafted by the Tampa Bay Buccaneers in the fifth round of the 2014 NFL Draft. He received accolades of All-Dade County honors and played in the Nike South Florida All-Star Game during his senior year in University.
The NFL star was born on November 27, 1990, in Haiti and later moved to the US. He was more into basketball during his high school at Turner Tech, West Little River, unincorporated Miami-Dade County, Florida. However, after receiving offers to play football from Purdue University, Middle Tennessee State University, and Florida Atlantic University, he committed to play for Prude. During 2009 he was playing at the defensive line, which later switched to the offense during his sophomore year and established himself as a left tackle in 2013.
Kevin Pamphile Net worth and Salary in 2020
Kevin Pamphile's career earning is around $6.5 million as of 2019. He extended on more year with Tennessee Titans on March 13, 2019. The extension is going to bring in more greens for Kevin's fortune. His career earnings placed him among the active list of highest earners NFL players entering 2019 over five years, which ranked 26th among Gs and 594th overall in the NFL.
He was also listed among the highest earners in 2019 in Titans active roster along with his teammates Logan Ryan, Jurrell Casey, Taylor Lewan, Malcolm Butler & Marcus Mariota.
Kevin Pamphile training with his current Tennessee Titans, posted on his Instagram on May 30, 2019.

SOURCE: Instagram @kevin_pamphile64
The estimated net worth of Kevin Pamphile is $2.25 million as of January 2020. The generous Haitian focuses on philanthropy and less in the commercial purpose. Despite being in one of the teams in the biggest sports in the world, he happy with his earnings through his playing career and supporting cause and players of his country through different foundations.
Kevin Pamphile promoting his cause on his official Instagram post on November 29, 2017
SOURCE: Instagram @kevin_pamphile64
We could see his net worth and career earnings increase if he can continue his NFL career although he is in his later stage of playing career. Despite being troubled by injury in several stages of playing career, he bounced back as a champion every time. Therefore we could see him playing in the NFL for a long time, making his mark and earning stack.
Relationship Status
Although the NFL star makes a headline for the best performance and his injury-related news in sports news tabloids, we rarely see his personal life in the limelight. He seems to be secretive about his personal and private life, making it very hard to access. His official Instagram with 4k followers has posted regarding his playing time, few endorsements, promoting his cause, having fun with friends and family, but nothing related to the relationship or affairs.
Kevin Pamphile endorsing the brand AluBall on his Instagram post on December 9, 2016.
SOURCE: Instagram @kevin_pamphile64
We will have to say the NFL star is single as the evidence of him having any affairs related to anyone is nowhere to be found. We could see a picture of Paula Patton in Kevin's Instagram, which seems to be just an appreciation for the Hollywood actress and nothing more.
Kevin Pamphile posting a picture of Paula Patton the Hollywood actress on his Instagram.
SOURCE: Instagram @kevin_pamphile64
We might see the star in a relationship soon, but for now, we can enjoy his game at NFL for the Titans after his recovery from the knee injury, which will help him make debut for the Titans in NFL on 2020.
Professional career
The offensive guard got drafted in the fifth round as 149th pick by Tampa Bay Buccaneers in the 2014 NFL Draft. Although he was forecasted to be draft picked on the 6th round by NFLDraftScout.com and rated as the 17th-best offensive tackle in the draft list, he got selected in the 5th round.
Kevin Pamphile playing for Tampa Bay Buccaneers in 2018 before he moved to Tennessee Titans
SOURCE: source: music city miracles
The 6 ft 5 in giant also caught the interest of teams like New York Giants, Houston Texans, Jacksonville Jaguars, Green Bay Packers &Oakland Raiders. He signed four years contract Tampa Bay Buccaneers and made his NFL debut on November 2, 2014.
Kevin Pamphile Playing for Tennessee Titans against Jacksonville Jaguars 2018-19 season.
SOURCE: source: 247 sports
On March 22, 2018, Kevin signed a one year contract with Tennessee Titans and earned $2.25 million playing that year(2018-2019). His contract was on the verge of expiration, which he renewed on the march of 2019, signing a one-year contract extension with a current roster cap of $1.4 million for the 2019-2020 season. He has played 56 games and made 35 starts in his NFL career till date.
For more updates regarding the players, please follow PlayersWiki.