Jackie Bradley Jr., an American professional baseball center fielder currently plays for the Boston Red Sox in the MLB. The 27-year-old baseballer named as the 2010 College World Series Most Outstanding Player, married his girlfriend, Erin Helringba and shares a child.
So, many of us are willing to know the married life of Bradley Jr. and his wife. Are they living happily together? Let's know the relationship between the couple and their married life along with their child.
Married Life of Jackie Bradley Jr and Erin, Their Child
Not ever celebrity likes to keep their personal life in the limelight, so has the baseballer Bradley Jr. done. Even though Bradley Jr. has not opened up his secret about his love story, but reportedly he and Erin were dating for a long time.
Taking their relationship to next level, the couple dedicated to each other got married on December 7, 2013. The detail about their marriage is still behind curtains, probably they tied the knot in a private ceremony.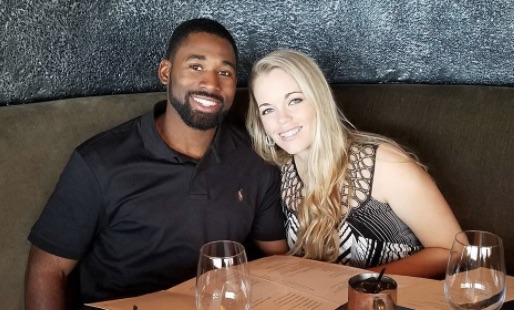 Jackie Bradley Jr. and his wife, Erin Helringba
Source: Fabwags
It's been more than 4 years since their marriage, but the duo is deeply and madly in love with each other. Even though the couple seldom posts their photos together, but their married life still shines with their beautiful public appearances.
They reportedly are free from the mishaps of divorce and separation.
Have a look at the beautiful couple.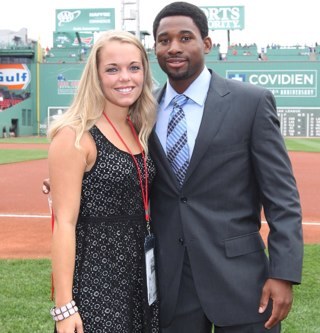 Still in a strong relationship: Bradley and his wife, Erin
Source: Player Wives
Along with their well-going relationship, the couple is blessed with a daughter. The couple welcomed their only daughter, Emerson Claire Bradley, on June 2, 2016.
The happy family is living together sharing the happy moments. Have a look at them.
Really, Bradley besides being a player is also a loving husband and father.
Probably, you are thinking about their past affairs, right? Well, they are free from affairs in the past and from rumors too.
Let's wish the happy family, a lot of happiness!
Bradley's Tribute to his Friend
Many of you might not know but, Bradley before each at-bat writes "M.S." in the dirt in honor of his friend Matt Saye who died in a car accident.
Surely, Saye meant a lot to him, as he stated:
You never know what the next day will bring if there is a next day. This really all came to me after my best friend died in August. He was like a brother to me. In his obituary, I was mentioned as his only surviving brother. And he was a different race (white). That's how close we were. I know he has my back and he's there supporting me.
Love is in every form!
Bradley Jr. and his late friend Matt Saye
Source: Archive
Currently, playing for the Red Sox, Bradley is estimated to have a net worth of $2 million.
Let's wish him best in his career and stay tuned for more updates on your celebrity.