Daejeon, South Korea native Hwang In-beom is a professional football player who plays as a midfielder for FC Seoul on loan from Rubin Kazan. The professional midfielder also plays for the South Korea national team. He has appeared in the majority of their Premier League games in 2020/2021 and made 18 appearances overall, and played 1,262 minutes. In-beom is one of the most loved and important players on his team as he always gives his best on the field.
In-beom is widely popular for accurate passing, aggressive tackling, and possession composure. The professional player has also represented the South Korean national team at some national and international levels. Appearing in multiple games, he has also won some awards, including the EAFF Championship Most Valuable Player in the year 2019.
Career Details
Starting with his career at the club, In-beom signed a deal with Daejeon Citizen in 2015. On May 30, he played in a match against Pohang Steelers and scored his first goal in a league. After cutting the goal, he became the youngest scorer in Daejeon Citizen history.
Hwang In-beom plays for FC Seoul
SOURCE: Instagram @inbeom_hwang6
He joined Major League Soccer side Vancouver Whitecaps FC as a Young Designated Player on a two-year contract on January 30, 2019. And on March 2, In-beom made his debut for the Whitecaps by appearing against Minnesota United. And in the match against Los Angeles FC, he scored his first goal for his team.
He also had an amazing 2019 season as he recorded 51 interceptions, the 4th most times among all MLS midfielders. Furthermore, In-beom was transferred to Russian club Rubin Kazan on August 14, 2020. However, his contract with Rubin was suspended from April 3, 2022, until June 30, 2022, due to the relation to the Russian invasion of Ukraine.
After some time, he joined FC Seoul on April 5, 2022. On the other side, he is also a national player, and he had an important role in the South Korean team that won the gold medal in the 2018 Asian Games. So, he impressed many people and was also released from Asan Mugunghwa less than halfway through his military service and came back to Daejeon Citizen.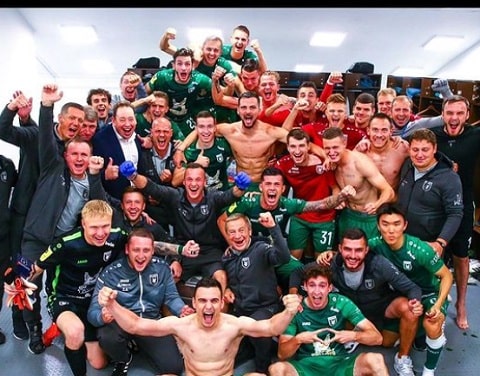 Hwang In-beom with all of his team members
SOURCE: Instagram @inbeom_hwang6
In September 2018, In-beom made his senior international debut and scored his first senior international goal the following year, playing in a match against Panama, which was held on October 6. Similarly, In-beom participated in the 2019 AFC Asian Cup and was selected for ESPN's Team of the Tournament with his amazing play.
The South Korean team also participated in the 2019 EAFF Championship, where he led his team to win the title, scoring two goals. Not only that but In-beom was also named the Most Valuable Player of the championship. In addition to that, he has also won the K League 2 Best XI (2016, 2017, 2018).
Learn More: Jang Hyun-soo
His Age and Parents
Hwang In-beom was born on September 20, 1996, making his age 25 years as of early 2022. He was raised by his doting parents in Daejeon, South Korea. Furthermore, In-beom has also received huge support from his father, Hwang Seo-Yeon. The identity of his mother remains a mystery.
Hwang In-beom is also a family person
SOURCE: Instagram @inbeom_hwang6
In the same way, the information regarding his family members is away from the public domain at the time of this writing. Talking about his physical appearance, In-beom has an average height of 5 feet 8 inches (1.77 m). And In-beom weighs 64 kg.
Salary and Net Worth Of Hwang
The South Korean footballer has amassed a decent sum of money in his professional career. To this date, he has been associated with multiple teams from which he has surely taken home a fair profit. According to Transfermrkt, In-beom's market value is €3.00m.
The current actual salary of In-beom remains unknown, but his last pay was pretty impressive. In the 2019 season, he made 650,000 which was the fifth highest on the Whitecaps roster. Similarly, having such remarkable income, In-beom has a pretty good net worth which is speculated to be around $1 million.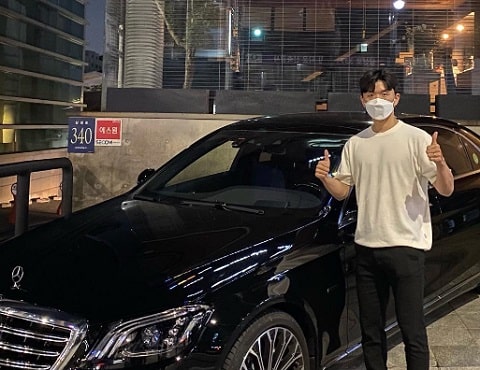 Hwang In-beom posing in front of his amazing car
SOURCE: Instagram @inbeom_hwang6
Being a professional and well-known football player, In-beom may have collaborated with some brands. At the time of this writing, In-beom has gained more than 38.8k followers, and if he makes a sponsored post on the respective platform, then he has a chance to earn $207.75 - $346.25 from a single post with an engagement rate of 17.45 %.
Dating Life: Who Is His Girlfriend or Wife?
The well-known midfielder, In-beom, is currently in a relationship with his beloved partner. However, the name of his partner is away from us as In-beom has not shared anything with the tabloids. Considering an Instagram post, we can say that the pair are already married, but both of them have not opened up much about their life.
Hwang In-beom is happily married to his wife
SOURCE: Instagram @inbeom_hwang6
It is reported that the pair have been with each other since 2016, and they celebrated their five years of togetherness in 2022. From his Ig account, In-beom has shared multiple snaps with his wife. We can follow In-beom on Instagram and get to know more about his personal life. Moreover, he is a private person who does not expose everything in the public domain.
Social Media Activeness
As we know, In-beom is an active social media user who is most active on Instagram. We can follow him on Instagram under the username @inbeom_hwang6. Being active for a long time, his account has also been verified from where In-beom keeps his fans updated.
Moving onwards, In-beom made his first post on Instagram on July 27, 2020. So, we can speculate that, since 2020, he has been using Instagram. Apart from IG, we can't find his official account on other social media platforms like Facebook and Twitter.