Stephen Farrelly, the famous Irish professional wrestler as well as actor, is known as Sheamus on the ring. He was born on 28 January 1978 in Cabra, Dublin, Republic of Ireland, and attended Scoil Caoimhin Primary and Coláiste Mhuire Secondary School.
The 39-year-old wrestler is currently working with the American wrestling and entertainment company WWE.
Sheamus' Net worth and Salary
His estimated net worth is around $8 million. Currently, wrestler Sheamus' yearly salary at WWE is $1.5 million. In a very short career span, he has become one of the toughest guys in this business.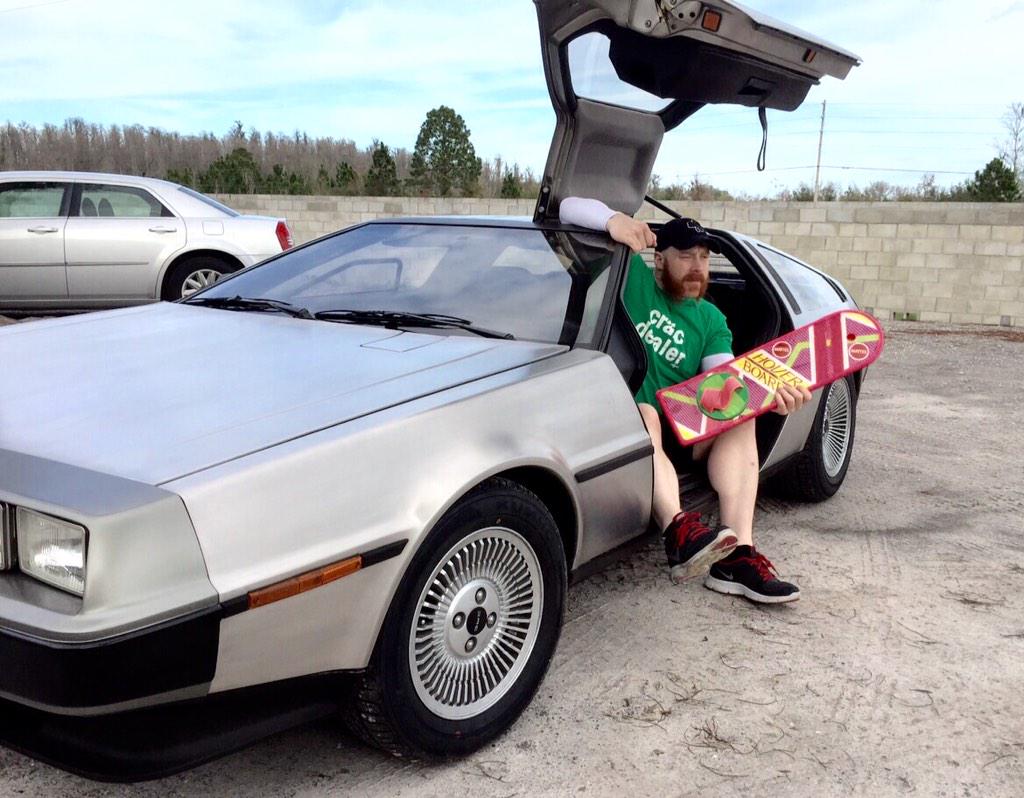 Sheamus on his car
Source: Twitter
Sheamus graduated from the National College of Ireland. His current market value stands at more than $10 million.
Year Salary Net worth Winning Bonus

2014 $775,000 $2,513,000 $230,000
2015 $1,070,000 $3,100,000 $345,000
2016 $1,550,000 $4,650,000 $520,000
2017 $1,800,000 _ (Contract)
Total: $5,195,000 $10,263,000 $ $1,095,000
Sheamus resides in the small bay-area town of Odessa where the top-tier wrestling talent owns a nearly 4.000 square-feet home that he purchased for $540,000. Built in 2006, the home has four bedrooms, four bathrooms, 22 ft. ceilings, a three-car garage, salt water pool, spa, and loads of other amenities.
Sheamus' house
source: YouTube
More recently, in 2016, the Dublin-born Irishman (Sheamus) purchased a two-bedroom, 1,568 square-foot condo in Tampa, Florida. Sheamus is also a car lover. He owns a BMW and recently bought a DeLorean car for around $55 thousand at Just Toys Classic Cars in Orlando.
Sheamus' condo in Florida
Source: YouTube
Sheamus is said to be very close to his parents. As he has said, he would have been nothing without his father's and his mother's support. Sheamus once dated Jessica Giles, assistant director of Resident Evil: Retribution, but the couple broke up in 2012.
According to reports, Sheamus was in a relationship with the supermodel Brooke Hubbard till 2013. He has been a big-time fan of Liverpool F.C since his childhood.
Sheamus' Career and Achievements
During his school years, until the age of 13, Sheamus sang in the Palestrina Choir. But he was also quite involved in sports and enjoyed playing football and rugby. But as he grew up, he got more interested in wrestling and finally decided to pursue his career as a professional wrestler. He trained for the sport at the Monster Factory Wrestling School.
Talking more about this splendid personality, he has unique looks and hairstyles quite different from other wrestlers.
Sheamus
Source: Muscle & Fitness
The 6 feet and 6 inch-tall 123.4 kg wrestler joined Irish Whip Wrestling IWW but was forced to leave it for two years due to serious injury. He finally joined WWE in 2009 and went on to win four world championships, three heavyweight championships, and two United States championships, among others. Despite suffering injuries, he also managed to win the Irish Whip Wrestling Heavyweight Championship twice.
Sheamus has also wrestled in several tag-team matches alongside Hade Vansen, Jake Hager, and later Victor Ceron, who is popularly known as Kafu. After changing his name to just Sheamus in 2010, he successfully beat several of the competitors, and later defeated John Cena, the then WWE Champion, becoming the first Irish-born to win the WWE Championship.
In 2011, he defeated the World Heavyweight Champion Daniel Bryan. He retained the title for a period of 210 days (third longest in the title's history) till he was defeated by Big Show. Along with his partner Cesaro, he became a two-time WWE (Raw) Tag Team Champion as well.
Apart from wrestling, Sheamus has also been involved in acting. He has performed in movies including The Escapist, Once Upon A Time In Dublin, Assualt of Darkness, Atone, and so on. The Escapist was the first film in the acting career of Sheamus.
Though the film didn't do well commercially, it won the BAFTA Scotland Award for Best Film Performance and the British Independent Film Award as well, for Best Production performance. He has also worked as a voice actor in the 2016 animated movie Teenage Mutant Ninja Turtles: Out of the Shadows, directed by Dave Green. The film was a commercial success and earned more than $250 million worldwide.
AD Here (After Content)