Sage Steele holds a massive fortune as one of the most successful anchors in the US of A. Starting her career as a reporter in 1995, she became famous as a TV host and an anchor. And from 2012 to 2020, Steele covered every NBA finals. Aside from her fame as a sportscaster, she also found hundreds of thousands of followers on social media.
And through her long career, Sage earned and accumulated a considerable bank account. And over the years, the talented sportscaster bought properties worth millions. And currently, she and her family live in a lavish house and can afford luxury cars. So please, stay tuned and keep reading to know more about Steele's net worth!
Sage Steele owns a million and a half as her net worth!
As of 2022, Sage Steele commands approximately $1.5 million as her net worth. And Steele bagged most of her assets through her long career as a sportscaster. Yes, it is not multi-million like the athletes, but a million is still a tremendous amount of money.
Sage Steele was out shopping in SAGE Boutique Store; also, she owns millions as her net worth.
SOURCE: [email protected]
Sage has been working in her field for over two decades now. And Steele's name is recognized by many sports fans worldwide. For almost a decade, the talented sportscaster covered the NBA finals on ESPN.
Over the years, Sage has become a mainstay of the ESPN network. The talented reporter appeared in various ESPN shows. She worked in ESPN First Take, Mike & Mike in the Morning, and SportsNation. After which, she went on and became a full-time host on SportsCenter.
Sage started her career in the mid-90s!
Even at a young age, Sage Steele knew what she wanted to do for a living. Since Steele grew up in an army family, she was athletic and loved sports. And after finishing college at Indiana University Bloomington, Sage earned a degree in Sports Communication.
Sage Steele was wearing an elegant black suit.
SOURCE: [email protected]
Steele started at WSBT-TV in South Bend, Indiana, in 1995. The same year Sage graduated from her university. She worked at the CBS affiliate from 1995 to 1997 as a news producer/reporter.
After leaving WSBT-TV, Sage later became a part of WISH-TV in 1997. However, she worked for a year in the said network and later shifted to WFTS, an ABC-affiliated network. And then, Steele joined Comcast SportsNet Mid-Atlantic, where she hosted a show of her own from 2001 and left the network in 2007.
And on March 16, 2007, she joined the ESPN network. After entering the said sports channel, Steele went on a roll. Sage's career reached new peaks starting in 2007. While working for ESPN, Steele even drow a NASCAR at the Sprint Cup Series. From spelling bees to Miss America, Sage hosted and co-hosted many events. However, after more than 20 years, Steele hit a significant bump in her career. Please keep reading to know more about it!
Sage found significant backlash from the public for her comments on live TV.
After a decade of a prosperous career, Sage Steele finally hit a bump in her professional life. And what a bump it is; on October 5, 2021, ESPN suspended the sportscaster. Her views and statements on COVID-19 vaccine mandates, women dressing in a way she feels provocative, and the ex-President of the USA, Barck Obama, caused many viewers to feel a bit outraged.
After this ordeal, Steele felt her freedom of speech was violated by the company where she worked. As such, news about Sage suing ESPN came to light in early April 2022.
While working for ESPN, Sage Steele earned hundreds of thousands annually!
For most of her career at ESPN, Sage Steele earned a massive income. And in 2021, Steele's salary was capped at over $400k annually. The talented sportscaster leads a luxurious life with her family thanks to her earnings.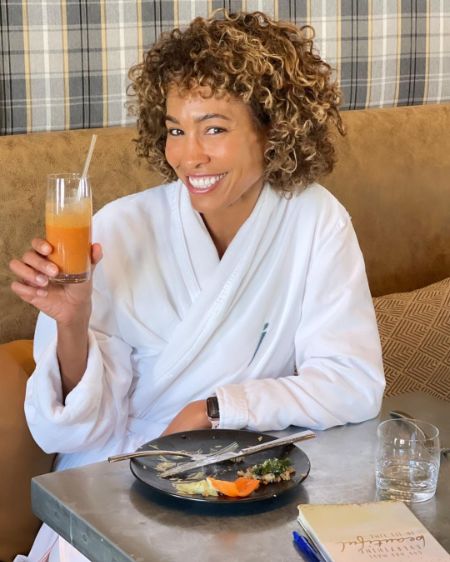 Sage Steele was enjoying her breakfast at Miraval Berkshires.
SOURCE: [email protected]
Besides hundreds of thousands sitting in her bank account, she owns various real estate properties. In March of 2021, Sage put her house for sale in Connecticut. And Steele listed the price for the properties at $1.6 million.
AD Here (After Content)