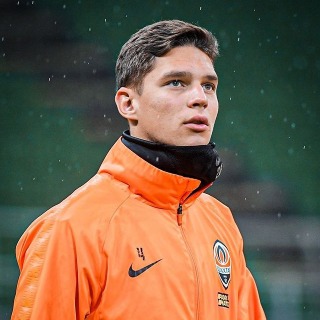 Personal Info
Date of Birth

Age

20 Years Old

Famous Name

Heorhiy Sudakov

Country Ukraine UA
Facts
Father

Unknown

No. of Instagram Followers

20,200+

Father Nationality

Ukrainian

Mother

Unknown

Birth Name

Heorhiy Viktorovych Sudakov

Net Worth

$200,000

Mother Nationality

Ukrainian

Currently Married

Yes

Married to

Name not revealed

Birth Country

Brianka, Luhansk Oblast, Ukraine

Famous Name

Heorhiy Sudakov

Children

Soon

Horoscope

Sagittarius

Position in Team

Midfielder

Nationality

Ukrainian

Current team

Shakthar Donetsk

Profession

Football player
Heorhiy Sudakov is a professional football player from Ukraine who currently plays in the Ukrainian top league, the Ukrainian Premier League. He plays in the midfielder position for the club Shakhtar Donetsk and has been playing for them since 2020. He has not won any major trophies with his current club.
He wears the Number 25 for his current club. He has also represented Ukraine in different competitions. He began getting included in Ukraine's national team in 2021. Before he played for the Under 17 and Under 21 teams of Ukraine.
Who is Heorhiy and who are his parents?
Heorhiy Viktorovych Sudakov, famously known as Heorhiy Sudakov was born on September 1, 2002, in Brianka, Luhansk Oblast, Ukraine. According to astrology, his birth sign is Sagittarius.
Heorhiy Sudakov with his father, mother, and brother
SOURCE: [email protected]_11
He was born to his father Mr. Sudakov and his mother Mrs. Sudakov. He has not revealed any informational details about his mom and dad and his family background too. But he sometimes shares photos of his mom and dad. He appreciates their sacrifices as well as wishes them on different occasions.
He also has a brother who is much younger than the footballer. His brother is still in school and unlike the elder brother, he does not play professional league. As per him, his parents and his sibling is his greatest supporter and often express love towards them.
Early Career
He is the home product of Shakthar Donetsk where he joined in 2017.
Before, he was in the youth team o dSokril Brianka where he joined in 2013 at the age of just 11 years old. After playing for a year, he moved to another club named Metalist Kharkiv where he played until 2017.
After playing for 3 years from 2017, he was finally promoted to the senior team of Shakthar Donetsk in 2020. At that time, he was just 18 years old and has been playing for them since.
He has already made appearances in Donetsk's team and has scored more than 5 goals.
Read: Who is Serhiy Buletsa? How tall does he stand?
What is the height and weight of Heorhiy?
As of 2022, H Sudakov is just 19 years old and possesses a height of 5 feet 10 inches (1.77 meters).
His weight is around 68 kg and has short black hair.
How rich is Heorhiy? Salary, Contracts, Sponsors, Cars
Donetsk's midfielder has an estimated net worth of $200,000 approximately. His net worth includes his properties, cars, houses, and assets. His main source of income is from his profession of playing football.
Heorhiy Sudakov riding a bike
SOURCE: [email protected]_11
Sudakov is a young player who has just started his career in football. He has already played in the top league of Ukrainian through which he has earned a major salary.
He has also been able to land major sponsorship deals and partnerships. He lives a moderate lifestyle with his partner in Ukraine.
Sponsorship with Adidas
Donetsk's young midfielder, Heorhiy is sponsored by one of the top sportswear brands named Adidas.
It is not confirmed about the exact monetary transaction between the two partners. Adidas is also the outfitter of the Sudakov.
Market Value
According to the transfermarkt, the market value of Sudakov is 1.50 million pounds in February of 2022.
It is the highest market value he has ever had. It has been increasing since he joined the club on January 14 in 2021.
Read: Andriy Pyatov's Net worth, Salary, and Contract
Is Heorhiy dating or married?
Shakthar's Number 25, Heorhiy Viktorovych Sudakov is currently living a happily married life with his wife whose name is still not revealed at the moment. The couple has been together for more than 2 years as of 2022.
Heorhiy Sudakov with his partner
SOURCE: [email protected]_11
The couple started dating back before 2020. It is not sure where the couple met for the first time. But it was in March of 2020, he revealed his dating life to his fans. Before that, he kept it secret to the public.
After dating for some time, he married his former girlfriend. He has never shared any information about his marriage ceremony, but he announced his marriage with his partner through his social media.
On February 23, 2022, he posted a photo with his partner where both were showing their fingers. And both were wearing the marriage rings. And in the caption, he posted,
"Officially husband and wife!"
So, they are officially husband and wife. He frequently posts appreciation and love posts towards his partner. On 6th of May, he posted a beautiful message to his lover saying,
"It was a great happiness in my life to meet such an incredible girl, the most beautiful, smart, charming... Congratulations on coming of age, I believe in you, you will succeed, I love you very much."
Who is Sudakov's wife?
Heorhiy's partner Mrs. Sudakov is a family woman from Ukraine. She is also famous for becoming the wife of the Croatian midfielder, Heorhiy Sudakov.
There is no detailed information about Mrs. Sudakov, but she is seen frequently seen with her boyfriend in their home country.
Has Heorhiy become a father?
Heorhiy and his partner have announced that he and his wife are soon going to be parents of their children.
Heorhiy Sudakov with his wife and baby
SOURCE: [email protected]_11
He posted his photo with his partner who was pregnant and in the caption, he wrote,
"Under your heart beats the second Soon there will be three of us"
The pair has not revealed the gender of their baby as of February of 2022.
Social Media Presence
Sudakov is also an active social media user who has made a high presence on platforms like Instagram. His Insta Id is @sudakov_11 where he has more than 20,200 followers.
He frequently posts about his games, vacation times, and time with his family too.
Explore more athletes at PlayersWiki.