Joel Segal is a highly respected football agent in the NFL known for representing several prominent players and negotiating contracts worth nearly $150 million in total. With a remarkable track record, he has successfully guided multiple first-round draft picks, showcasing his talent for talent identification and securing lucrative deals.
Notable clients such as Khalil Mack, Chris Rainey, Jerel Worthy, Trumaine Johnson, and Bruce Irvin have thrived under Segal's guidance and benefited from his exceptional negotiation skills. Overall, Segal's expertise and accomplishments have established him as a trusted and influential figure in the football industry.
Joel Segal's Contract List Players: Segal Made NFL Clients $150 Million
Joel Segal, a highly successful football agent, faced the challenge of compressed contract negotiations during this year's NFL free agency period. Despite the intense time pressure, Segal efficiently closed dozens of deals within a week, with more still to come.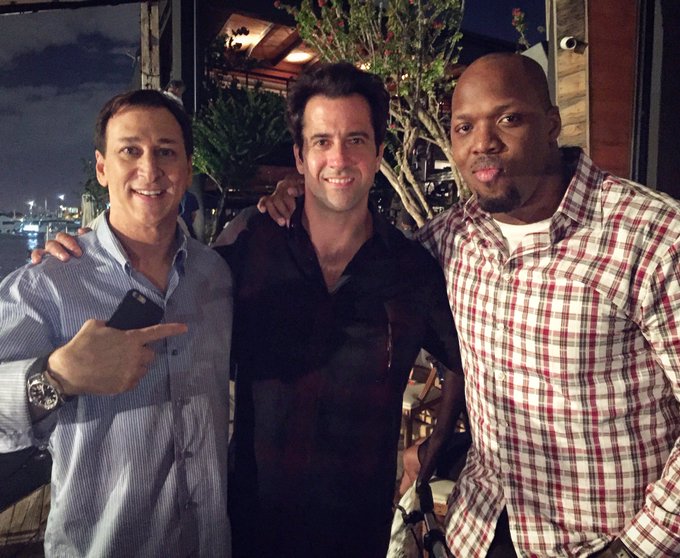 Joel Segal with Troy Garity and Jay.
SOURCE: Twitter- @troygarity
Joel Segal's expertise and influence in negotiating contracts worth over $300 million are evident. The NFL lockout earlier in the year further complicated matters, but Segal quickly adapted and orchestrated contracts worth $150 million for approximately 20 players.
Notably, Joel still had significant deals to work on, including contract extensions for his prominent clients, Michael Vick and Chris Johnson. Segal's success as an agent stems from his meticulous approach to analyzing team rosters, understanding his client's needs, and finding the right opportunities within the NFL landscape.
Joel Segal's Most Notable Free Agent Contracts
1. Santonio Holmes, New York Jets: 5 years, $24 Million Guaranteed
In 2011, Santonio Holmes, a wide receiver, entered into a five-year contract with the New York Jets, which guaranteed him a total of $24 million. This deal was successfully negotiated by Joel Segal, who served as Holmes' agent and represented his interests in the negotiations with the Jets.
Santonio Holmes has retired from football.
SOURCE: Instagram- @santonio_holmes
However, a few years later, in 2013, the Jets approached Holmes with a request to restructure his contract. They sought to reduce his base salary of $11 million for that year, aiming to create more flexibility within their salary cap. While the specific details of the new agreement were not publicly disclosed, it was widely believed that Holmes' salary would be lowered to a guaranteed amount of $7.5 million.
According to Conor Orr of The Star-Ledger, the adjustment resulted in Holmes' base salary being reduced to $3.5 million, which had an impact on the team's salary cap. This situation illustrates the dynamic nature of contracts in the NFL, where teams often seek contract restructuring to manage their financial resources effectively.
2. Reggie Bush, Miami Dolphins: 2 years, $7.41 million
In 2011, Reggie Bush, who had been traded from the New Orleans Saints, reached an agreement with the Miami Dolphins on a two-year contract worth approximately $10 million. Joel Segal, serving as Bush's agent, collaborated with the Dolphins to finalize the terms of the deal.
Reggie Bush with his son.
SOURCE: Instagram- @reggiebush
The contract encompassed base salaries amounting to $4.5 million for the year 2012, along with a workout bonus of $275,000 in the final year of the agreement. However, when the 2013 season approached, the Dolphins opted not to extend a new contract offer to Bush. Subsequently, he went on to sign a four-year deal valued at $16 million with the Detroit Lions. The negotiations for this new contract were not handled by Joel Segal, as Bush sought a fresh start with a different team.
3. Trumaine Johnson, Los Angeles Rams: made just under $30.7 million the last two seasons
Trumaine Johnson, a cornerback for the Los Angeles Rams, spent two consecutive years playing under the franchise tag. The first year, in 2016, he played under a one-year franchise tag that amounted to just under $14 million. The following year, in 2017, Johnson signed a one-year franchise-tag tender worth nearly $17 million.
Turmaine Johnson has also retired from NFL.
SOURCE: Instagram- @cityofsteelsports
Throughout these contract negotiations, Joel Segal acted as Johnson's agent, overseeing the process on his behalf. It is worth noting that had Johnson not secured a long-term deal, he would have become the highest-paid cornerback in the entire NFL.
However, Johnson's tenure with the Rams concluded in 2018 when he made a significant move by signing a five-year contract worth $72.5 million with the New York Jets. This marked a new chapter in his career as he transitioned to a different team. In 2020, Johnson made another adjustment by signing with the Carolina Panthers' practice squad, demonstrating his ongoing dedication to the sport and his willingness to explore new opportunities.
4. Khalil Mack, Chicago Bears: 6 years, $141 million, $90 million guaranteed
In 2018, Khalil Mack, a highly regarded defensive player, made a significant move from the Oakland Raiders to the Chicago Bears through a trade agreement. As part of this trade, the Bears wasted no time in securing Mack's services by offering him an immense six-year contract worth a staggering $141 million.
Khalil Mack with his family.
SOURCE: Instagram- @fiftydeuce
This lucrative deal included $90 million in guaranteed money, with an impressive $60 million guaranteed at the time of signing. The magnitude of the contract not only solidified Mack's status as one of the league's premier defensive players but also positioned him as the highest-paid defensive player in NFL history at that particular moment.
The negotiations for this record-breaking contract were skillfully managed by Joel Segal, Mack's agent. Segal worked closely with the Bears to structure a deal that would not only satisfy Mack's financial expectations but also ensure long-term security and commitment from the team. The resulting contract not only reflected Mack's exceptional talent and contributions on the field but also acknowledged his value as a cornerstone player for the Bears' defense.
5. Bruce Irvin, Seattle Seahawks: 4 years, $37 million
In 2016, Bruce Irvin joined the Seattle Seahawks, signing a four-year contract worth $37 million, skillfully negotiated by agent Joel Segal. The deal included a $12.5 million signing bonus and $19 million guaranteed. After two seasons with the Raiders, Irvin returned to the Seahawks in 2019 on a one-year deal.
Bruce Irvin hangs out with his associates.
SOURCE: Instagram- @bruceirvin51
He then moved to the Carolina Panthers in 2020, where he recorded an impressive 8.5 sacks in 13 games. In a surprising turn, Irvin returned to the Seahawks in 2022, signing with their practice squad for a third stint. Throughout his career, Irvin's professional endeavors have been expertly managed by Joel Segal.
Joel Segal has played a pivotal role in securing contracts that recognize Irvin's talent and provide him with financial security. Segal's negotiation skills have consistently positioned Irvin for success, allowing him to excel on the field and contribute to multiple teams across the league.
Read More: Tori Bowie, Olympic Medalist, Dies from Childbirth Complications
Joel Segal's Net Worth, Career Earnings, Commissions, and Contract
Joel Segal has an estimated net worth of $100 Million and has successfully negotiated over 20 contracts, totaling nearly $150 million. According to Fanspo, Segal represents 29 clients with a combined contract value of $1.1 billion, solidifying his status as one of the most powerful and highest-paid sports agents worldwide. In a typical year, he reportedly earns between $30-40 million in commissions.
Segal has orchestrated significant deals, including negotiating Michael Vick's groundbreaking $130 million contract with the Atlanta Falcons in 2004, which made waves in the NFL. He has also represented other notable players like DeMarcus Ware, DeSean Jackson, and Aqib Talib, successfully securing their contracts.
Regarding Trumaine Johnson, Segal negotiated a lucrative one-year franchise-tag tender worth nearly $17 million for him in 2017. Johnson went on to earn just under $30.7 million over the following two seasons with the Los Angeles Rams under the franchise tag.