Personal Info
Date of Birth

Age

54 Years Old

Famous Name

Payton

Country United States US
Facts
Father

Al Payton

Relationship Status

divorced

No. of Twitter Followers

136.3K

First Name

Gary

Father Nationality

American

Mother

Annie Payton

Last Name

Payton Sr

Birth Name

Gary Dwayne Payton Sr

Net Worth

$130 Million

Mother Nationality

American

Currently Married

No

Twitter

https://mobile.twitter.com/garypayton

Siblings

Brandon Payton

Salary

$8,715,000

Birth Country

United States

No. of Siblings

1

Past married if any

Monique James

Children

Gary Payton II, Raquel Payton, Julian Payton, Gary Payton Jr

Divorce

Yes

Horoscope

Leo

House Location

Danville, California

Date

July 23

Nationality

American

Ethnicity

African-American

Awards

20+

Religion

Christians

Profession

professional basketball player

School Location

Oakland

Famous for

NBA champion (2006)

Started career as

professional basketball player

Came to fame after

University attended

School attended

Skyline

Graduated year

Oregon State (1986–1990)
We have seen many legendary players in the NBA. From forwards to guards, the powerhouses that play the role are well-known throughout the world. Out of these powerhouses, Gary Payton is one of them.
Gary Payton is a former professional basketball player. Payton is well known for breaking many franchise records for his team, Seattle SuperSonics. The point guard was an exceptional player with great vision and direction. His nickname 'The Glove' was given to him as a reference to his defensive capabilities.
Learn more about Payton's childhood, his rise in career, and other facts you may not have known.
Early Childhood and Upbringing
Gary Dwayne Payton was born on July 23, 1968 in Oakland, California. The American national was half African and Half American ethninicty.
It is said that parents have the biggest hand on what a child grows up to be. Gary's parents, AI and Annie's positive reinforcement and good relationship definitely helped shape the NBA star's future. AI and Annie always encouraged their child to pursue his dream.
The athlete has two siblings, brother Brandon Payton and a sister Sharon Payton. Gary's brother is also a basketball player, playing for Manawatu Jets in New Zealand. Both brothers pursued their dreams of being an aspiring player and their talent and determination helped them pull it off.
Gary attended Skyline High School and used to play basketball here. The youth then attended Oregon State University in Corvallis. It was also said that the NBA star wanted to attended The University of Texas at El Paso.
Education is as equally important as sport is. Payton was declared academically ineligible at the sophomore year of highschool. This served as a big set back for the bright basketball talent as he could not play anymore. The Glove's father Al had the biggest hand in bringing his son back from the dark and helping him focus on school more.
During the senior season of 1990, Payton was acclaimed as the nation's best college basketball player. With so many awards just at the college level, it was just a matter of time when the athlete started collecting professional NBA awards.
Payton's Weight, Height and Other Personal Information
Gary Payton isn't as muscular, yet a beast none the less. The 6 foot 4 inch giant (193cm) weighs 86 kg(196 pounds) with a very menacing posture. He has a pair of black eyes and his signature baldness is popular in the NBA. Payton shoot with his right hand and he wrote with his left.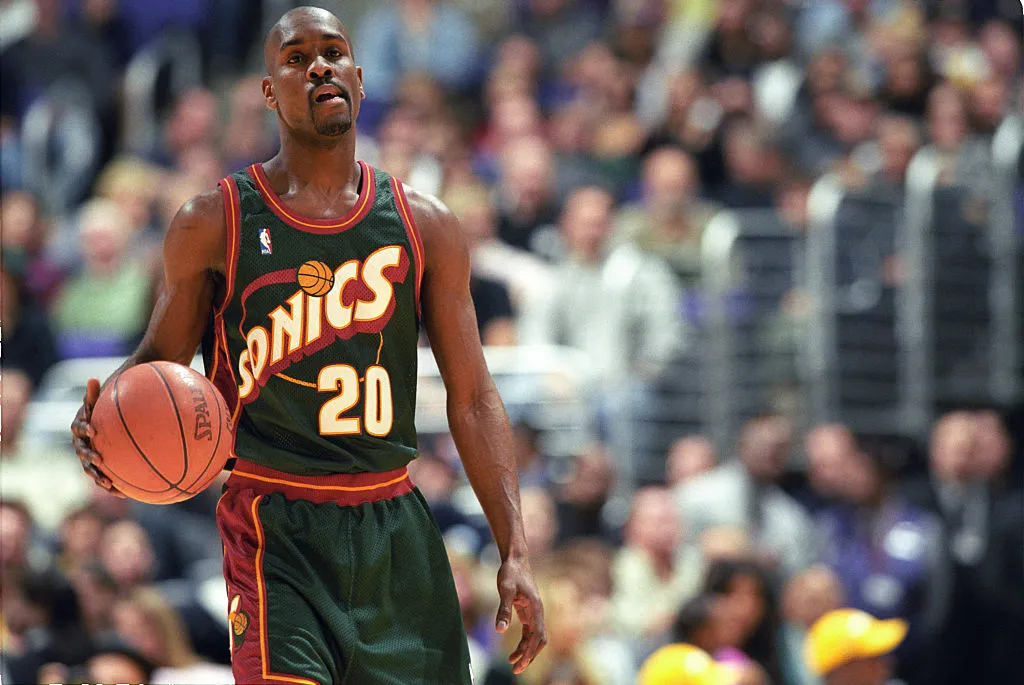 CAPTION: Payton with his menacing stance
SOURCE: Sportscasting
A downside to his personality was his trash talking. The defender was well known for his open mouth, ranking top 5 for the most technical fouls of all time in NBA at 250. Early on, Payton was known to be egotistical and a difficult person to deal with.
But bad qualities aside, Payton was a confident and fierce. His abitition was close to none which definitely worked well for him. Later on his career, the Glove became less volatile and people started enjoy playing with him.
He was a leader and a mentor for many young players. The former athlete stated he wanted his players to be not physually but psychologically strong too. As he said, "Friends before and after the game, During the game its all business."
How much does the NBA Star own?
Gary Payton is considered as one of the richest players in NBA history. This all is well deserved for the NBA star with such high talent. The Glove is estimated to be worth 130 million dollars. Payton had earned 104 million dollars in NBA salary alone.
The retired athlete has also engaged himself with other brand deals and endorsements earing him well to live comfortably. These sponsorships are believed to be well over in millions every year.
Marriage and Family Life
The NBA All Start athelete married Monique James on July 26, 1997. The couple lived in Payton's homeland and later moved to Las Vegas. Payton and James had three children; Gary II, Julian and Raquel.
Gary II is also a beast after his father. Like son like father, the second to Gary played for Milwaukee Bucks, Lakers, Golden State Warriors winning the championship, and Washington Wizards. We also have Payton's another son Gary Jr with a different mother.
CAPTION: Young Glove and Old Glove
SOURCE: Sports Illustrated
The first couple unfortunately had to divorce. The couple divorced in 2012 stating they'll remain as friends.
Career and Rising
Seattle SuperSonics
Payton stuck with the SuperSonics for 13 whole years, the most of his professional career. The point guard was the second pick in the 1990 NBA Draft by SuperSonics. In just his third game, Payton had his first double double of his career. A year later, he recorded his first triple double.
Throughout the rookie career, the point guard recorded 8 point-assist doubles, setting the all time highest in the club. Payton's average for his rookie season was 7.2 points per game.
Gary Payton started his long 9 streak of making it to All-NBA team selections from 1994. Although he was in the third team, the guard made it to the first team in 1998 and 2000. Payton was voted as a starter in 1997 and 1998 for the NBA All-Start team and a member of the Men's Olymic Basketball Teams.
CAPTION: Payton with the ball
SOURCE: Seattle Sports
Under coach George Karl, the SupeSonics reached the NBA finals after winning a recorded 64 games. It is without a doubt that Payton had his best seasons when he was with the Seattle SuperSonics.
The guard would be traded to Milwaukee Bucks later in 2003 due to a fued between Payton and the owner Howard Schultz.
Bucks and Lakers
The NBA star was traded to the Milwaukee Bucks in the middle of 2002 and 2003 season. He would only stay for a season in the club and would be a free agent soon after.
Payton would sign a deal with the Los Angeles Lakers and try to win their first championship. The Lakers were already a strong team with Shaquille O'Neal and Kobe Bryant but with the addition of Payton, the team would only be more offensive.
The Lakers went on to win 56 games in the division and reach the NBA finals. LA Lakers unfortunately could not win the cup as they fell to Detrioit Pistons for the 2003-2004 season.
Slowing Down.. Or Not
Payton was traded to Boston Celtics, which Payton himself expressed dissatisfaction. But sure enough, Payton appeared as the point guard for the team averaging 11.3 points per game and 6.1 assists. His contribution lead the team to win the Atlantic division.
The point guard signed a big 1.1 million dollar contact with Miami heat in 2005. It was here that Payton reunited with his former teammate Shaquille O'Neal. ALthough not playing full games as a starter, the point guard slowly gained momentum.
Miami won its series and finally reached finals to play against Dallas Maverics. Out of a game of seven, Miami lost the first two. This did not look that good for the team but with comebacks, the team won their 2 games back to back.
CAPTION: Feel the heat! Payton with the Miami
SOURCE: Hot Hot Hoops
On Game 5, Payton had his share of contribution with 8 points winning the match with a 1 point victory. Gary Payton won his first and only NBA title after winning the sixth game 95-92.
The then 38 year old Payton re signed with Miami Heat in 2006. The Glove retired after this season.
Honors and Awards
2006 NBA Champion
1996 NBA Defensive Player of The Year
9 Time NBA All-Star
9 Time All-NBA
Two-time Olympic gold medalist (US-National Basketball Team)
Ranked ESPN's Top 10 NBA Point Guards of All Time
The point guard has gathered so many trophies and awards that it'll take a lot of time to just go through it.
Facts on Gary Payton
Payton served as a studio analyst for the NBA TV and Fox Sports 1. He also provided weekly picks for sports Betting Dime.
The NBA champ also appeared in movies and shows like Eddie, Like Mike, cameo appearances in the Lego Movie 2, and a voice actor for 1999 comedy films.
What he earns is also what he donates. The point guard had set up the Gary Payton foundation in 1996 where he still works for to this day. The foundation helps the underprivileged youths on the Oakland area and help them. There are also plenty of other charities that Payton has gotten involved in.
Gary Payton is known to make hilarious comments. He also made a comment on his son Gary II's physique and build saying the genes definitely didn't come from him.