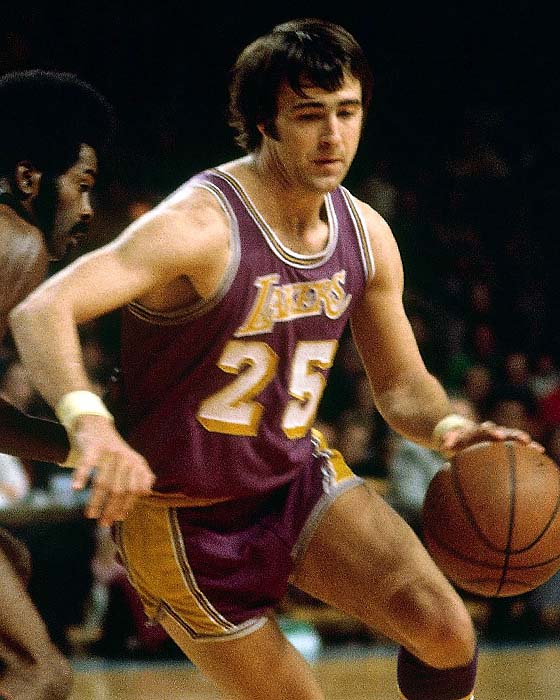 Personal Info
Date of Birth

Age

79 Years Old

Famous Name

Gail Goodrich

Country United States US
Facts
Father

Gail Goodrich Sr.

Relationship Status

married

Points

19181

First Name

Gail

Father Nationality

American

Rebounds

1102

Mother

Unknown

Last Name

Goodrich Jr.

Birth Name

Gail Charles Goodrich Jr.

Net Worth

$13 million

Currently Married

Toni Goodrich

Siblings

None

Salary

$720000

Married to

Toni Goodrich

Birth Country

United States

Past married if any

Frances Caldwell

Divorce

Yes

Horoscope

Taurus

House Location

Santa Monica

Wife nationality

American

Date

April 23

Nationality

American

Ethnicity

White

Religion

Christians

Profession

NBA Player

Started career as

Basketball player

University attended

The University of California
The National Basketball Association has seen many phenomenal players throughout its history. We have had players such as Shaq, Kobe, Michael, Wilt, and Kareem and current-playing beasts such as Stephen. Out of all these, perhaps none were like Gail Goodrich.
Gail Goodrich was a professional NBA player born in the United States. He is now a living legend, a retired star who played in three major teams. Gail Goodrich played as a shooting and a point guard. The shooting guard appeared in a total of one thousand thirty-one games with an average of 18.6 points.
Find out more about the five-time NBA All-star below, along with facts and biography you may not know.
Childhood and Upbringing
Gail Goodrich was born on the 23rd of April, 1943, in California, in Los Angeles. Goodrich had an excellent upbringing from his parents, who supported him in shaping his career off of sports.
Goodrich's father, Gail Goodrich Sr., was also a former basketball player who used to dominate his opponents on the court. Although he did not pursue a career in basketball, he is the reason why his son, Goodrich Jr., had a passion for basketball.
The shooting guard's parents also encouraged him to take education seriously without letting him drop his passion. These encouragements paid off in the long run due to his determination and hard work.
Goodrich's Age, Height, Networth, and Family
The retired NBA star is now 79 years old. While he is old now with wrinkles, Goodrich is a handsome lad in his prime. He is a 6 foot 1 inch (185cm) player with a semi-muscular build. He wasn't robust but was very quick on the court.
Present time Goodrich signs a ball for a child
SOURCE: wikipedia
A former athlete is still an athlete. Goodrich Jr still takes his diet seriously, taking all the required nutrients and supplements that make him stay fit and strong. A proper diet, exercises, and stretches will help you live a long, happy life. Goodrich has brown eyes and is a follower of Christianity.
The shooting guard was also stubborn yet persistent. Such qualities helped him a lot in the long run of his career. He was also found to be kind and caring by his fans.
Does he still earn? What is his networth?
The NBA star is also wealthy, amassing fame and wealth during his peak. The star now has an estimated net worth of 13 million dollars.
But yes, he still works too. Goodrich currently works as an analyst for NBA TV. Although there is no official salary count for his job, it is safe to assume he earns roughly a hundred thousand dollars a year.
Family and Love Life
An NBA star has no shortage of admirers. Goodrich Jr. fell in love with Frances Cladwell and married. They lived a happy life for a while, even giving birth to three children; a Son and twin girls.
Frances and Goodrich, unfortunately, got a divorce when their kids were relatively young. The divorce did not stop the separated couple from raising their kids properly.
Goodrich now lives near Greenwich, Connecticut, with his present wife, Toni Goodrich. Toni is believed to run a yoga studio in her neighborhood.
Career
Gail Goodrich attended his high school at John H. Francis Polytechnic School. It was here that Goodrich started playing basketball. With the help of his father and his determination, the youth immediately dominated his opponents.
Goodrich averaged 29 points at John Francis in the entire LA City basketball championship and won the cup in 1961. Another example of his passion for basketball was when the shooting guard played a game with his broken ankle, dominating it nonetheless.
University Level
Goodrich Sr previously used to study at the University of Southern California. The idea of attending the same college Goodrich Jr.'s father used to play in excited him. This is why the future NBA star was ecstatic to join the university.
UCA did not recognize Goodrich Jr's talent as well as UCLA. This was partly because of his short height (5 ft 8 inches). UCLA's coach John Wooden was adamant about getting Goodrich, so eventually, Goodrich gave in.
Gail Goodrich in enemy lines
SOURCE: Lakers Nation
Things didn't look amazing for the shoot guard's first two years averaging 10.4 points per game. It changed after the guard was put in the starting lineup that drastic change would be seen. 1964 saw the rise of a new NCAA tournament champion due to Goodrich's astonishing 21.5-point average in 30 games.
It just got better. The following year, the NBA star averaged 24.8 points per game average and won the title. In the 1965 NCCA tournament, Goodrich scored a record 42 points and is still considered the second-highest point scored in the tournament to this day.
Goodrich Jr. would become to be NCCA's consistent scorer.
Time for something bigger: NBA
A Rookie Season
The shooting guard entered the 1965 NBA draft. LA Lakers drafted Goodrich as a reserve at just 22 years old. The star would still average 7.8 points per game, even as a reserve.
The following season, 'Stumpy' would find himself averaging 12.4 points per game with a more extended playtime on the court. The first season ended in a loss at the finals, and the same would happen in the second season at the semi-finals.
Goodrich kept improving; the shooting guard would average 13.8 points per game in the third season. Unfortunately, again the team fell to Boston Celtics in the finals (1968).
Finally a Starter
The Lakers again got a hand on Goodrich for the 1970-71 season as a shooting guard. This new starter team would mean so much action for Stumpy.
The 1971-72 season would be the year Goodrich showed his true potential. With a career-high 25.9 points, the shooting guard went on to win his first NBA championships. Gail Goodrich was like a robot, a matching who led the Lakers to victory by scoring baskets no one would expect him to.
Goodrich Dunks on the enemy team
SOURCE: bestsportsphoto.com
After unsuccessful attempts to win the championship trophy again, Stumpy would finally be available as an agent on the market.
New Chapter
Pheonix Suns
Pheonix Suns took in Goodrich in the 1966 expansion draft. It was here that the shooting guard would finally play full-time and averaged 23.8 points per game. His performance on the court earned him a spot in the 1969 NBA All-Stars Game.
The team would let Goodrich go for a different player after successful seasons. Goodrich would go to the Lakers again.
New Orleans Jazz
New Orleans Jazz signed in Goodrich for 1.4 million dollars for a three-year contract. Moving to a new area or team could be difficult, proven by the shooting guard's move to Jazz.
This did not stop the NBA All-Star player from performing his best. Goodrich's prime is considered to be in the 1978-78 season. The following year would be the last anyone could see the star play again professionally.
Goodrich tore his Achilles in the rookie season with the Saints. After this, Gail Goodrich officially retired from professional basketball after 14 years of play.
Highlights
1972 NBA champion

Five-time NBA All-Star in 1969 and from 1972 to 1975

1974 All-NBA First Team

Two-time NCAA champion in 1964 and 1965

1965 Helms Foundation Player of the Year

Consensus first-team All-American in the year 1965

Two-time First-team All-AAWU in 1964 and 1965

Included in the Naismith Memorial Basketball Hall of Fame in 1996
Other Fun Facts
Gail Goodrich played for Los Angeles Lakers for a few seasons with jersey number 25. This jersey number would never be used again for another player as it was retired by the team.
The same would go for jersey number 12 by John H. Francis Polytechnic Highschool. This was done to honor Goodrich's plays and to represent the school at such a level.
Gail Goodrich was nicknamed 'Stumpy' or 'The Stump' for being too short. 6 feet 1 inch is tall but not tall enough for an NBA player. He was nicknamed Stumpy for being small and frail by his teammate Elgin Baylor.
The NBA star played for three franchises, LA Lakers, Pheonix Suns, and New Orleans Jazz.