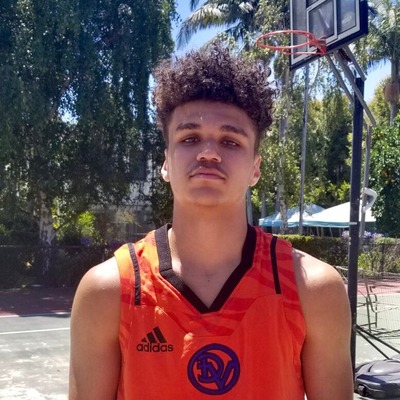 Facts
Father

Ving Rhames

Relationship Status

single

First Name

Freedom

No. of Instagram Followers

1,058

Father Nationality

American

Mother

Deborah Reed

Last Name

Rhames

Birth Name

Freedom Rhames

Net Worth

$100,000

Mother Nationality

American

Currently Married

Unmarried

Siblings

Reign Beau Rhames, Tiffany Reed

Salary

Birth Country

United States

No. of Siblings

2

Instagram

https://www.instagram.com/freedomrhames/?hl=en

Famous Name

Freedom Rhames

Horoscope

Aquarius

Date

February 2002

Nationality

American

Ethnicity

Girlfriend

No

Awards

Profession

basketball player

School Location

Berntwood Highschool

Famous for

Ving Rhames's Son

Started career as

Basketball Player

University Team

Howard

University attended

Howard University

School attended

Alumni
Freedom Rhames is an American collegiate basketball player currently playing for Howard Bison men's basketball, the basketball team competes in the Mid-Eastern Athletic Conference whose head coach is Kenny Blakeney. He plays under jersey number 55 in the point guard position.
Freedom Rhames was born on February 2000 in Los Angeles. Rhames was raised by his father Ving Rhames who is an actor and his mother Deborah Reed who is also an actress. Freedom graduated high school and committed to Howard Bison men's basketball on November 2, 2021.
Freedom Rhames's Net Worth: Is He Struggling Financially?
The basketball player is playing in the university team, and as per the rules Rhames can't be paid by the university for playing in their team. Freedom Rhames' estimated net worth is $100,000: Shamar Wright's and Karoline Striplin's net worth is also similar.
Freedom Rhames estimated net worth is $100,000.
SOURCE: Instagram: @freedomrhames
Rhames is the son of a successful actor, Ving Rhames, and he was raised along with his siblings Reign Beau Rhames and Tiffany Reed with whom he will share the assets amassed by his father and mother. As a successful actor, Ving has an estimated net worth of $25 million and his mother, Debhora Reed has an estimated net worth of around $5 million.
He is eligible to receive gifts from boosters and can generate income from promoting the company, based on the popularity of his name and fame. Freedom isn't struggling financially as his parents are well-off and supportive. He might earn from the brand endorsements, but till now the information about it is kept confidential and hasn't been posted to his social media.
Freedom Rhames's Girlfriend: Know The Details Of His Romantic Life
The basketball player is 23 years old as of 2023, this is a common phase of life when most people find someone with whom they can share intimate time, but has Freedom found his soulmate yet? Rhames is handling collegiate basketball, college classes, and graphic designing, so it leaves no time for affairs.
Freedom Rhames is also a graphic designer.
SOURCE: Instagram: @freedomrhames
Based on the posts on his Twitter and Instagram, Rhames might be single. The basketball player has kept his private life and affairs to himself and doesn't let anyone pry on his information. So, making assumptions about this might spread unwanted rumors, we will surely update the information once Freedom Rhames reveals it to the public.
Ving Rhames's Son, Freedom Rhames' Basketball Journey Till Now
The basketball player graduated from Brentwood Highschool and announced his commitment to Howard university via Instagram on November 2, 2021. He plays as a guard and assists his college basketball team. Rhames has made his parents proud and got a bright future ahead.
Freedom Rhames is committed to Howard Basketball Team.
SOURCE: Instagram: @freedomrhames
Freedom's basketball journey now is going perfectly without any hindrance, and the player hasn't revealed whether he will or won't debut in the NBA, but his fans can be optimistic about this news as the possibilities are high.
Freedom Rhames's Parents: Who are Ving Rhames And Deborah Reed?
Freedom is the biological son of the famous actor, Ving Rhames, and his mother, Deborah Reeds. Rhames parents split from each other after 2 decades of an intimate relationship. Freedom's father had filed a lawsuit regarding the separation from his wife in 2013, but Debhora didn't respond until 2016.
Freedom's father is famous for starring in 'Mission Impossible franchise, 'Pulp fiction', 'Go tell it on the mountain', etc. Ving was married to his first wife, Valerie Scott in 1994 and was divorced in 1999, but in his second relationship, the couple just drifted apart from each other and the news of their divorce isn't official.
Freedom Rhames's Physical Characteristics
Freedom Rhames is a 23-year-old collegiate athlete, who stands at 5 feet and 11 inches and weighs around 77kg. The basketball player's body is well-built and seems pretty athletic. Rhames's performance in the Howard basketball team is improving day by day and is greatly brushing up his skills for the NBA's debut.
The player has scored 11 points, 6 rebounds, and 5 assists as of the 2022-2023 season. Freedom still needs to practice vigorously, but he has great potential to become a skillful player who might show the NBA the new dimensions of basketball.