Personal Info
Date of Birth

Age

34 Years Old

Famous Name

Eduardo Escobar

Country Venezuela VE
Facts
Relationship Status

married

First Name

Eduardo

No. of Instagram Followers

153K

Mother

Carmen

Last Name

Escobar

Birth Name

Escobar

Net Worth

$10 million

Currently Married

Eucaris Escobar

Salary

$20 million

Married to

Eucaris Escobar

Birth Country

Venezuela

Endorsement earnings

Instagram

https://www.instagram.com/eduardoescobar5/

Horoscope

Capricorn

Wife nationality

Venezuela

Nationality

Venezuelan

Girlfriend

N/A

Religion

Christians

Profession

Professional Baseball

Famous for

Baseball

Currently Club

New York Mets
Eduardo Escobar is a Venezuelan professional baseball playing as the third baseman for the New York Mets of Major League Baseball (MLB). Before coming into his current team, Escobar prominently played for some MLB teams, including Milwaukee Brewers.
Escobar had a job at the young age of 7. And from the eighth grade, he was able to receive an education. Escobar made headlines when his professional MLB career kicked off in 2011 after receiving a call to play for Chicago White Sox.
Mets: Eduardo Escobar Wife and Children
Eduardo Escobar is happily married to his wife, Eucaris. Escobar and Ecuaris have been married for many years. But due to the lack of information, we are unknown when they tied the knot. Escobar is a family man, and he often shares pictures with his close ones on his Instagram page, where he is verified as @eduardoescobar5.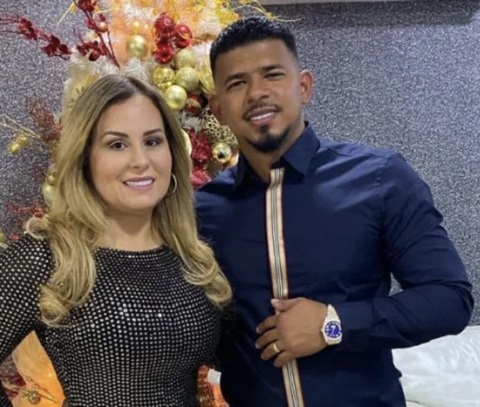 Eduardo Escobar with his wife
SOURCE: Instagram @eduardoescobar5
Meanwhile, the couple also has five children together. They welcomed their first child, Isa Dora Escobar, in 2004. The family increased when their second child Diego Escobar was born. After that, another child, Emmanuel, was born. And details regarding his two kids remain unknown.
Moreover, the family of seven lives happily in Arizona.
Net Worth and Earnings Of Escobar
Escobar has played professionally for quite a long time and is still active in this field. Having played for different teams, Escobar has amassed a decent fortune. Looking at his career earnings, it can be said that he enjoys a net worth of around $10 million.
Escobar's current contract is with the New York Mets, with whom he signed on December 1, 2021, taking home a whopping $20 million. Also, he previously played for the Arizona Diamondbacks, and he had a professional contract worth $21 million with them.
Eduardo Escobar spotted outside traveling
SOURCE: Instagram @eduardoescobar5
In the 2017 season, while playing for the Minnesota Twins, Escobar signed a $2.6 million contract. Escobar lives a lavish life like David Wright and shows off via his Instagram page.
Read More: Shane McClanahan
Career Overview
Escobar's career kicked off with Chicago White Sox, with whom he played for the 2011-12 season. Later, on July 28, 2012, he was traded to the Minnesota Twins with Pedro Hernandez for Francisco Liriano. His career with Minnesota went pretty well, as he represented them until 2018.
The Minnesota team traded Escobar to the Arizona Diamondbacks on July 27, 2018. He officially signed a contract with the team on October 23 of the same year. He received a trip to the 2021 Major League Baseball All-Star Game with his extraordinary performance.
Eduardo Escobar with his fan
SOURCE: Instagram @eduardoescobar5
In 2021, Escobar also played with the Milwaukee Brewers, and since December 1, 2021, he has been with the New York Mets.
Escobar's Parents and Nickname
Escobar was born Eduardo Jose Escobar on January 5, 1989. He is a native of Villa de Cura, Venezuela. So, Escobar holds Venezeulan nationality. The 5 feet 10 inches tall baseball player was raised by his single mother named Carmen and his four siblings.
There are not many details regarding his father. It is believed that his mother and father separated when they were young. In addition, Escobar's nickname is El De La Pica.